If you're wondering what happened to the "Disinfopedia," our wiki-based "encyclopedia of people, issues and groups shaping the public agenda," it hasn't disappeared. We've just renamed it. It's now called SourceWatch.
Launched in March 2003, the Disinfopedia has grown rapidly to include more than 6,000 articles about PR firms, think tanks, industry-friendly experts and many of the other individuals and institutions that play an important role in shaping public opinion and public policies. We're very happy with the way supporters of our work have stepped forward to contribute information and insights to the project. Along the way, however, we began to hear complaints about the name, which some people felt sounded too "paranoid." Others pointed out that as the Disinfopedia grew, it came to include a range of people and organizations, some of which are indeed guilty of deceptive practices, but not all.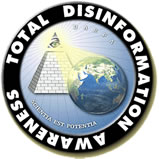 I think that these are legitimate criticisms. I am the person who coined the name "Disinfopedia." It was intended in part as a reference to the Wikipedia, a free, online, wiki-based encyclopedia that runs on the same software. It was also intended as a tongue-in-cheek commentary on the Bush administration's ill-fated Total Information Awareness program. Our original logo for the Disinfopedia, which you can see here, even mimicked the TIA's own logo, with its all-seeing eye. Instead of the words "total information awareness," the logo proclaimed that we were seeking "total disinformation awareness." It seemed at the time like a fun inside joke, but after it went up, the emails that arrived in our office helped us realize that the joke wasn't obvious to all of our readers.
After surveying Disinfopedia users and consulting with a number of people who have been friends and advisors to the Center for Media and Democracy, we settled on the new name "SourceWatch." We feel that this name accurately reflects the project's expanded purpose: to track the the people and organizations that serve as sources of information and ideas regarding important public issues.
We have done our best to make this transition as smooth as possible. All links to Disinfopedia articles should now automatically redirect to the same article on the new website. Of course, it is possible that there will be some glitches. If you encounter something that doesn't seem to be working right on SourceWatch, please let us know so that we can fix it.