-- by Dave Saldana, Director, Writer, and Producer of "Keystone PipeLIES Exposed," a new short film that is a production of the Center for Media and Democracy Investigative Fund. (A shorter version of this article is featured in the April edition of The Progressive.)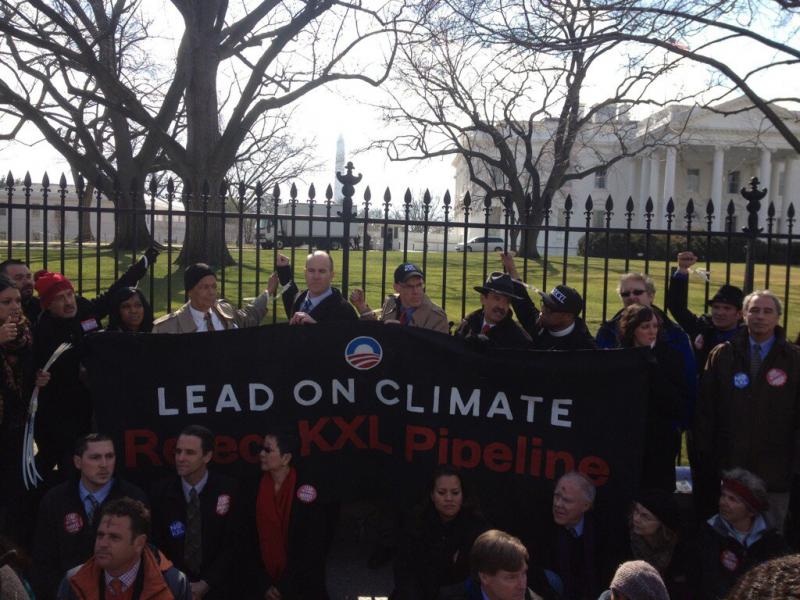 February 13, 2013, was a very special day in Washington DC. It wasn't merely because hundreds of demonstrators marched in front of the White House to stop the KXL pipeline. It wasn't because environmental activists like Robert Kennedy, Jr., and celebrities like actress Daryl Hannah were among the dozens of demonstrators arrested; as longtime activists, they are no strangers to civil disobedience. Nor were the arrests of veteran civil rights leader Julian Bond and former NASA climate scientist James Hansen, who famously said developing Canada's tar sands would be "game over" for the climate, what made this day special.
The remarkable thing that happened that day was the arrest of two people whose names you likely have never heard: Michael Brune and Allison Chin.
What makes their arrests notable is not so much who they are, as what they do. Chan is the president of the Sierra Club, and Brune is its executive director. It's remarkable enough that Brune and Chin were even at the protest, let alone arrested there. You see, for its entire existence, the venerable Sierra Club had a policy against direct action.
New Voices Join Bold Activists in Direct Action on KXL
"This call for climate action is important enough that, for the first time in our 120-year history, we have suspended the Sierra Club's longstanding policy that prohibits civil disobedience," Chin wrote. "Today is a one-time event to face arrest in order to elevate discussion about a critical issue."
"We want to send a strong message that we expect the President's ambitions to meet the scale of the challenge and reject a pipeline that carries dirty, thick oil," Brune said, encouraging President Obama to "fight with both fists" on the issue.
While it's far from clear that Obama is taking his advice, opponents of the Keystone XL pipeline sure are -- and not only the big environmentalists, like the Sierra Club, the Natural Resources Defense Council, Greenpeace, and, of course, Bill McKibben's 350.org.
McKibben has been an important face of the anti-KXL movement, particularly in putting a bottom line on the crisis we face.
"We've destabilized the planet's climate system, and the only question is how much farther we're going to go. We've raised the temperature of the planet one degree already. But the scientists who told us that would happen now tell us we'll raise it three or four degrees before the century is out," he told Amy Goodman on Democracy Now! "What we call civilization will just be a big disaster response operation."
"We tried doing the right thing," says Jason Kowalski, campaign director of McKibben's 350.org, explaining the need for direct action. "We tried doing lobby meetings with Congress, we tried calling our representatives, and it didn't work. Sometimes you need to work outside the rules in order to change them."
As journalist Bill Moyers said, McKibben's response to the environmental report from the State Department is "It's time for President Obama to stand up to the oil companies and just say 'no.'"
McKibben's 350.org campaign director notes that direct action is essential: "We tried doing the right thing," says Jason Kowalski. "We tried doing lobby meetings with Congress, we tried calling our representatives, and it didn't work. Sometimes you need to work outside the rules in order to change them."
Groups like Bold Nebraska, part of Progress Now, have a lot of skin in the game. With the pipeline routed through their land and posing a catastrophic risk to their water and their livelihoods, farmers and ranchers in rock-ribbed, red-state Nebraska are making common cause with Prius-driving Greens, and a wide swath of Americans of many stripes in between.
"The fact that there is such a diverse and strong and motivated coalition that's come together to fight the Keystone pipeline is yet another indication of what a bad deal this is for the entire country. It's not just ardent environmentalists who are concerned about this," says Tiernan Sittenfeld, senior vice president for government affairs at the League of Conservation Voters. "When you have lifelong environmentalists standing with landowners standing with members of the Tea Party saying this is bad for a country, this is not in our national interest."
Some Tea Partiers Aren't Drinkin' the Texas Tea
Tea Partiers have been some of the strangest of bedfellows with environmental activists, joining their efforts to prevent corporate seizure of private land. In addition to their concerns about the viability of their farmland and ranch land, many farmers and ranchers have taken great offense at what they call extortionate efforts by TransCanada to force them off their land.
The company has threatened to use eminent domain, a little-used but extremely powerful legal tool to strip property owners of their Constitutionally protected rights. For two centuries, it was primarily used by governments to remove obstinate owners standing in the way of public works and infrastructure projects like railroads, highways, dams, and the like. But that changed with the 2005 US Supreme Court decision Kelo v. City of New London, which determined that private interests could be construed as a public benefit.
"[Eminent domain] has actually become used routinely now, and allowed to be used routinely, for that 'greater good' actually being defined as what's ultimately just a corporate interest or interest in a corporation to seize property and resources because they can make money out of it," says Mara Verheyden-Hilliard, executive director of the Partnership for Civil Justice Fund.
TransCanada has already begun eminent domain actions in dozens of cases from South Dakota to Texas.
One anonymous government official said in The New York Times that the company's tactics, far in advance of a State Department go-ahead, were "presumptuous." The company believes it's not obligated to wait on State Department permission to start securing land for the pipeline, but opponents take umbrage at TransCanada's heavy-handed, take-it-or-leave-it approach.
"When a company like TransCanada comes along and tries to bully and intimidate us into signing unwanted easement agreements, it only serves to make us more determined, and we plant our feet just a little bit firmer in the sand," Nebraska farmer Randy Thompson told the House Energy and Commerce Committee in May 2011.
Thompson was among the plaintiffs who sued the state and won, leaving the pipeline's route through Nebraska in limbo. Landowners had sued on the grounds that a 2012 law, which opponents viewed as little more than a gift to TransCanada, gave the governor and his appointees authority to approve pipeline routes and unilaterally condemn private property for rights of way along the routes. But when a state judge ruled that law unconstitutional on February 19, 2014 -- coincidentally while President Obama and Prime Minister Harper met in Mexico -- KXL's route through Nebraska ceased to exist. The path to approving a new route, including appeal of the district court ruling, could take years to navigate.
Diverse People across North America Stand Up to KXL and Have Some Fearless Fun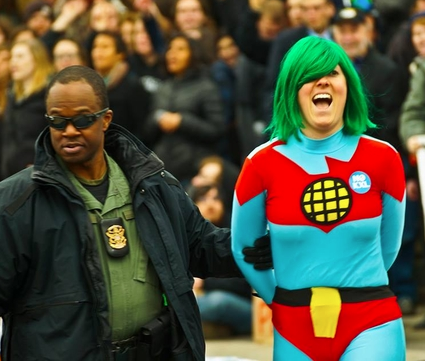 People all over the country are digging in their heels, from college students connected with 350.org to indigenous people who have launched the "Idle No More" campaign.
Tar Sands Blockade is an organization of activists committed to nonviolent direct action against tar sands development and the KXL pipeline. Their tactics range from the disruptive, like interfering with construction, to the hilarious.
Take for example their online hoax, a mass email announcing TD Bank's divestment from Keystone. "Today's media stunt was intended to hold TD Bank accountable for bankrolling the most ecologically devastating project on planet Earth. If TD Bank wants to be 'as green as its logo,' then it must immediately divest from tar sands exploitation and Keystone XL, which will have devastating climate impacts," said Tar Sands Blockade spokesperson Ron Seifert.
Direct action was the sole directive for the coalition group Fearless Summer. The organization kicked off its actions in the last week of June 2013, with coordinated events from coast to coast, from the Canadian border to the Gulf of Mexico. The group took its cue from the Occupy movement, eschewing hierarchy and centralized leadership in favor of small groups taking action within their communities.
The efforts have been successful to this point, delaying if not stopping altogether the TransCanada juggernaut that had believed approval for KXL was a done deal (and is now scrambling to find a feasible Plan B).
The only thing standing in the way of the Keystone XL Pipeline is the organized resistance at the grassroots. TransCanada has responded to the protests by trying to demonize its adversaries.
TransCanada Tries to Demonize Concerned Citizens
First, TransCanada filed lawsuits to stifle the opposition with threat of arrest. In January 2013, it won a permanent injunction against the Tar Sands Blockade, Rising Tide North America, Rising Tide Texas, and almost two dozen protesters. They all agreed not to trespass on TransCanada's property so as to avoid facing $5 million lawsuit from the company. Last May in Oklahoma, it sought a temporary restraining order against the Great Plains Tar Sands Resistance and twenty-one individuals who had been protesting at the pipeline construction site. The judge agreed to bar three of the protesters.
"TransCanada is dead wrong if they think a civil lawsuit against a handful of Texans is going to stop a grassroots civil disobedience movement," Tar Sands Blockade spokesman Ramsey Sprague told the Oklahoman. "This is nothing more than another example of TransCanada repressing dissent and bullying Texans who are defending their homes and futures from toxic tar sands."
More ominously, TransCanada has been briefing police officers on Keystone XL protests.
The group Bold Nebraska filed a freedom of information request and obtained a slideshow that TransCanada used on December 11, 2012, to brief law enforcement. Included in the slideshow are the names and photographs of some of the organizers of the protests. Many of the photographs appear to have been taken from the websites of the protest groups. And while the slideshow acknowledges that there has been "no physical violence to this point," it recommends reporting demonstrators to the FBI and suggests prosecution under state and federal anti-terrorism laws.
"Try as TransCanada might to slander Tar Sands Blockade and our growing grassroots movement, we know who the real criminals are." said Ron Seifert, a spokesperson with Tar Sands Blockade who was pictured in the slideshow. "The real criminals are those profiting from this deadly tar sands pipeline by endangering families living along the route and pumping illegal levels of air toxins into fence-line communities."
Absurd Label of "Terrorists" Rejected by Ordinary People Defending their Land and Water
The effort to label protesters as terrorists is especially disturbing.
"Laws designed to go after terrorism and Al Qaeda are now going after ranchers," says Kevin Zeese, co-director of It's Our Economy. "That's how bad it's gotten, that people who are exercising their constitutionally protected rights to assemble, to protest, to criticize the government are being treated as if they're terrorists."
"Use of the word 'terrorism' is used routinely by law enforcement agencies and American intelligence agencies as a pretext to undertake actions against people engaged in lawful, free-speech activities," says Verheyden-Hilliard.
Law enforcement has also been infiltrating groups protesting against Keystone. As Earth Island Journal reported last year, the Bryan County Sheriff's Department in Oklahoma sent undercover officers to a nonviolent training camp organized by the Great Plains Tar Sands Resistance.
"At least two law enforcement officers infiltrated the training camp and drafted a detailed report about the upcoming protest, internal strategy, and the character of the protesters themselves," Earth Island Journal reported. Because of the infiltration, the police were able to pull over vehicles that were headed to the protest site, and the demonstrators had to call off the action.
The Opponents of KXL Are Resilient
Verheyden-Hilliard believes that the opposition to Keystone will withstand the pressure from TransCanada and law enforcement.
"Despite all these threats, the people have always come back, they always stand up for what they believe," she says.
Or, as Jason Kowalski of 350.org puts it, "If we win, it's because of our bodies and our spirits and our courage and our numbers. We know we have the moral high ground."
---
Tell the State Department what you think about Keystone XL by taking action here.