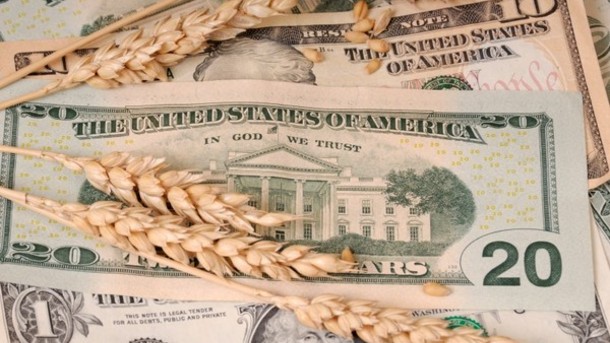 Congress passed a nearly trillion-dollar omnibus Farm Bill Tuesday after almost three years of debate that one analyst called "fairly epic." This major piece of legislation, which is generally under-covered by the mainstream media, sets farm and food policy for the next five years.
Patty Lovera, of the consumer and environmental advocacy group Food and Water Watch, says that overall "the nicest thing you can say about this final Farm Bill is it's a mixed bag." Taking a look inside that bag, what are the three best and three worst elements of this nearly 1,000-page bill?
The Good: Narrow Misses and Restored Programs
Country of Origin Labeling (COOL) for meat is a very popular law that advocates fought for years to implement. After that hard-won victory, it was challenged by Canadian and Mexican meat producers in international court, as the Center for Media and Democracy (CMD) has reported. In the final weeks of Farm Bill negotiations, the same corporate interests pushed to insert an amendment scrapping it, but advocates successfully defended the law. That means that labels that have been on meat packages since last fall, will continue to inform eaters of the origins of their fresh beef, pork, and lamb. CMD was one of nearly 100 groups that signed on to a letter to Farm Bill conferees asking them not to kill these informational labels. Enemies of consumer labeling had powerful allies, the American Legislative Exchange Council (ALEC), for instance, approved a resolution against COOL in January.
There is also good news for organic farmers. The bill includes more funding for organic programs, including for research on organic farming practices, and a restoration of financial assistance for small farms to afford organic certification; and renewed funding for local and regional food systems. For the first time, organic farmers and marketers will have access to the same research and promotion programs used by conventional farmers.
A Farm Bill amendment originally proposed by Senator Chuck Grassley (R-IA) would have cut off public access to many kinds of information about agricultural and livestock operations, effectively undermining the transparency provided by the Freedom of Information Act (FOIA). People who live near concentrated animal feedlot operations (CAFOs), for example, would not have been able to obtain basic information about those operations. This and similar amendments were not included in the final bill. CMD was one of dozens of groups that signed on to a letter urging Farm Bill conferees to protect transparency.
The Bad: "Less Food on the Table" for America's Vulnerable
Senator Kirsten Gillibrand (D-NY) did not vote for the Farm Bill because, she told the Associated Press, "This bill will result in less food on the table for children, seniors and veterans who deserve better from this Congress, while corporations continue to receive guaranteed federal handouts." She was referring to the bill's $8.6 billion cut to food stamps (Supplemental Nutrition Assistance Program, or SNAP), benefits received by one in seven Americans and one in four children. According to the Center on Budget and Policy Priorities, this cut -- which is far smaller than cuts passed by the Republican-dominated House in 2013 -- will lead to about 850,000 households losing an average of $90 a month in food benefits.
The bill ends direct payment subsidies -- about $5 billion in payments each year to landowners and their families, whether crops failed or not, indeed whether or not they were planted -- but still heavily subsidizes commodity crops, including wheat, soy, corn, and a new addition: sushi rice. (And it replaces these direct payments with subsidized crop insurance.) As Food and Water Watch laid out in a 2011 report, "Do Farm Subsidies Cause Obesity? Dispelling Common Myths About Public Health and the Farm Bill," deregulation of agriculture markets and the failure to enforce anti-trust law likely plaedy a larger role in the flood of "junk food" and rising rates of obesity than subsidies. But between continuing to subsidize such ubiquitous ingredients in processed foods as corn and soy and failing to undo the damage done by the deregulation of the 1980s and 1990s, this Farm Bill doesn't significantly change the food system.
On the subsidies front, the Farm Bill ties the receipt of subsidies to a requirement to follow certain conservation practices. But it cuts funding for conservation programs overall, leading to criticism by groups like the National Family Farm Coalition (NFFC).
NFFC board president Ben Burkett sums up the effects of this Farm Bill on family farmers concisely: "At least family farmers and ranchers are not wondering about the status of key programs, but many of the policies will continue to benefit corporate, export‐driven agriculture."