Wisconsin workers are joining the "Fight for Fifteen" -- better wages for those at the bottom of the U.S. payscale. Three cities in Wisconsin were among 58 across the United States where thousands of low-wage fast-food workers walked off their jobs to demand a living wage, safe working conditions, and the right to unionize without being penalized. The coordinated actions on August 29 constituted the largest fast food strike in U.S. history.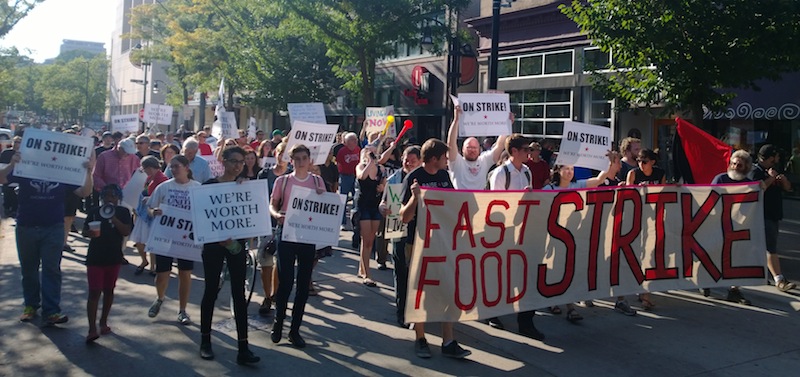 "I live paycheck to paycheck, and go to food banks for my food, because I don't make enough money," says Brenda Gomez, who has worked at a McDonald's for eleven years. "We deserve more money and a union [because then] there would probably be more fairness in the workplace, equal hours for everybody."
The new CEO of McDonald's, Don Thompson, is now paid $13.8 million annually, triple his 2011 salary. As a Mother Jones fast food wage calculator for Wisconsin shows, McDonald's employees would need to put in literally over a million hours of work at their current wage to match Thompson's salary.
The fast food industry overall did $200 billion in business in 2012. The U.S. has over 200,000 fast food restaurants, none of which are unionized, and almost all of which pay poverty-level wages for most employees.
The strike took place one day after the 50th anniversary of the March on Washington, and the strikers' demands closely mirror those of the 1963 organizers. Workers are demanding a $15 per hour wage, more than twice the current federal minimum of $7.25 an hour. Civil rights advocates and unions in 1963 were agitating for an increase in the minimum wage from $1.15 per hour ($9/hour in today's terms) to $2 per hour -- which today would be around $14.80, nearly the same number sought by Thursday's "Strike for Fifteen" activists.
Clocking Out and Rising Up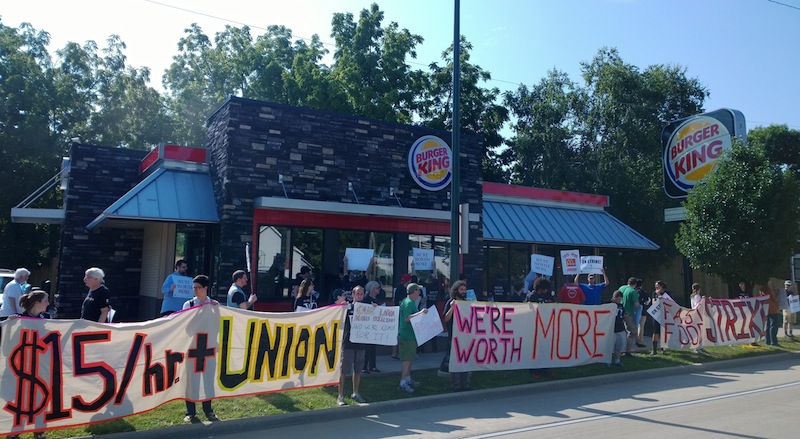 In Madison, strikes began as the sun come up at 6 a.m. Throughout the day, workers and their supporters demonstrated outside Dunkin' Donuts, the food court at East Towne Mall, and multiple McDonald's and Burger King franchises throughout Madison.
Workers and allies travelled throughout town all day, picking up numbers as others walked off their jobs. The most dramatic example was at a Family Dollar, where the sole employee there walked out with the strikers, locking up the doors and leaving the store closed for business.
Amber Kuter, 22, makes $7.25 per hour at Dollar Tree and is raising a 8 month-old daughter. She said her manager recently tried giving her a 25-cent pay bump, but the computer system wouldn't allow it. "He tried to put me in the computer at $7.50 and it gave him a red flag, it told him to stop."
This speaks to the difficulty of the protesters' efforts. Even if management of individual franchises are willing to raise wages and working conditions, their hands are often tied. Attempting to secure a better deal from the CEOs and boards of these multimillion-dollar chains would be an arduous task for any worker.
Reginald Hair, 31, an employee of a Burger King in Madison, spoke about the intimidation his co-workers felt at the prospect of standing up for their rights. "They were kind of scared to come out because they felt that they were going to lose their job if they came out," he said. "So I told them that I would be the one to stand up for my co-workers and other workers."
Big Macs, Small Wages
Fast food workers are the among the lowest-paying occupations in the United States. If a worker can secure full-time hours, their median pay is $17,813 a year. But on average, fast food employees work 24 hours a week. Employers' erratic schedules make it difficult for some to hold down more than one job, though many are juggling two or three jobs while trying to raise a family.
Fast food jobs are not held principally by teenagers, as commonly believed, teens make up only 16 percent of the fast food workforce. Working Americans have not recovered from the devastating 2008 financial crisis and many are taking lower and lower paying jobs to try to keep afloat. Reliable manufacturing jobs where someone can make ends meet at an entry-level position are rare. The "job growth" that the U.S. has seen in the last few years of recovery has been precisely these low-wage service-sector jobs.
The inertia is predicted to continue, with 28 percent of workers estimated to be stuck in low-wage jobs by 2020 as their pay shrinks. As an Economic Policy Institute study was recently delicately framed by CNN Money, "Stuck in a job with lousy pay? Better get used to it."
"For all too many people working minimum wage jobs, the rungs on the ladder of opportunity are feeling further and further apart," says U.S. Labor Secretary Thomas Perez.
These low wage jobs also stretch the social safety net: taxpayers end up footing the bill via public assistance for health care, housing costs or supplemental nutrition programs.
McBudgeting Specializes in Voodoo Economics
Families cannot make ends meet on $7.25. Studies show the minimum wage does not come close to covering the cost of living, and only ensures people go deeper into debt trying to make it month-to-month.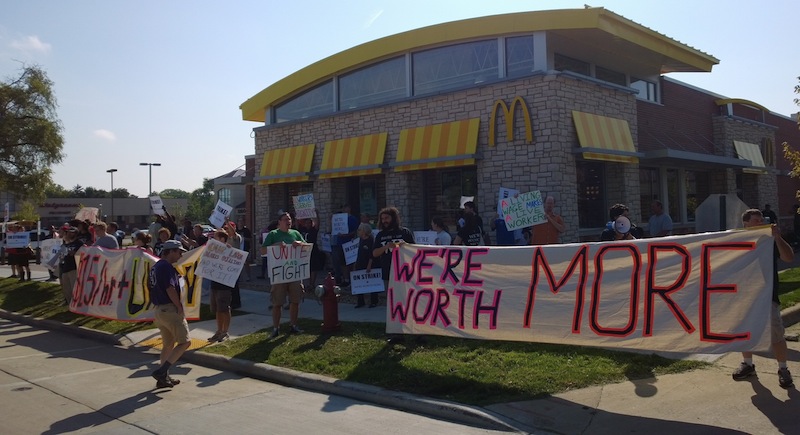 The notorious "McBudget" that McDonald's created to help its employees with financial planning, illustrates the problem. First, McDonald's urges anyone trying to make a living on McDonald's wages to get a second job. It grossly underestimates the cost of rent and health insurance ($20 a month), and recommends employees never heat their homes. It ironically does not budget for food, nor other necessities like child care, transportation, or clothing. McDonald's own budget recommendations calculates a person needs to make $12.86 an hour full-time (after taxes) to get by -- even without the excluded costs above.
Local organizers state there are over 37,000 retail workers in the Milwaukee area, with cashiers paid a median hourly wage of $9.01 an hour. "This is a civil rights issue," the Rev. Willie Brisco, president of the Milwaukee Inner-city Congregations Allied for Hope, says. "This is a human rights issue."
United For A Living Wage
In Madison, the day culminated in a rally at Library Mall, followed by a boisterous march to the Capitol. Supporters such as Congressman Mark Pocan, Madison Mayor Paul Soglin,and State Representative Melissa Sargent all addressed the crowd, but the best insights came from those who made the choice to go on strike yesterday.
People like Gage Jordan, Beijing Hill, and new mother Amber Kuter all testified poignantly to the importance of this struggle for individuals and families. Madison resident and mother of two Ashley Jeffers thanked supporters, saying:
"I'm here because I believe in my rights... It's the right thing to do for those who know they work hard to get where they are today."