An order from Ohio's Secretary of State just four days before the election could jeopardize votes from individuals who cast provisional ballots in this swing state -- and possibly the results of the presidential election.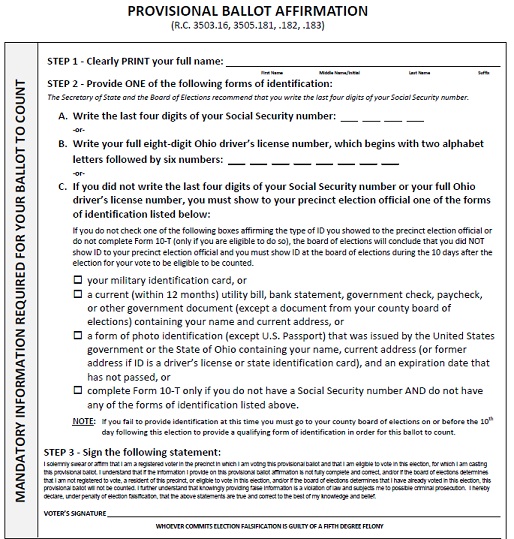 Ohio Secretary of State Jon Husted issued an order on Friday evening that essentially instructs poll workers to reject provisional ballots if voters make small errors on the supporting paperwork -- specifically on the question about what form of identification a voter showed to election officials. (Husted is a former state senator and an alum of the American Legislative Exchange Council whose travel expenses to meet with corporate lobbyists were funded by corporations through ALEC. ALEC has pushed "model" legislation to make it harder for Americans to vote through restrictive voter ID rules.)
Voting rights advocates claim that a federal trial court and the Sixth Circuit both held that the burden should be on the poll worker to double-check that forms are properly filled out, rather than the voter. According to court filings by voting rights groups, "a provisional-ballot form that has incomplete or improperly completed information regarding the type of identification proffered by a voter should be counted pursuant" to Ohio law, which they say should make the poll worker responsible for taking down the information.
Provisional ballots are used for a variety of reasons, such as when a voter goes to a polling place other than the one assigned to them. In Ohio, they are also used if a person who requested an absentee ballot decides to vote in-person instead. And there could be hundreds of thousands of provisional ballots cast for this reason.
As of October 31, at least 800,000 people had asked for an absentee ballot but had not yet filled it out. These individuals will be required to cast a provisional ballot if they go to the polls on election day, and under Husted's directive, if they make an error when completing the paperwork their vote will not be counted.
With Ohio a key swing state and polls showing a tight race, this move could well have an impact on the outcome of the presidential election. At the very least, if the vote totals are close, it is very likely America will not know who won on election night as the state counts provisional ballots -- and as legal battles ensue over what ballots should be counted.
Ohio's election administration this year has been a mess. Early voting the weekend before the election was hectic, in large part because Husted had limited the number of weekends where Ohioans can vote early from five to one. He had tried eliminating early voting altogether -- which Democrats, particularly African-Americans, have tended to use in past elections -- but was rebuffed by the federal courts.
In Florida, Democrats have sued to extend early voting hours because lines have been so long that many voters were deterred from voting. Meanwhile, where Ohio is making it harder for its residents to vote and have their ballots counted, New Jersey will allow residents displaced by Hurricane Sandy to vote by email and fax.
This article has been updated to include biographical information about Husted.