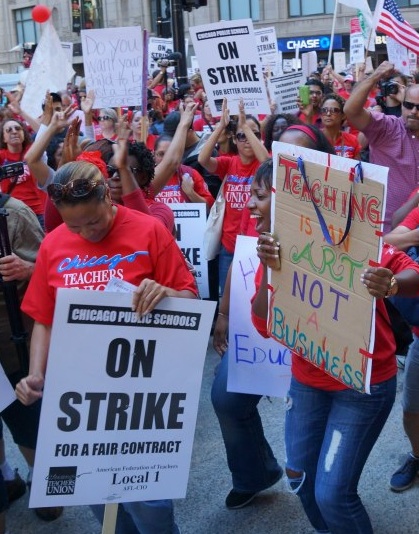 Negotiations between the Chicago Teacher's Union (CTU) and Chicago Public Schools (CPS) failed to result in a contract before Sunday, September 9, 2012 at midnight, sparking the first teacher's strike in Chicago in 25 years. The strike is now in its second day.
The last teacher walk-out in 1987 lasted 19 days. Many hope and expect that this strike will be short-lived, both sides of the negotiations say they are close to a compromise, but have yet to settle important issues such as how much teachers will pay for their health benefits and how teachers will be evaluated.
This final set of issues comes on top of a long series of demands made by Mayor Rahm Emanuel's administration which included longer work days, a longer school year, new ways of evaluating and rewarding teachers, and an expansion of non-union charter schools in the city. CTU leaders also cited concerns such as a lack of professional development opportunities, and the lack of air-conditioning in many sweltering classrooms. The union was pleased however to restore through negotiations some of the art, music, world language, technology, and physical education classes cut by the administration earlier.
While both sides reported that they were close on the issue of salary, Emanuel said in a press conference that only two issues remained: his proposal that teachers be evaluated based in part on student performance on standardized tests and hiring authority for school principals. But the issue of job security at a time of budget cutbacks and deficits is not an insignificant one. Reuters quoted CTU President Karen Lewis responding that standardized tests do not take into account poverty or hunger and violence in the streets. "Evaluate us on what we do, not the lives of our children we do not control," said Lewis who warned that many as 6,000 teachers could lose their jobs under the new evaluation system.
Tensions Rising for Many Months Over Neo-Liberal School Reforms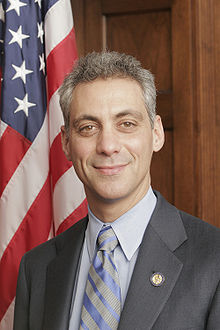 The tensions between Mayor Rahm Emanuel and CTU are not new, and talk of this strike has been building for months. In May, 2012, the Illinois legislature passed SB 7, one provision of which specifically required CTU to get the support of 75 percent of all of its members to authorize a strike. The bill was seen as an effort to weaken CTU's power, but the effort failed. CTU surprised its opponents in June by voting to authorize a strike in the case that contract negotiations with CPS failed with 90 percent of their members voting to authorize a possible strike.
Rahm Emanuel, the former chief of staff for President Obama, was President Bill Clinton's point man on NAFTA, pushing the free trade agreement responsible for offshoring millions of American manufacturing jobs through a Democratic Congress. More recently, he was an advocate for a more Wall Street friendly version of financial reform and for making sure that Obama's health care overhaul was something that the insurance industry and Big Pharma could embrace. Famously he called progressive heath care advocates "f-ing retards." Like Arne Duncan, the current Secretary of Education under Obama and former chief of CPS, Emanuel wants to bring a more business-like model to education reform. To that end, in April 2011, Emanuel hired Jean-Claude Brizard to head up the school system after Brizard was involved in a contentious battle with Rochester School unions who gave him a 95 percent vote of no confidence.
Pauline Lipman, professor of Educational Policy Studies and Director of the Collaborative for Equity and Justice in Education at the University of Illinois-Chicago, told Democracy Now! that "Chicago is the birthplace of this neo-liberal corporate reform agenda of high-stakes testing, paying teachers based on test scores, disinvesting in neighborhood schools and closing them, and turning them over to charter schools... It was a model which was picked up by cities around the country, and then made a national agenda when Arne Duncan... became Obama's Secretary of Education."
"This has the feel of an ideological struggle for the future of schooling in Chicago," Terry Mazany, a former Chicago school official told the Chicago Tribune. "The parties may be prepared to dig in for the long haul because the stakes are so high."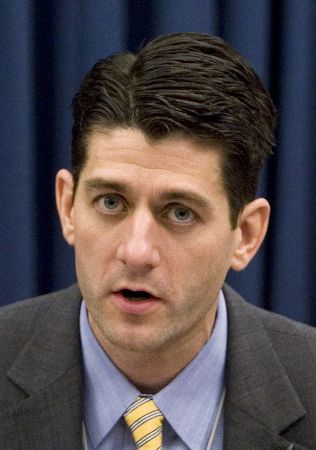 While negotiations continued on Monday, the Mayor received support from an interesting quarter. "Rahm and I have not agreed on every issue or on a lot of issues, but Mayor Emanuel is right today in saying that this teacher's union strike is unnecessary and wrong," Vice Presidential candidate Paul Ryan said, according USA Today. "We know that Rahm is not going to support our campaign, but on this issue and this day we stand with Mayor Rahm Emanuel," he said.
Lipman points out that just as Chicago is the birthplace of these policies, it has now become the "epicenter of the pushback against it." Actions in support of the striking teachers brought tens of thousands of people into the streets of downtown Chicago on Monday evening.
Strike Enters Day Two
Chicago's public school system is the 3rd largest in the country, serving about 400,000 students. On Tuesday morning CTU's membership of over 25,000 teachers and support staff will go back to their schools, but for the second day will go no further than the sidewalk, forming picket lines and marching with signs bearing slogans like "On Strike for Better Schools," "Honk If You Love Teachers," and "We're tired of the Rahm-around."
Many kids and parents joined in the picket line protests, while other parents scrambled to find alternative plans for their children. Lisa Samra is one Chicago parent who supports the strike while acknowledging the frustration of many who wonder what the coming days will bring. She told NBC Chicago "Of course it's a headache. It's a heartbreak. It's a heartbreak for the teachers. They want to be with the children."
---
CMD's Mary Bottari contributed to this report.