Last year, Wisconsin Governor Scott Walker set his sights on getting Illinois businesses to move to Wisconsin, and one of the few corporations to take him up on the offer received millions in grants and tax credits. That largesse might have translated into big contributions to Walker's campaign.
"Open For Business"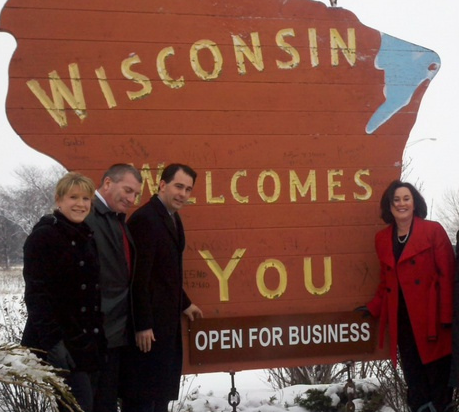 Upon taking office in 2011, Governor Walker wrote a column in the Chicago Tribune urging Illinois businesses to re-locate to Wisconsin, and his administration erected a sign on the state border with Illinois announcing Wisconsin was "open for business."
Illinois, like Wisconsin, elected a new governor in 2010 -- Democrat Pat Quinn -- and both confronted budget problems in the aftermath of the Wall Street crash in late 2008. But the two governors took very different approaches.
Quinn raised taxes in Illinois, while Walker cut about a billion dollars in funding for education and used the perceived "crisis" to attack political enemies like public labor unions (through collective bargaining restrictions) and trial attorneys (through "tort reform" measures that make it harder for residents of Wisconsin to sue corporations whose products injure or kill people). Although Walker and many Republicans insisted Quinn's policies would cause the Illinois economy to tank and that companies would flee to Walker's new "business-friendly" Wisconsin, quite the opposite happened -- during the first year in office for Governors Quinn and Walker (the twelve months ending in February 2012), Illinois gained 32,000 jobs and Wisconsin lost 16,900 jobs.
But in early 2011, Walker appeared convinced that there would be a corporate exodus from Illinois to Wisconsin.
"Years ago Wisconsin had a tourism advertising campaign targeted to Illinois with the motto, `Escape to Wisconsin,'" he said in a January 2011 statement. "Today we renew that call to Illinois businesses, `Escape to Wisconsin.' You are welcome here."
Luring the Catalyst Exhibits Corporation to the Dairy State
In March of 2011, Governor Walker proudly announced that one company had taken him up on the offer -- Illinois-based Catalyst Exhibits, which makes items for trade shows, would be moving to Wisconsin.
"We're hoping it's one of many more to come," Walker said.
That has not happened.
Despite Walker creating a supposedly "business friendly" climate and offering financial incentives, only a handful of companies have moved to Wisconsin -- and several Wisconsin companies have relocated to Illinois.
Getting Catalyst Exhibits to come to Wisconsin was not cheap. Walker's administration lured them in with a half-million-dollar state grant and a $1.2 million low-interest loan from the Kenosha Area Business Association. A "relocation tax credit" bill sponsored by Racine Senator Van Wanggaard gave Catalyst Exhibits and its owners two years of tax-free living in Wisconsin by forgiving corporate and individual income taxes.
At the time, some called the incentives "corporate welfare," and pointed out that the state was spending $500,000 plus two years of unpaid taxes to attract just over 100 jobs.
Payback?
Although the deal ended up costing Wisconsin taxpayers a lot of money for Walker and Wangaard to attract just a handful of jobs to the state, the investment in Catalyst Exhibits appears to have paid off for the governor.
Last Wednesday, on May 30, two Catalyst executives, Paul Stahlberg and Tim Roberts, donated $40,000 to Walker's campaign ($20,000 each). Each gave double the $10,000 individual contribution limit now in place. Walker is only allowed to accept donations in excess of that limit to repay debts accrued earlier in the campaign.
Did Walker get $40,000 in campaign contributions because Catalyst Exhibits received millions in tax credits, grants, and loans?
What do Walker's other big-money donors -- some of whom gave upwards of $500,000 -- expect in return for their contributions?