FRIDAY NEWS UPDATE
Gawker: David Koch Doesn't Give 'Hardcore Socialist' Obama Credit for Killing Anything
David Koch, the right-wing billionaire who funds much of the Republican party's ideological activities and whose towering persona makes for effective left-wing performance art, gave a rare public comment to New York magazine at some gala or another last night. Does he think the president deserves any credit for the Osama bin Laden mission? Of course not! Socialists don't deserve a farthing's worth of credit for anything. He told the magazine that Barack Obama deserved no credit -- that "all that Obama did was say 'yea' or 'nay,' we're going to take him out or not. I don't think he contributed much at all." READ THE FULL ARTICLE HERE.
Milwaukee Journal Sentinel: Republicans want to require photos on FoodShare, BadgerCare Plus cards
Madison — Republican lawmakers want to reduce fraud by requiring photos on the benefits cards used for food assistance and health care programs. The proposed amendment to the state budget would require all participants in the programs to carry their photo on the FoodShare Quest card and BadgerCare Plus Forward card. In making the proposal Thursday, Rep. John Nygren (R-Marinette) and Rep. Howard Marklein (R-Spring Green) cited a recent Milwaukee Journal Sentinel investigation raising concerns about FoodShare participants selling their benefits to others. READ THE FULL ARTICLE HERE.
The Capital Times: Democratic Party challenges recall petitions against 3 senators
Circulators hired by the state Republican Party have submitted hundreds if not thousands of invalid signatures in recall drives targeting three Democratic state senators in a "widespread and systemic pattern of election fraud," Senate Minority Leader Mark Miller, D-Monona, charged at a press conference Thursday. Democratic Party of Wisconsin officials filed a challenge Thursday afternoon with the Government Accountability Board seeking to invalidate the recall efforts against Senators Dave Hansen of Green Bay, Jim Holperin of Conover and Robert Wirch of Pleasant Prairie. The Democratic Party contacted hundreds of voters and collected nearly 200 sworn statements from people who said they never signed the petitions or were misled about the intent of the petition drives. READ THE FULL ARTICLE HERE.
The Capital Times: Motive obvious behind heinous voter ID bill
Although it's been proven over and over again that it's completely unnecessary, especially here in Wisconsin, I'll concede it's one thing to demand that voters identify themselves when they come to the polls. It's quite another to require an ID that will effectively discourage whole blocs of people from exercising their constitutional right to vote. But that's exactly what the Republicans in the Wisconsin Legislature are poised to do with their terribly flawed voter ID bill -- the most restrictive of any in the entire United States -- while their gleeful governor sits applauding in the background, eagerly awaiting the day he can affix his signature to this atrocity, turning on its head traditional state policy that has made Wisconsin a national leader in voter turnout. READ THE FULL ARTICLE HERE.
The Capital Times: State employee 'depreciation' day declared
Some state workers are not buying Gov. Scott Walker's recent efforts to honor state workers and, in response, held a noon event outside the Capitol Thursday they're calling "State Employee Depreciation Day." A news release notes the event is being sponsored by the "Ad Hoc Committee for State Employee Depreciation." Walker proclaimed Wednesday "State Employee Recognition Day," and earlier in the week announced a new recognition program that would reward workers who have exhibited "outstanding conduct in serving the people of Wisconsin." READ THE FULL ARTICLE HERE.
The Nation: Wisconsin-Style Occupation Planned in California
The Wisconsin backlash against Gov. Walker's union-busting crusade is widely seen as some of the most effective protests against austerity partly because activists occupied the state Capitol and refused to leave. These acts of physical resistance are truly the last refuge of the liberal class, according to Pulitzer Prize-winning journalist Chris Hedges. In fact, he says liberals have a "moral imperative" to perform them. "[I]f we don't begin to physically defend the civil society, all resistance will be ceded to very proto-fascist movements such as the Tea Party that celebrate the gun culture, the language of violence, seek scapegoats for their misery." READ THE FULL ARTICLE HERE.
FORTUNE SAYS U.S. BIG BUSINESS' PROFITS INCREASED 81%
Fortune 500 today reported that the 50 largest corporations in the U.S. had a 81 percent increase in profits (that's $318 billion). This is the third largest percentage gain in FORTUNE's list history. Wal-Mart is number one again for the second year in a row and Exxon Mobil, for the 8th consecutive year, leads profits with $30 billion. FORTUNE wrote: "'We've rarely seen such a stark gulf between the fortunes of the 500 and those of ordinary Americans.' ... The profits derived partly from productivity gains, including workforce reductions. And many 500 companies are growing faster overseas than in the U.S."
The top 10 U.S. companies on FORTUNE's list are: 1) Wal-Mart Stores 2) Exxon Mobil 3) Chevron 4) ConocoPhillips 5) Fannie Mae 6) General Electric 7) Berkshire Hathaway 8) General Motors 9) Bank of America Corp. 10) Ford Motor
THURSDAY NEWS ROUNDUP
Mother Jones- Paul Ryan: Secret Union Lover?
Republican golden boy Paul Ryan is hardly known for his sympathies to organized labor. With his drastic budget proposal to privatize Medicare and unabashed support for Governor Scott Walker's anti-union bill, the Wisconsin congressman has become the new face of the GOP's right flank. But a closer look at Ryan's voting record reveals a single eyebrow-raising exception when it comes to labor unions: Ryan has consistently broken with his party to defend a law protecting the wages of unionized construction workers. His stance on the issue has earned him the support of a handful of unions back home, setting them apart from the majority of Wisconsin's labor community, which who has cast Ryan as public enemy No. 1. What explains this break in GOP orthodoxy? Ryan's family owns a construction firm that relies heavily on union labor -- and the company could suffer if the law were repealed. READ THE FULL ARTICLE.
Milwaukee Journal Sentinel: Assembly result means a fight for GOP senator
Madison — The Democratic victory Tuesday in a special election for a La Crosse-area Assembly seat is the latest sign of trouble for Republican Sen. Dan Kapanke as opponents try to recall him. La Crosse County Board Chairman Steve Doyle was elected Tuesday to the Assembly, defeating home builder John Lautz to take a seat that had been in Republican hands since 1994. The special election was held after Republican Gov. Scott Walker tapped Rep. Mike Huebsch to run the state Department of Administration and serve as his chief adviser. It is one of three Assembly districts within Kapanke's Senate district. One of the other districts is represented by Democratic Rep. Jennifer Shilling, who plans to run against Kapanke if a recall election is held. Both Kapanke and Shilling are from La Crosse. READ THE FULL ARTICLE.
Milwaukee Journal Sentinel: Waukesha County seeks more time for recount
Waukesha — The panel charged with recounting, by hand, more than 124,000 ballots cast in Waukesha County for the state Supreme Court race between challenger JoAnne Kloppenburg and Justice David Prosser has asked for more time to complete its task. The recount began April 27 and only 20,386 were expected to be recounted by the end of the day Wednesday, according to a letter to the state Governmental Accountability Board from retired Circuit Court Judge Robert Mawdsley. Mawdsley was selected to oversee the Waukesha County Board of Canvassers in the recount of votes cast in the county April 5. Kloppenburg's campaign requested a recount after the official tally showed she lost to Prosser by 7, 316 votes -- less than 0.5% of the 1.5 million votes cast in the race. READ THE FULL ARTICLE.
The Cap Times: The voter ID fiasco
Wisconsin is about to abandon its historic commitment to free and open elections, and to the principle that the highest possible turnout of voters is the best aspiration for a democracy. Why? Because of legitimate concerns about voter fraud? No. The head of the state Government Accountability Board and other nonpartisan analysts say that "reforms" designed to address supposed electoral fraud in Wisconsin are "solutions in search of a problem." There is no evidence of significant, or even consequential, abuse of the voting process by citizens who register and vote without the sort of identification required in legislation prepared by Republican members of the state Assembly and Senate. READ THE FULL ARTICLE.
Milwaukee Journal Sentinel: Assembly result means a fight for GOP senator
Madison — The Democratic victory Tuesday in a special election for a La Crosse-area Assembly seat is the latest sign of trouble for Republican Sen. Dan Kapanke as opponents try to recall him. La Crosse County Board Chairman Steve Doyle was elected Tuesday to the Assembly, defeating home builder John Lautz to take a seat that had been in Republican hands since 1994. The special election was held after Republican Gov. Scott Walker tapped Rep. Mike Huebsch to run the state Department of Administration and serve as his chief adviser. It is one of three Assembly districts within Kapanke's Senate district. One of the other districts is represented by Democratic Rep. Jennifer Shilling, who plans to run against Kapanke if a recall election is held. Both Kapanke and Shilling are from La Crosse. READ THE FULL ARTICLE.
TOM MORELLO RELEASES UNION TOWN WITH WI FOOTAGE
Rolling Stone: "Union Town," a jaunty pro-labor singalong, is the title cut from Tom Morello's latest release under the name the Nightwatchman. All profits from the EP, which will be available digitally on May 17th and on CD and vinyl on July 19th, will go to the America Votes Labor Unity Fund via SaveWorkers.org. You can visit that site now to join the fight and download the "Union Town" MP3 for free.
Video by Revolution Messaging. Directed and edited by Robin Bell. Tom Morello filmed by Sean Ricigliano. Wisconsin convergence footage by Matt Wisniewski. La Unity rally footage by Chris Kissinger.
GOVERNOR WALKER SALUTES STATE EMPLOYEES?
CMD REPORTS: WISCONSIN SPECIAL ELECTION SEEN AS A BELLWETHER FOR FUTURE RECALL ELECTIONS
Mary Bottari reports for CMD:
Yesterday three special elections were held in Wisconsin to fill the seats of legislators tapped by Wisconsin Gov. Scott Walker to fill vacancies in his administration.

In a special election, Democrat Steve Doyle defeated Republican John Lautz for the Wisconsin District 94 Assembly, flipping a seat held by Republicans for 16 years. The hot topic in the race was Gov. Scott Walker's plan to curtail collective bargaining rights for public employees.

With 92 percent of precincts reporting, Doyle won a solid 54 percent to 46 percent, according to AP unofficial final results.

The seat was previously held by Mike Huebsch, who Walker picked in January to serve as Secretary of administration. Huebsch held the seat for 16 years, but is now head of the Wisconsin Department of Administration. He played a controversial role in the recent battles at the capitol, most notably refusing to follow court orders to open the capitol and return the building to January 2011 security measures. He is still fighting the order in court.
John Nichols, The Cap Times: Paul Ryan gets an earful as tour bombs
KENOSHA — Paul Ryan, the smooth-if-not-always-substantive congressman, is the darling of the D.C. talk shows. The House Budget Committee chair, chosen by GOP House leaders to respond to President Obama's State of the Union Address, is the prime pitchman for the Wall Street lobbying agenda on everything from privatization of Social Security to tax cuts for the rich. During Congress' spring break, he took his show on the road. Ryan, R-Janesville, may have thought that his carefully crafted sales pitch for pulverizing Medicare would play perfectly in Paddock Lake and Milton and Kenosha -- Wisconsin towns where the congressman expected to be greeted with cheers for a conquering hero from inside the Beltway. As it happens, hundreds of Ryan's constituents were turned away from the town hall meetings, which were packed to capacity long before their starting time. But the crowds that did get in to the sessions did not exactly come to hail their congressman as an American idol. READ THE FULL ARTICLE.
The Northwestern: Republican Sen. Randy Hopper calls for resignation of University of Wisconsin-Oshkosh professor Stephen Richards who encouraged students to sign recall
Sen. Randy Hopper on Tuesday called for an investigation into the in-class political activity of college professors along with the resignation of a University of Wisconsin-Oshkosh faculty member who encouraged his students during class to sign a petition to recall the Republican lawmaker. The state Republican Party, college Republican groups and several lawmakers immediately demanded accountability for UWO criminal justice professor Stephen Richards on Tuesday after the state Republican Party released a recording of Richards encouraging students on March 7 to sign a petition to recall Hopper of Fond du Lac. READ THE FULL ARTICLE.
Journal Times: RECOUNT TRACKER: Supreme Court race Tuesday, May 3
Justice David Prosser held a 7,316-vote lead over challenger JoAnne Kloppenburg before a statewide recount began last Wednesday. The state Government Accountability Board is providing daily updates on the recount's progress by precinct. Here's a look at where the recount stood as of Tuesday evening: Precincts recounted and given a preliminary review by board staff: 2,512 of 3,602. Prosser's current total: 501,272. Kloppenburg's current total: 457,917. Under state law, counties have until May 9 to complete the recount. The board began pressing county clerks on their progress on Tuesday, asking them for an update by the end of the day Wednesday so board officials can determine if they need to ask a judge for more time. READ THE FULL ARTICLE.
Milwaukee Journal Sentinel: Government programs help cushion poverty in Wisconsin
Government programs designed to help the poor and unemployed helped cushion Wisconsin's poorest residents from the worst effects of the Great Recession in 2009, according to the third Wisconsin Poverty Report. Expanded tax credits and food assistance were key drivers to holding down poverty in the state, according to the report issued Wednesday by the University of Wisconsin-Madison Institute for Research on Poverty. "What is glaringly obvious, we had a bad recession and anti-poverty efforts were very successful in making sure that the recession did not hurt the most vulnerable, especially children," said Timothy Smeeding, director of the research institute. The report comes amid the state's great debate over the size and role of government. Gov. Scott Walker has proposed reducing a tax-credit program for the poor and hiring a private contractor to help determine who is eligible for food assistance. He is also seeking more flexibility from the federal government in running the state's health insurance program for the poor. READ THE FULL ARTICLE.
Milwaukee Journal Sentinel: Photo ID bill advances in Capitol
Madison — Republicans on an Assembly committee approved a bill Tuesday to require people to show photo ID to vote, but Democrats ripped the measure because few if any existing college IDs could be used for voting. Republicans who control the Legislature plan to pass the measure as early as next week. GOP Gov. Scott Walker supports requiring photo ID to vote. To make its IDs compliant with the requirements of the Assembly bill, the University of Wisconsin-Madison would have to put addresses on them. UW officials are reluctant to do that because the IDs include magnetic strips that open doors to dorm rooms, and students would be at risk of break-ins if they lost them. The Assembly Committee on Elections and Campaign Reform approved the bill 5-3 along party lines. Republicans said they expect changes to the bill before it becomes law. READ THE FULL ARTICLE.
CMD REPORTS: PROTESTS IN BENTON HARBOR FOLLOW MARTIAL LAW ENFORCEMENT
5:35 a.m. - Jennifer Page reports for CMD:
The stripping of all power of the local government in Benton Harbor, MI has brought the national spotlight to the tiny town on the shores of Lake Michigan. The first city to be declared in a "financial emergency" by Michigan Governor Rick Snyder, CMD reported that Emergency Financial Manager (EFM) Joseph Harris was assigned to the city back in 2010 by then-Governor Jennifer Granholm. But it wasn't until March of this year that Harris essentially disbanded the local government and boards.

The Rev. Jesse Jackson, Sr. responded to this takeover while on a tour of the state, calling for a rainbow coalition to organize against the EFM bill and others that Snyder and the Republican-led Senate has passed. At a protest in Benton Harbor, Jackson said that he, along with Michigan Congressman John Conyers, Lansing Mayor Virg Bernero and Benton Harbor Mayor Wilce Cook will file a lawsuit to challenge the law's constitutionality.
ALEC BIG WIGS USE THE SIDE DOOR
Jennifer Page reports for CMD:
This past weekend, the American Legislative Exchange Commission, or ALEC, met in Cincinnati for its annual Spring Task Force Summit. And the members, comprised of legislators and corporate board members from some of the largest companies in the country, were reportedly inclined to use the side and back entrances of the Hilton. That was because a group of 150-200 protestors, organized by See You In Cincinnati, greeted the ALEC attendees in what seems to be the first rally against the conservative policy group that is filed as an "educational" non-profit.
Although not covered by the local media, See You In Cincinnati held the two hour protest and 19 public teach-ins across the city in protest of the secretive group that churns out model bills for legislators and has been tied to the sweeping movement of taking away union rights, immigration reform and centralizing state governments that can be seen in states such as Wisconsin, Ohio and Michigan.
Daily Kos journalist Bob Sloan and Bruce Fealk, a progressive Michigan activist, also spoke at the event. See You In Cincinnati is planning on hosting another protest at ALEC's annual fall conference in New Orleans in October.
TUESDAY NEWS ROUNDUP
The Business Journal: Walker does about-face on new biz filings
"New Wisconsin business filings on record pace" -- that was the gist of a press release issued by Gov. Scott Walker Monday. But a snafu at the Wisconsin Department of Workforce Development has the Walker administration doing an about-face. Turns out, business filings aren't on a record pace after all. The original news release said new business filings jumped 25 percent in the first quarter of 2011 to more than 9,000, a record for the state. The release used the numbers as proof that Walker's open-for-business strategy is working. A few hours later, the governor's office issued a second release saying the numbers didn't add up. The original numbers were from the Department of Workforce Development's Office of Economic Advisors, which has since revised its totals. "The new numbers do not reflect a significant uptick in new business formations," the corrected release said. READ FULL ARTICLE HERE.
Wisconsin State Journal: GOP proposal: College IDs may work as voter IDs, with limits
Students trying to vote in Wisconsin elections may be able to use college ID cards under changes to a bill requiring voters to show identification at the polls proposed by Republicans. But some Democrats called the changes "meaningless," saying the revised bill still threatens to keep college students from voting, is costly and risks exposing students' privacy. Earlier drafts of the legislation barred student ID cards from being used at the polls. But the latest version, which will go to a vote before an Assembly committee Tuesday morning, would allow a voter to use an identification card from accredited public or private university or college if it included a photo, date of birth, current address, an expiration date no more than four years away, and a signature. "It would have to meet the same standard as a driver's license," said state Sen. Scott Fitzgerald, R-Juneau. READ THE FULL ARTICLE.
Milwaukee Journal Sentinel: Grothman, Lazich recall efforts fall short on signatures
Organizers of the last two recall campaigns against Republican state senators announced Monday they didn't have enough signatures to force Glenn Grothman of West Bend or Mary Lazich of New Berlin into elections. The announcements came on the day of the deadline for filing signatures to recall the two. Waring Fincke, the West Bend attorney who has been a key organizer of the Grothman recall campaign, said the group had collected more than 15,000 signatures since papers were filed against Grothman and seven other Republican state senators on March 2. But his group needed 20,061 to force him into an election. A statement from the recall group said the signatures were "a strong foundation for future campaigns." READ THE FULL ARTICLE.
The Cap Times: Walker's two-step -- first demonize, then honor
State employees sent along this email from Republican Gov. Scott Walker today with wry comments after Walker, who spent his first weeks in office demonizing and vilifying public employees, now wants to honor some among them. His note came headlined "Governor Scott Walker." Thank you for your service to Wisconsin. Our state is proud of the hard work and dedication you bring to your job every day. To express our appreciation, we are creating a new State Employee Recognition Program that will honor state employees who have gone above and beyond the call of duty. READ THE FULL ARTICLE.
Milwaukee Journal Sentinel: Prosser leads halfway through high court recount
As the recount in the state Supreme Court race passed the halfway mark Monday, Justice David Prosser held his lead over Assistant Attorney General JoAnne Kloppenburg. But Kloppenburg picked up 113 votes as Waupaca County's recount uncovered errors in previous figures from two towns. And the figures reported Monday evening don't include any votes from Wisconsin's two largest cities, Milwaukee and Madison, or from Prosser's hometown of Appleton. READ THE FULL ARTICLE.
The Nation: 89 Arrested Protesting Paul Ryan's Medicaid Cuts
Capitol police arrested 89 disability rights activists on Monday following the group's occupation of the Cannon House Office Building rotunda. The disability rights group ADAPT staged the event to protest Rep. Paul Ryan's Medicaid cuts, which would force people with disabilities to live in nursing homes rather than in their own houses. Additionally, the House-passed budget resolution would turn Medicaid into block grants and reduce the program's spending by more than $700 billion over 10 years. Combined with other Medicaid cuts at the state level, the protesters said, the block grant plan could restrict funding so much that people with disabilities would not have enough public support to be able to live independently. The activists were charged with "unlawful conduct," a misdemeanour offense. Sgt. Kimberly Schneider, a spokeswoman for the Capitol Police, said most of the protesters will "probably be released unless they have other outstanding offenses on their records," Politico reports. READ THE FULL ARTICLE.
MONDAY NEWS ROUNDUP
Milwaukee Journal Sentinel: Signature of lawmaker's dead father on recall papers
Bill Pocan -- father of state Rep. Mark Pocan -- may have died long ago. But that doesn't mean he can't sign the recall petition against state Sen. Bob Wirch of Kenosha. Just check page 362 of the Wirch recall petition, and you will find the signature and address for Bill Pocan, also the father of Milwaukee County Judge William Pocan. The petition says Bill Pocan penned his support of the recall effort on March 3. Wirch is one of 14 Democrats who left the state to block a vote on Gov. Scott Walker's budget-repair bill. He is one of at least three Dems and six Republicans targeted for recalls. In an affidavit provided state Democrats, Corinne Pocan said her husband Bill couldn't have signed the Wirch papers. She said he has been dead for two decades. She also said she lives at the address listed on the recall document. The affidavit states: READ THE FULL ARTICLE.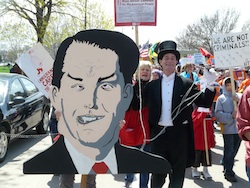 The Cap Times: Walker's proposed tax change: More money for corporations, less for state
Gov. Scott Walker calls it a needed fix to a flawed policy. Critics call it a giveaway to corporations. Either way, changes to a corporate tax law proposed in Walker's budget may mean businesses would pay the state about $46 million less in taxes over the next two years -- and $40 million less each year after that. And state officials could be prohibited from challenging the tax claims of large corporations and their subsidiaries, including companies suspected of exploiting loopholes to dodge taxes. On the campaign trail, Walker had vowed to repeal the law, known as combined reporting, calling it a a "job killing" tax. The law effectively requires any company doing business in Wisconsin and its subsidiaries to file taxes as if they were one corporation. Companies in these "combined" groups are still required only to pay taxes based on their income generated in Wisconsin. READ THE FULL ARTICLE.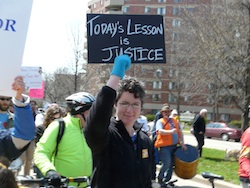 Wisconsin State Journal: Don't block ballot box
Keep it simple. That's what state leaders should do with voting rules in Wisconsin so interest and participation in elections stay high. Instead, the Republican-run Legislature is pushing for new restrictions on most voters -- especially students -- while exempting residents of nursing and retirement homes. It's confusing and unjustified, given scant evidence of voter fraud. READ THE FULL ARTICLE.
The Daily Reporter: Workers demand better jobs, pay on May Day
MILWAUKEE (AP) — Millions of demonstrators around the world marched for labor rights Sunday, including thousands in Wisconsin who continued their divisive battle over collective-bargaining rights that began in February and had prompted huge masses of protesters to pour into the Madison Capitol. Wisconsin demonstrators marched two miles through downtown Milwaukee, waving U.S. and Mexican flags and holding signs showing a raised fist in the shape of the state. Similar scenes played out across the nation and around the world, as millions of workers from Havana to Berlin and Istanbul took to the streets. READ THE FULL ARTICLE.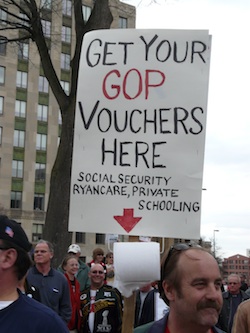 Ed Garvey, The Cap Times: Greed meter just keeps going higher
Just when you think politics can't get any more confusing, it becomes more confusing. Gas over $4 a gallon threatens the economic recovery even as it becomes clear that there is more than enough oil and gas available to maintain significantly lower prices. It is not a supply and demand issue -- it is greed and more greed. Gas prices are not rising because there is a shortage. The oil lobby can't keep the smile off long enough to chant "drill, baby, drill." The American people know this is gouging and yet Republicans in Congress are defending crazy Exxon profits. Hard to figure. READ THE FULL ARTICLE.
The Cap Times: Tone deaf Paul Ryan thinks he's vice presidential timber
Congressman Paul Ryan just had the roughest two weeks of his long and -- until now -- charmed political career. The favorite son of the GOP's monied elites, the Janesville Republican has spent his entire adult life working on Capitol Hill as a legislative aide, party operative and congressman. Set up to succeed by party strategists and campaign donors, he has always coasted on a combination of looks, charm and more than enough Wall Street money to outspend his opponents. READ THE FULL ARTICLE.
---
Wisconsin Protests photo gallery