"Where did our money go? Down the Walker rat hole!"
Such was the popular chant Tuesday evening outside the downtown Madison Marshall and Ilsley Bank branch. Protesters rallied outside the small bank front on the Capitol Square.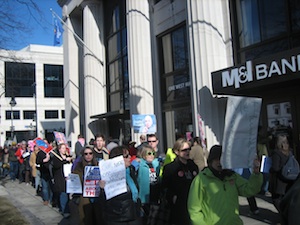 M&I Bank, founded and based in Milwaukee, and its executives were top contributors to Governor Scott Walker's campaign fund in 2010. After Walker passed the controversial "budget repair" bill, eliminating collective bargaining rights for many Wisconsin public workers, M&I Bank found itself smack-dab at the top of two boycott lists.
"Who funds Walker? M&I Bank!"
The crowd of about 100 people gained steam as the protesting continued. At one point, a burly bald man with "M&I Security" emblazoned on his suit came out and told protester Miles Kristan he could not sit against the door of the bank because "it is private property."
Kristan refused to move, saying because he was outside, he was, in fact, on public, state-owned property.
"Where did our money go? M&I has got to go!"
UW-Madison law and grad student Peter Rickman rallied the crowd.
"I've got a few numbers for you!" he shouted to the protesting crowd, pointing out the $1.7 billion M&I Bank received in Wall Street bailout money in 2008.
"They got bailed out –- we get sold out!"
"And they haven't paid any of it back!" Rickman said. "Working people are sick and tired. We are fed up. We are fighting back!"
"Give it back!"
The next number in the M&I story, Rickman said, was the $18 million bonus M&I Bank CEO Mark Furlong will receive after the Bank of Montreal closes the deal in the acquisition of M&I Bank July 31, 2011, and moves the headquarters to Chicago.
"All of these numbers add up!" Rickman yelled. "What do they add up to?"
"Shame! Shame! Shame!" shouted the crowd of about 100, many of whom were outfitted in paper RN -- for registered nurse -- hats made by a University of Wisconsin Hospital RN and protester of Wisconsin Gov. Scott Walker's "budget repair" bill, now renamed the "Labor Peace Act."
 Mike Lauer of SEIU took the megaphone, declaring that the working people of Wisconsin needed to fight back. He explained the enormous payday Furlong will receive after the Bank of Montreal acquisition.
After that transition, Furlong will remain CEO, effectively being rehired by the new M&I Bank for an $18 million "sign-on bonus," and will receive and additional $6 million for "staying with" M&I Bank for another year.
"Shame, shame, shame!" chanted the protesters, turning to Republican state Senator Glen Grothman, who was spotted on the Square. Grothman infamously called the Madison protesters "slobs" on an MSNBC segment March 2, saying the protesters were "college students having a fun party."
The group of 100-plus M&I Bank boycotters took to the Square then, marching around the Capitol. "Recall Walker!" they shouted, pumping their anti-bankster signs in the air. "Recall Walker!"