CMD LIVE REPORT FROM THE WISCONSIN CAPITOL
11:00 p.m. - SHAME! SHAME! SHAME! - REPUBLICAN CONTINGENT OF WI STATE SENATE VOTE TO ELIMINATE COLLECTIVE BARGAINING RIGHTS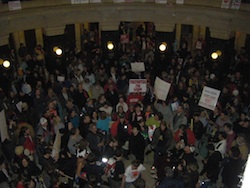 Erica Pelzek reporting:
The Wisconsin State Assembly will reconvene at 11 a.m. tomorrow to take up the amended version of the Wisconsin Gov. Scott Walker's highly disputed budget repair bill. By removing "fiscal items" from the bill this evening, Senate Republicans were able to vote on an amended portion of the budget repair bill with the Senate Democrats--who have been out of state since February 17--as non-fiscal legislation.
Chants of, "Shame! Shame! Shame!" reverberated through the Wisconsin State Capitol building Wednesday evening after the entirely Republican contingent of the state Senate voted 18-1 to pass the elimination of collective bargaining rights of Wisconsin state workers. Protesters crammed in the stairwell outside the Senate Chamber, screaming, "This is wrong!" as the vote occurred.
This reporter phoned in to report protester goings-on from a vacant women's restroom in the Capitol, only to be expelled from her "reporting station" after Capitol police cleaned, emptied and locked all Capitol building restrooms. The building was technically closed, due to state court's order.
Protesters outside of the Capitol's King Street entrance chanted, "Let us in! Let us in!" as protesters exited. Cars around the square honked in the tune of the popular rally chant, "This is what democracy looks like!"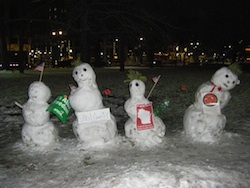 Some Capitol staffers reportedly also could not gain access to the building after 7:30 p.m., according to a Daily Cardinal photographer. A Milwaukee-based protester who used to live--and protest--in Madison, allegedly arranged to have a Capitol entrance opened around 8 p.m., letting swarms of protesters into an entrance guarded by only one Wisconsin State Patrol officer.
After State Patrol officers grasped the situation, they blocked more protesters from entering the building; however, the occupation was won.
Defend Wisconsin, the grassroots organization comprised of UW-Madison Teachers' Assistant Association members and other protesters, suggested late Wednesday evening that protesters currently in the Capitol should remain in the Capitol tonight, further promoting the overnight protests that have persisted since Valentine's Day.
10:30 p.m. - Former Madison Mayor Paul Soglin responding to an interviewer tonight suggests that a general strike has symbolic value and may last a couple of days but then it falters. Rather folks should considered sustained action against Walker campaign contributors, retailers, financial institutions and the like. Soglin is not alone, many labor leaders and others believe a general strike will be very difficult to pull off and they are examining other options. This week, two websites popped up recommending boycotting products and services of Walkers campaign contributors as well as a number of fast growing Facebook pages. "Tomorrow if I were in charge, i would ID a couple contributors, show up at their building and say 'I know who you are I know what you have done and I want you to reflect on your sins,'" says Soglin.
ED SCHULTZ MSNBC WENT LIVE WITH MANY OF THE WISCONSIN 14
10:00 p.m. - Democratic Senators on air: Fred Risser, Mark Miller, Lena Taylor, Julie Lassa, Dave Hansen, Kathleen Vinehout, Bob Wirch, Jim Holperin, Chris Larson, Tim Carpenter
Senior Senator Fred Risser: "I have never seen anything like this before."
Mark Miller said: "We will be back to fight this shoulder to shoulder with the people of Wisconsin, but not tomorrow."
Kathleen Vinhout and many of these 10 stressed a similar message: Take the right to the ballot box and work vigorously to recall those who would not listen.
Vinehout: "Tonight people feel angry and betrayed and they want to do something. They want to be heard and to be heard they should turn to the ballot box. Everyone should get involved in the recall election in any way they can. We want to make sure the people are heard and they will be heard at the ballot box."
Adds Taylor: "The truth is our governor is a liar and he's been proven to be that and republican senators are rubber stamp senators. They're going to break the rules and they're going to defy the constitution, and it's a shame. It's time to take the anger and frustration and change the faces of the people who could not change their opinions."
Asked by Schultz about whether people would turn their passion into a general strike, Miller said: "I can't rule out anything that might happen by people who feel they've been abused, but what we need to do is to change the faces of those who turned their backs on the people."
Regarding the strike question, Taylor cautioned: "I know Walker well enough to know that what he wants to do is privatize everything. I'm concerned and want to make sure that people think strategically about what they do."
Barca, stressing that they would pursue legal recourse tomorrow for what he perceives as a violation of the open meeting law, said, "Tonight the citizens of Wisconsin were cheated out of their rights. We'll be there to fulfill our responsibilities. We'll be battling this. The charade has now been exposed. From day one they were out to take away the rights of workers. There will be recourse on every single level, that I can assure you." In dramatic footage aired tonight, Barca went to the Senate parlor to argue that they Senators had not give the proper two hours notice on the meeting and the legislative action as required by the open meetings law.
Nation reporter John Nichols said that he walked through the building "and was reminded of the Minute Men who heard there was something awry and rushed to help. People rushed to the Capitol with their kids to defend democracy itself."
10:00 p.m. - The police made an announcement that protesters had to leave or they would face arrest, some are leaving many are staying. The shout of "our house" echo through the building.
9:45 p.m. - Republican legislators have been spotted at Inn on the Park, watching the scene from afar.
9:30 p.m. - UPTAKE INDEPENDENT VIDEO TEAM - LIVE STREAM FROM THE WI CAPITOL
Click here to view the live stream.
8:45 p.m. - Calls coming in from the Capitol indicate the building is now open. Chants of "Whose house? Our house!" can be heard throughout the building. The building is fully packed, there are no police in sight. Some present feel it is very odd, they are hoping for the best, but worried that the National Guard may be called in.
CAPITOL POLICE NOT LETTING PEOPLE IN
8:15 p.m. - Brendan Fischer:
Capitol police announce they are not letting any more people inside until they receive further orders from the Department of Administration. They are not following a one-out, one-in policy, but just refusing entrance. "We are just stuck in the middle of this," one officer says. The capitol police forces are supplemented by Department of Natural Resource personnel and sheriffs deputies; plain clothes Madison police officers are among the protestors, but were not spotted guarding the doors.
Those protestors who are already inside have waited a while to get in. Many lined up outside the capitol as soon as Republicans announced they would be voting on the union-busting bill, and stayed lined up as word spread that the bill was passed. Only one door was allowing protesters in, and the process was made exceptionally slow by filtering each person through a single metal detector, one-by-one.
By now, most are planning on staying all night and food and water is slowly making its way inside. A hearing has been announced for room 225, and last week's court order requires that the building stay open any time a hearing is taking place. The hundreds (if not thousands) of protesters outside, though, are being refused entrance.
Those inside are chanting "let them in!" to the officers guarding the doors; many protesters are lining up at the second-floor doors, rather than the main entrances used throughout the protests. In at least one instance, a protester inside the capitol was able to evade officers, throw open the doors, and around a dozen protesters made it into the building. One person also opened a window in the women's bathroom to admit protesters but police quickly caught on.
WISCONSIN SENATE SNEAKS THROUGH COLLECTIVE BARGAINING RIGHTS STRIPPING IN WALKER'S BUDGET REPAIR BILL; CLAIMS NOT A FISCAL ITEM SO DEMS NEED NOT BE PRESENT
7:00 p.m. - Brendan Fischer reports that the building is staying open all night. Hearings held in room 225.
6:58 p.m.- Mary Bottari: SEIU asked people to come tonight to stay all night and to be here at 8:00 a.m.
6:53 p.m. - Brendan Fischer reports: All people entering must pass through metal detector. Long lines. Those getting in are talking about staying the night.
6:30 p.m. - Erica Pelzek reports: Senate on floor voted on change to bill. Passed 18-1, Dale Schultz was only Senator to vote no. Senate adjourns. Hearing rumors that there are fire trucks driving around Capitol with sirens blaring.
6:07 p.m. - Brendan Fischer reports: Thousands of protestors outside chanting let us in!
BREAKING NEWS FROM THE WI STATE AFL-CIO
Tonight at 6:00 pm in the Senate Parlor we are hearing that Senate GOP is going to split the budget repair bill, fiscal from non-fiscal, and ram it through in the dark of night. Given that they're attempting to ram through the bill without any media attention we wanted to let you know that very important developments are likely to occur tonight at 6:00 pm in the Senate Parlor.
BREAKING NEWS
WITHOUT EXPLANATION, SENATE SENDS BUDGET-REPAIR BILL TO CONFERENCE COMMITTEE
Milwaukee Journal Sentinel:
The state Senate abruptly sent the state's budget-repair bill Wednesday to a committee of legislators from both parties.

The bill - controversial because it ends most collective bargaining for public employees - has been at a stalemate for three weeks because Democrats have boycotted Senate sessions. Those 14 Senators have been in Illinois since Feb. 17, denying quorum to majority Republicans.

The move puts the bill in front of a committee of six legislative leaders. They will re-craft the bill and then send it to the Assembly and Senate for votes. The bill could not be amended in either house.

What changes would be made remains unclear. Senators took up the measure with no notice and largely declined comment after the vote.

They have scheduled a conference committee for 6 p.m.

The senators on the committee will be Majority Leader Scott Fitzgerald (R–Juneau), President Mike Ellis (R–Neenah) and Minority Leader Mark Miller (D–Monona). Assembly Speaker Jeff Fitzgerald (R–Horicon) is on the committee but it is unclear what other representatives are.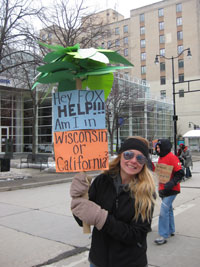 DEPARTMENT OF ADMINISTRATION OFFICIALLY BACKS DOWN FROM $7.5 MILLION DAMAGE ESTIMATE
3:02 p.m. - Brendan Fischer reports:
In last week's hearings on access to the State Capitol, the Department of Administration justified access limitations by telling the court it would cost $7.5 million to clean up the "mess" left by protesters. The number was quickly repeated by Fox News, with Eric Bolling referencing it as proof of the "$7.5 million MESS those protestors made," and Gretchen Carlson saying "that $7.5 million number ... infuriates me more than anything else about this story." Jon Stewart featured these over-the-top reports Monday night. On March 4, the state backed off those claims, revealing the damage assessment may actually be closer to $347,500, twenty times less than the original assessment.
Today, March 8, the DOA submitted a letter to the court "clarifying" their grossly inflated estimate, perhaps to avoid perjury charges. In the letter, the DOA notes the $347,500 number is based on $2500 for "photo documentation," $60,000 for a "condition assessment," $185,000 for a "landscape restoration," and $100,000 for three weeks of "interior restoration." There it is official, do you think Fox will now do a correction?
FITZGERALD TO CHANGE THE RECALL STATUTE?
1:30 p.m. - Mary Bottari reports:
TPM and Wisconsin Public Radio Report that Republican Senate Leader Scott Fitzgerald is considering changes to Wisconsin recall provisions. From TPM: "Yeah, I mean, I've always been a believer that recall probably would be more appropriate if a legislator was involved in some type of, you know, either criminal activity, or something that could be deemed, you know, unethical," said Fitzgerald. "Not related to simply taking a stance on a tough vote. And you know, I think there's other legislators that feel that way as well." The full audio can be found here. Fitzgerald's first discussion of the recall statute comes at about the 3:20 mark, and the second exchange at the 8:10 mark.
NEW VIDEO: SCOTT WALKER'S RAT HOLE AND PALACE GUARD DISCLOSED
12:00 p.m. - Mary Bottari reports:
Faced with the problem of getting his supporters in to the Assembly Chamber last Tuesday, the governor and his palace guards escorted a cadre of lobbyists and well-heeled friends through a utility tunnel that runs from a parking lot across the street, under the capitol grounds to the capitol basement. Madison City Council woman Shiva Bidar-Sielaff heard that the tunnel might be being used for this purpose and went to check it out. She found about a dozen police officers guarding the tunnel entrance, some from Milwaukee, some in suits with unknown insignia. She witnessed an unmarked police vehicle screech into the garage. Out stepped the First Lady, Tonnett Walker, who was hustled into the tunnel as if the parking garage was under attack. "It was all very Men in Black," the City Council woman said with a laugh who watched with a handful of other observers. Other Walker supporters had been bused in earlier; the bus signs and arrows were still up on the walls.
The "Men in Black" appear to be Wisconsin State Patrol officers, who as the videographer notes refuse to identify themselves and "are not really acting like police officers." The head of the state patrol is "Papa" Stephen Fitzgerald. Fitzgerald's two sons are Republican Senate Majority Leader Scott Fitzgerald and Republican Assembly Speaker Jeff Fitzgerald. Five current top officials at the State Patrol were passed over in awarding the job to Fitzgerald, 68, a former Dodge County sheriff with four decades in law enforcement.
SCOTT WALKER'S PALACE GUARD - THE NEW WISCONSIN SECRET SERVICE??
Video submitted by Ann Murphy.
Read more about "the rat hole" in Mary Bottari's article: SCOTT WALKER DOWN THE RAT HOLE WITH THE PALACE GUARD
Visit this link to see bus schedules for weekend rallies.
WEDNESDAY, MARCH 9, 2011 MORNING NEWS ROUNDUP
WEBSITES BACK BOYCOTTS OF WALKER CONTRIBUTORS: SOME WELL-KNOWN AREA COMPANIES MAKE THE TARGET LIST
Milwaukee Journal Sentinel:
Among the companies that have been targeted are M&I Bank, Northwestern Mutual Insurance Co., Johnsonville Sausage, the Wisconsin Realtors Association, the Wisconsin Automobile and Truck Dealers Association and Georgia-Pacific, which is owned by Koch Industries, a privately held company owned by David and Charles Koch, both of whom are Walker backers.

...

On the Web, a site called ScottWalkerWatch.com also maintains a boycott list.

Much of the campaign donation information comes from the Wisconsin Democracy Campaign, a political watchdog group.

Mike McCabe, the group's executive director, said that, in the past three weeks, there have been more than 4.5 million hits to the campaign finance database.
KOCH BROTHERS KEY POLITICAL EMPLOYEE HAS DARK AND DISTURBING PAST]
Forbes:
It is often said that you can judge a person by the company they keep.

If this is true, it is small wonder that billionaire libertarians Charles and David Koch have become notorious in the eyes of many Americans.

Tim Phillips, the man who heads up the Americans For Prosperity group that serves as a political front for the brothers Koch (David serves as Chairman of the organization), and is leading the effort to support Gov. Scott Walker's attempt to neuter the public employee unions in Wisconsin, is a key cog in the Koch political machine – earning in excess of $250,000 for his services in 2009 (latest tax filing data available.)
The Cap Times - CAMPING GEAR FROM CAPITOL PROTESTS WILL BE TOSSED AFTER 6 P.M. WEDNESDAY
"If you have camping equipment, sleeping bags or other materials on the State Capitol grounds, remove it or the state will dispose of it."
The Cap Times - JOHN NICHOLS: HOW NEW YORK TIMES MISSTEP MADE WALKER DIG IN
"I have known Gov. Scott Walker for many years, and one of the things I have always known about him is that he is a media junkie. He loves politics and voraciously consumes political and government news. He reads newspapers, listens to talk radio, trolls the Internet and watches cable news shows. And when he is not doing that, he quizzes aides about the latest news."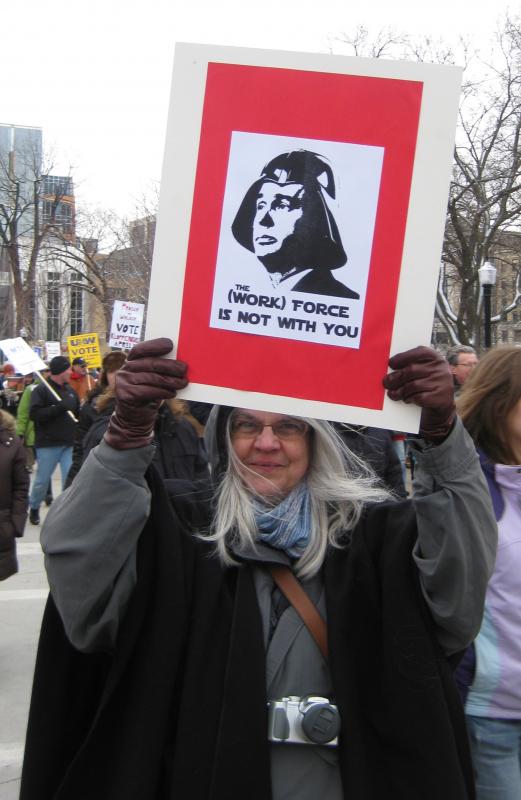 The Cap Times - PLAIN TALK: SQUANDERING 100 YEARS OF PROGRESS
"What a difference 100 years make."
"While 2011 finds Wisconsin government embroiled in what seems to be eternal chaos, with our governor pitting the rich against the poor, it also marks the 100th anniversary of what is still known as the most productive and progressive legislative session in the history of Wisconsin, if not the nation."
A TRADITION OF OPPOSING CORPORATE POWER
The Cap Times:
"The great issue before the American people today is the control of their own government. In the midst of political struggle, it is not easy to see the historical relations of the present Progressive movement. But it represents a conflict as old as the history of man — the fight to maintain human liberty, the rights of all people." — Robert M. La Follette, 1912
Milwaukee Journal Sentinel:
EXEMPTIONS ADDED TO BUDGET RAISE PROPERTY TAXES IN SECRET
In June 2009, just as the governor's massive budget bill was about to be approved, leaders of the state Assembly added 66 pages of changes affecting everything from highway projects to school funding.

Buried in that so-called super amendment: a new property tax exemption for a $12 million privately owned student housing facility near the University of Wisconsin-Madison.

The move stuck Madison taxpayers with a $238,000 bill.

There was no public hearing, no study of who would be affected.

That's because lawmakers used what they admit is an inside trick to fast-track exemptions and bypass the committee set up to review exemption proposals. They introduce exemptions as amendments late in the process, after public hearings, when the budget is certain to pass.

And, if they want an exemption when there is no budget bill pending, they introduce it as an income tax credit. Then they immediately transform the credit into the desired exemption, a maneuver that also sidesteps the review panel.
CMD SPECIAL REPORT: AMERICANS FOR PROSPERITY ROAD SHOW IS CLASSIC ASTROTURF
Anne Landman reports:
For some, when the going gets tough, the tough gas up the custom-painted luxury motorcoach.

So it is with the Wisconsin branch of the Koch-backed group, Americans for Prosperity (AFP), whose four-day, ten-city bus PR event across Wisconsin to support controversial Governor Scott Walker started in Kenosha March 3 and concluded in Madison on March 7 -- but not at the Capitol, where the bus would have been surrounded by the tens of thousands of people gathered to oppose Walker's union-crushing "budget repair" bill. Instead, AFP ended its tour at the Alliant Energy Center, where protesters against Walker's radical proposals who were outside in the cold easily outnumber the pro-Walker crowd in inside the rented space.

And so it went with AFP's "Stand with Walker" Wisconsin road show. At every stop, the AFP PR gambit was met by some supporters, but it was also greeted often by an equal or a substantially greater numbers of opponents. A little-watched YouTube video of AFP's stop at Serb Hall on March 3, 2011 shows a group of about a dozen Scott Walker supporters, and a sidewalk packed with what appears to be about several hundred demonstrators against the governor's extreme proposals.
THE DAILY SHOW KNOCKS IT OUT OF THE PARK AGAIN
SCHEDULE FOR WEDNESDAY, MARCH 9, 2011
---
Wisconsin Protests photo gallery