TUESDAY, MARCH 8, 2011, AFTERNOON NEWS ROUNDUP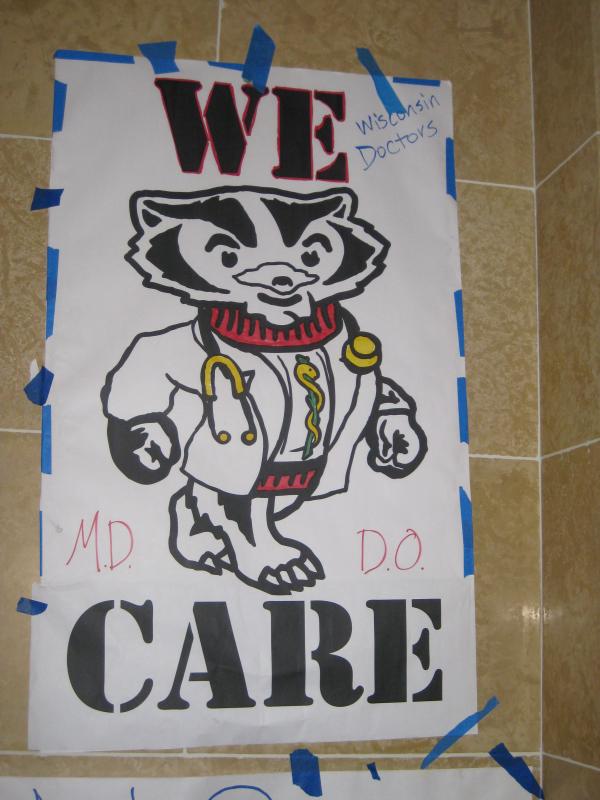 E-MAILS REVEAL POSSIBLE WALKER CONCESSIONS ON UNION BILL
Milwaukee Journal Sentinel:
Gov. Scott Walker's office released documents Tuesday showing he's willing to give on some points of his union bargaining bill to break the Capitol standoff and bring Senate Democrats back from Illinois.

In the latest offer Walker aides e-mailed to Jauch on Sunday evening:

Public employee union bargaining over wages would no longer be limited to the rate of inflation.
Unions would be allowed to bargain over certain economic issues, including mandatory overtime, performance bonuses, hazardous duty pay and classroom size. On this set of issues, both labor and management would have to agree to discuss them for bargaining to happen.
Unions could bargain over workplace safety, but that would be limited to workers' physical health and safety. It would not allow bargaining over hours, overtime, sick leave or family leave, work schedules or vacation.
Unions would have to vote every three years to remain active, with the first of those votes coming within one year of the bill becoming law. The current version of the bill would require unions to vote to recertify every year - starting this April - and require them to get at least 51% of workers' votes.
Employees of the University of Wisconsin Hospital and Clinics Authority would not lose all union bargaining rights.
The Legislature's budget committee would have to approve changes to state health programs for the poor sought by the Walker administration. The budget-repair bill gives Walker broad powers to reshape those Medicaid health programs, which cover more than 1 million state residents.
A FORMER GOP AIDE TO SENATE REPUBLICANS: YOU CAN BEAT WALKER
Isthmus, The Daily Page:
As a former Republican aide in the Wisconsin State Senate, part of my job was to help read the governor, and advise my senator accordingly. If I were still advising a Republican state senator, this is what I'd say right now.

DO SOMETHING.

This governor is not hard to read. He's a giant fiery ball of ambition. When he sneezes he compares it to how Reagan sneezed. His first major act, after netting a modest 52 percent in a GOP wave election, was to pick the most dangerous and inflammatory political fight he could think of....
WisPolitics.com, Budget Blog - SENATE REPUBLICANS PULL BACK FINE RESOLUTION:
"The Senate has returned the resolutions to fine the 14 absent Senate Dems $100 for missing floor sessions."
"The action was taken without comment on the floor. The resolutions have been referred back to the Senate Organization Committee."
The Hill - GOP CONGRESSMAN BREAKS UP TOWN HALL FLOODED WITH WISCONSIN PROTESTERS:
"Wisconsin Rep. James Sensenbrenner Jr. (R) adjourned a joint town hall meeting on Monday after protesters interrupted a state senator who was speaking about the state GOP's controversial budget plan."
"The veteran congressman and state Sen. Leah Vukmir (R), who was speaking at the podium, sparred with a large crowd of protesters opposed to the budget plan, which would curtail some public employees' collective bargaining rights, Milwaukee-based WTMJ-TV reported."
DAILY SHOW: OLIVER - SEARCHING FOR THE WISCONSIN 14
3:20 p.m. - Mary Bottari reports that at the State Capitol 500 - 1000 members of local graphics and arts unions headed up to the Capitol today marched up State Street and marched around the Capitol today calling for Walker's resignation with colorful signs and more palm trees. A huge crowd of bagpipers join the march.
WISCONSIN DEMOCRATS SAY "MODERATE REPUBLICANS" PARTICULARLY SUSCEPTIBLE TO RECALLS
By Erica Pelzek:
The Democratic Party says it has 15 percent of the total statewide signatures needed to recall eight Republican legislators.

As recall efforts heat up and national and local news reports these efforts in Wisconsin could have historical implications, Democratic Party of Wisconsin (DPW) Communications Director Graeme Zielinski warns there may be surprises for some "more moderate" Republicans.

Currently, 16 state senators face recalls -- eight Democrats and eight Republicans.

While some Republicans, such as Sen. Dale Schultz (R-Richland Center), have come forward to express their desire to negotiate Gov. Scott Walker's budget and budget repair bill, other Republicans remain mum's the word -- or staunchly supportive of Walker's collective bargaining rights stripping and budget slashes.

According to Zielinski, Walker supporter Sen. Alberta Darling, (R-Milwaukee) is a logical target for recall due to her largely Democratic Milwaukee district, narrow winning margin of 1,007 votes, less than 1% of voters, and the "large segment of her district that she doesn't represent properly" because she is "kind of a right-wing extremist."
THE "BADGER ADVOCATES": CORPORATE ADVOCATES, NOT UW-MADISON ADVOCATES
CMD's Steve Horn reporting:
A new lobbying firm, the Badger Advocates, has opened on Capitol Square.

According to its newly-minted website, the Advocates "are dedicated to supporting the University of Wisconsin-Madison ... [and] will promote greater accountability through enhanced autonomy for this unique institution." This lobbying effort is similar to efforts afoot in other states to use state budget issues to privatize public higher education institutions and put more assets and power at the disposal of powerful corporate interests.

The lobby shop's PR description closely mirrors the title of the Wisconsin Public Research Institute's December 2010 report titled, "Making the University of Wisconsin More Accountable Through Greater Autonomy." WPRI is heavily funded by the Lynde and Harry Bradley Foundation, a right-wing neo-conservative think tank.
THE ECONOMICS OF THE WISCONSIN LABOR STRUGGLE
WHEN: Friday, March 11, 7PM
WHERE: First United Methodist Church, 203 Wisconsin Avenue
WITH:
Jim Cavanaugh, South Central Federation of Labor
Laura Dresser, Center on Wisconsin Strategy
Patrick Hickey, Workers Rights Center
Edo Navot, Graduate Student Researcher, COWS
Michael Rosen, Milwaukee Area Technical College
TOPICS:
Are public sector workers responsible for the state's fiscal crisis? Are they overcompensated?
Who's got a vested economic interest in this fight? Who benefits? Who loses?
What would an alternative budget that involves "shared sacrifice" look like?
What is the relationship among unions, the economy, and inequality? How would a revitalized labor movement help all workers?
Free and open to the public.
The Labor & Working Class Studies Project is a collaborative campus-labor-community initiative to connect the campus and the community in dialogue and action on issues related to labor and working class people. For more information, contact Patrick Barrett at barrettpatricks@gmail.com.
11:19 a.m. - SIGNS, SIGNS, EVERYWHERE ARE SIGNS
From Mary Bottari:
It has been widely reported in the media that the Wisconsin Historical Society went into the capitol over the weekend to photograph the historic array of signs left by protesters. This is "erroneous" according to WHS spokesperson Bob Granflaten. While Democratic and Republican caucus members may have photographed the signs the WHS did not. Yesterday, the WI Department of Administration did issue new rules for the signs, they can be picked up at DOA building 1 W. Wilson, Rm B-257, from 1-4 p.m. today through Friday. Leftover signs will be assessed by the Smithsonian and the WHS. According to WHS, WHS personnel will be on the scene today and every day and they will be handing out their cards and asking members of the public to donate certain signs to the Historical Society. So if you want to be part of history, consider hooking up the WHS staff.
TUESDAY, MARCH 8, 2011, MORNING NEWS ROUNDUP
COWLES: REPUBLICANS HAVE TO BE 'FLEXIBLE' ON COLLECTIVE BARGAINING
Green Bay Press-Gazette:
Republicans should be willing to meet Democrats halfway on aspects of collective bargaining that have little or no monetary impact, longtime Republican Sen. Rob Cowles said Monday evening.

In a telephone conversation with the Green Bay Press-Gazette, Cowles, R-Allouez, said Republicans already got the lion's share of what they were looking for from unions in pension and health care contributions, and a compromise with Democrats on the rest of Gov. Scott Walker's budget repair bill is expected soon.

"The important part is the monetary concessions. That's the part that helps balance the budget. The other things are less monetary in nature," said Cowles, co-chair of the Joint Legislative Audit Committee.
Capital Times - HOW DEMS ARE WINNING: MARK MILLER KEEPS HIS COOL, SCOTT FITZGERALD BLOWS UP:
"Sometimes, it is simply best to let the members of the Wisconsin Senate speak for themselves about the dispute between the Republicans and the 14 Democrats who have refused to provide a quorum to pass Gov. Scott Walker's budget repair bill."
JOHN NICHOLS: WHAT MICHAEL MOORE GETS ABOUT WISCONSIN … AND AMERICA
Capital Times:
"You will live in the history books!" Michael Moore shouted from the rotunda of the state Capitol to the thousands of Wisconsin workers, teachers and their allies who had come Saturday to protest against Gov. Scott Walker's assault on public sector unions and public services. Speaking without a microphone, in a voice that was worn but enthusiastic after addressing tens of thousands of protesters outside the Capitol, Moore told the crowd inside: "You have inspired so many people. You have inspired the whole country. I just had to come and thank you."
Capital Times - CAMPUS CONNECTION: FACULTY, MARTIN DISCUSS FUTURE OF UW:
"Some faculty on campus are more willing than others to hitch UW-Madison's future to a new public authority model spelled out for Wisconsin's flagship institution in Gov. Scott Walker's proposed 2011-13 biennial budget."
---
Wisconsin Protests photo gallery