MICHAEL MOORE SPEAKS IN MADISON, WISCONSIN: "AMERICA IS NOT BROKE"
"What are the 3 biggest lies of the decade? 1) Wisconsin is broke, 2) there are weapons of mass destruction in Iraq 3) the Packers need Farve to win the Super Bowl."
CAUTION! EXTREME VIOLENCE AND PALM TREES.
Chad Vader, the newly hired correspondent for Fox News, is reporting on "...insane, violent protests that have been going on in Madison, Wisconsin ... they are protesting Gov. Scott Walker's controversial budget bill, which includes a plan to strip onions of their collective bargaining rights..."
MICHAEL MOORE MARCHES IN MADISON WITH FIREFIGHTERS AND TEACHERS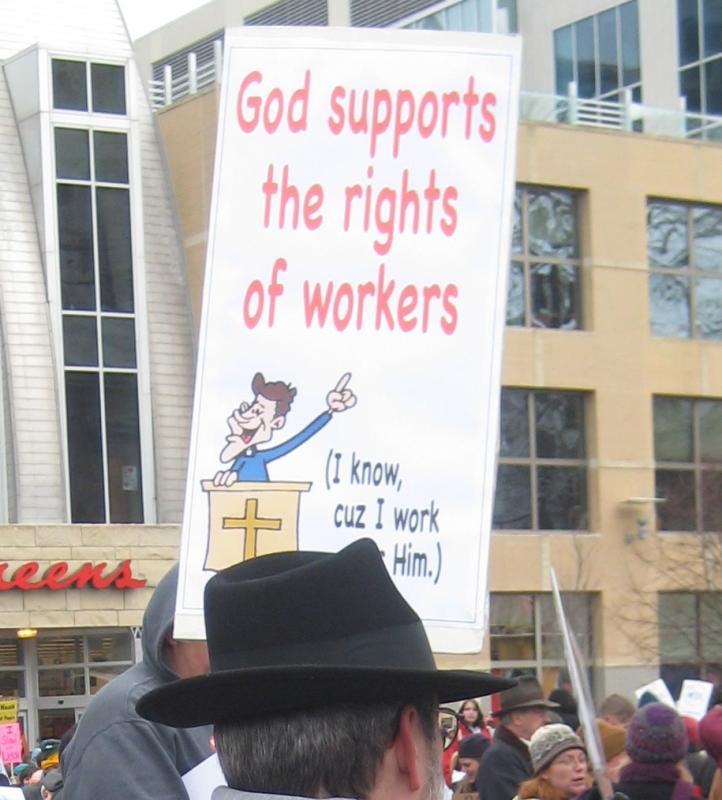 5:15 p.m. - "GOD RESPECTS THE RIGHTS OF WORKERS ... I SHOULD KNOW, I WORK FOR HIM!"
Brendan Fischer reports:
Reverend Tom Countryman, a minister at a United Methodist church in Portage, held a sign with that message on one side, and a quote from Leviticus 19 on the other:
"Do not pervert justice; do not show partiality to the poor or favoritism to the great, but judge your neighbor fairly.... Do not seek revenge or bear a grudge against anyone among your people, but love your neighbor as yourself. I am the LORD."
"There is a recurring theme in the bible that we are not supposed to give preferential treatment to the rich and powerful," he said. "John 3:16 is famous, but Leviticus is also extremely important."
Countryman also adds that he and his wife "have raised our children to respect people," and as a result one has become a nurse and the other a teacher.
"The bible says, 'what does the LORD require of you? To love mercy, do justice, and to walk humbly with God. And that is what I try to do. My role as a minister requires that I stand for justice."
5:00 p.m. - I VOTED FOR WALKER AND I'M SORRY!
Brendan Fischer reports:
Alberto Ciarletta was at the capitol with a sign that read "I voted for Walker and I'm sorry!"
"I voted for him because he said he was going to put government on a diet," said Ciarletta, a tax auditor at the Department of Revenue. "I thought he would cut waste and cut unnecessary spending."
Ciarletta even supported Governor Walker's refusal of federal funds for high speed rail (a favorite topic for anti-Walker signs: "Walker, you are railing the middle class at high speed!"). "The funds couldn't be used for roads. We already have buses running between Milwaukee and Minneapolis. It would put bus companies out of business."
Since the bill was announced three weeks ago, Ciarletta says he has been protesting almost every day after work, and for eight or nine hours on the weekend. "Walker campaigned on cutting benefits, but not cutting collective bargaining rights. I did not vote for him to do that."
4:45 p.m. - THIS IS WHAT IT FEELS LIKE TO BE AN AMERICAN
Brendan Fischer reports:
Dan Hazaert of Wausau, a school administrator for 30 years and disabled Vietnam vet, has come to the protests every weekend since they began. "I am here for the teachers, for the attack on their collective bargaining rights." he said.
Hazaert, who worked as an Assistant Superintendent for most of his thirty years, said "school administrators oppose taking away collective bargaining rights. What we will end up with is teachers who will work only to their contract ... and then administrators will have to hire 30-40 percent more workforce to get the same quality of education," but with budget cuts, hiring new teachers will not be possible.
He shared the example of his wife, a kindergarten teacher, who works 70 hours per week. "She sets up the room early in the morning, has to be flexible with kids who have special needs, or who don't speak English, or who have tough home lives, then she has to wash and clean up the room, develop curriculum, and call parents...."
"Teachers are dedicated to their jobs," and clarified that it isn't that teachers will work less out of spite, but with cuts in pay and overall compensation, "more will have to get second jobs waiting tables. They just aren't going to have the time to dedicate to school that they do now."
"Walker is really a bully ... teachers work so hard, and contribute so much to the community, and he is abusing them and making them a scapegoat." Despite the governor's talk about business, Hazaert says "I know plenty of businessmen and business owners. Sadly, there are very few that do anything to benefit their community that does not benefit them personally.Teachers, though, deserve to be treated with respect for the contributions that they do make."
Hazaert said he was shot 40 times in Vietnam and had a long fight with the Veterans Administration to treat lasting health problems from shrapnel that remained in his intestinal tract. "It was depressing," he said, to fight for America then return and fight with the VA.
"But this," he said, motioning to the tens of thousands protesting Walker's bill, "this feeling, these people here together, this is what democracy really is."
"This is what we fought for. This is what it feels like to be an American."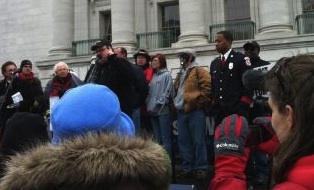 4:20 p.m. - Steve Horn reports: Michael Moore: Just left Capitol rotunda after speaking on steps to tens of thousands. These Wisconsinites are not going to give up. Profoundly moved by absolute commitment of people in Madison. They know they are doing this for all of us. Three weeks in freezing cold!
4:03 p.m. - Jonathan Rosenblum reports that the Capitol slowly empties. A very festive dirge, followed by a loudspeaker announcement: "The Capitol is now closed." Police authority ring the rotunda.
3:58 p.m. - Jonathan Rosenblum reports that the Capitol now faces 4:00 p.m. closure. Parade of departure chanting "Whose house? Our house!" now beginning. Capitol Police Chief Tubbs thanks everyone for a peaceful protest. A sign says "Walker's Waterloo."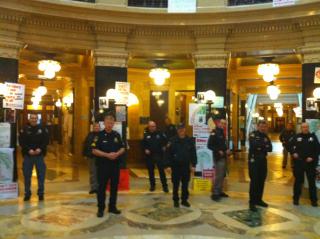 3:40 p.m. - Governor Walker will be giving a speech at Kestrel Ridge Country Club in Columbus, Wisconsin. Click here for more information.
3:21 p.m. - Mary Bottari reports that after his speech, Michael Moore went into the Capitol, a radically transformed place. He emptied his pockets for the metal detector and was allowed inside the Capitol building, stripped of all its signs. He then gave a pep talk and a round of thank-you's to a few hearty protesters holding the rotunda.
3:00 p.m. - Lynn Welch reports that union members and non-union members alike took pledge and formed a People's Union at the labor stage.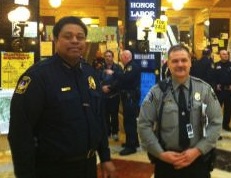 2:45 p.m. - Jonathan Rosenblum reports: Moore: "Madison please don't give up. You are not allowed to retreat. We are with you! To the Wisconsin 14, hang in there buddies!"
2:44 p.m. - Jonathan Rosenblum reports: The media have been flummoxed by reporting on democracy in Wisconsin. Palm trees in the crowd are raised high mocking FOX News misrepresentations.
2:42 p.m. - Lynn Welch reports: Former Assembly Speaker Mike Sheridan: "All we're asking Scott Walker for is to sit down at the table and treat everyone with dignity and respect. I encourage everyone to call Republicans. They're wavering because they know this is wrong."
2:40 p.m. - Jonathan Rosenblum reports: Moore: "The rich have overplayed their hand. They couldn't be content with the bailout, with robbing us of our jobs and shipping them overseas. No, they had to have something more. They had to have our souls. Strip teachers of their dignity. Not allow them to bargain. Shut us up, shut us down."
2:39 p.m. - Jonathan Rosenblum reports that "the earth is shaking," says Moore, "with awakening of labor in Wisconsin leading the nation. We want our democracy back. United States of America - not the Corporate States of America. We do it with a little bit of Egypt here and a little bit of Wisconsin there."
2:36 p.m. - Steve Horn reports: Michael Moore: Never has a Michigander been more happy to share a great big lake with you. You have aroused a sleeping giant. Your message has aroused people in 50 states. That message is "We have had it!" We are all Wisconsinites now.
2:30 p.m. - Steve Horn reports: Michael Moore: Three big lies - 1) Wisconsin is broke, 2) there are weapons of mass destruction in Iraq, 3) The Packers need Favre to win the Super Bowl.
2:28 p.m. - Lynn Welch reports that the International Brotherhood of Electrical Workers representative Terry Roovers estimates the crowd at State Street labor rally at "an intimate" 25,000.
2:27 p.m. - Steve Horn reports: Michael Moore: Money doesn't grow on trees. It grows when we provide an outstanding educational system.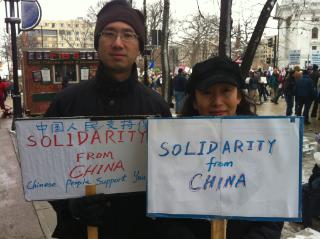 2:13 p.m. - You can watch Michael Moore's speech streaming live at his website. Tune in at 3:00 p.m. CST.
2:07 p.m. - Lynn Welch reports that students from the Racine Unified School District sold red and white solidarity t-shirts at the top of State Street. They could barely keep up with the demand. Proceeds will go toward athletic programs, which are in jeopardy under Walker's budget plan.
1:50 p.m. - Erica Pelzek reports that the crowd at Capitol Square rivals last Saturday's monumental rally. An opera singer performs the National Anthem.
1:37 p.m. - Steve Horn reports that people are crowded around Fire Station No. 1 in Madison awaiting the arrival of Michael Moore.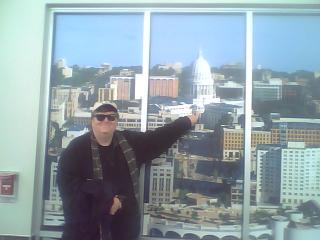 1:27 p.m. - It's true! Michael Moore has landed in Madison and will be at Capitol Square shortly.
*** MICHAEL MOORE JOINING MARCHERS AT THE CAPITOL TODAY. FOLLOW HIS TWEETS http://twitter.com/mmflint***
SCHEDULE OF EVENTS FOR SATURDAY, MARCH 5, 2011
MAIN EVENTS AT THE CAPITOL 12-4 PM, THERE WILL BE TWO STAGES, A STATE STREET STAGE AND A KING STREET STAGE, KING STREET WILL HAVE MUSIC AND A KIDS PLAY AREA
MADISON: 12:00 p.m. - AFSCME MARCH AROUND THE CAPITOL, Meet at AFSCME blue tent on Wisconsin St. and Mifflin (At Wisconsin St & Capitol). Marching around the Capitol.
MADISON: 12:00 p.m. - STEP IT UP! WE ARE WISCONSIN! RALLY at Wisconsin State Capitol KING STREET ENTRANCE, MICHELLE SHOCKED, VO5, TAMMY BALDWIN AND MORE. Sponsored by Wisconsin Wave.
HUDSON: 1:30 p.m. - KOCH BROS. FUNDED AMERICANS FOR PROSPERITY BUS TOUR at Best Western Hudson House, 1616 Crest View Drive, Hudson, Wisconsin
MADISON: 2:00 p.m. - electrical-workers-rally LABOR RALLY Sponsored by International Brotherhood of Electrical Workers on the STATE STREET entrance. The Wisconsin State AFL-CIO Building Trades will be grilling free brats and hot dogs on Wisconsin Ave. near the Capitol.
LA CROSSE 6:30 p.m. - KOCH BROS. FUNDED AMERICANS FOR PROSPERITY BUS TOUR at Radisson Hotel, 200 Front Street, La Crosse, Wisconsin
---
Wisconsin Protests photo gallery