NEW RULES IN "WALKER'S WISCONSIN"
Republican Senate Leader Cracks the Whip on Missing Democrats, While Dem. Assembly Reps. Set Up Offices on the Capitol Lawn
As the Wisconsin Senate remained in almost complete lockdown today, Wisconsin Republican leadership turned up the heat on the missing Wisconsin democratic legislators with an unprecedented series of new rules.
Make Them Pay: According to Senate Resolution 3 which was passed 18-0 this afternoon, "a senator who is absent without leave from two or more session days is subject to a penalty equal to $100 for each day that the senator is absent without leave. In addition, the senator must reimburse the senate for the actual costs incurred to compel his or her attendance.... If a senator who owes the penalties and costs has not paid the penalties and costs in full within 30 days after the resolution is adopted, the chief clerk will withhold from any payments due to the senator for per diem, travel expenses, or other matters, not including salary, the amount of any unpaid penalties and costs." Lawyers point out that the $100 fine is likely unconstitutional under Wisconsin law.
Unleash Dad: "The resolution also allows the sergeant at arms to request the assistance of any law enforcement officer in this state to find and return any senator who is absent without leave." The Wisconsin State Patrol is headed by recently appointed, Stephen Fitzgerald, father to both the Senate majority leader Scott Fitzgerald and state Assembly Speaker Jeff Fitzgerald. Nothing like a cushy public sector job with great benefits for dad.
Assign Overlords: Another proposed resolution (Ballot 11-033 Policy Change Relating to Senators Absent Without Leave) would give Senate majority leader Scott Fitzgerald the right to "assign supervision over any employee appointed by a Senator who is absent without leave for 2 or more session days." This motion proposes:


[t]he following members are assigned to supervise the employees appointed by senators who are absent without leave:

Sen. Cowles is assigned to supervise the staff of Sen. Hansen

Sen. Darling is assigned to supervise the staff of Sen. Erpenbach

Sen. Fitzgerald is assigned to supervise the staff of Sen. Miller

Sen. Galloway is assigned to supervise the staff of Sen. Jauch

Sen. Harsdorf is assigned to supervise the staff of Sen. Lassa

Sen. Hopper is assigned to supervise the staff of Sen. Taylor

Sen. Kapanke is assigned to supervise the staff of Sen. Vinehout

Sen. Kedzie is assigned to supervise the staff of Sen. Larson

Sen. Leibham is assigned to supervise the staff of Sen. Carpenter

Sen. Moulton is assigned to supervise the staff of Sen. Holperin

Sen. Olsen is assigned to supervise the staff of Sen. Coggs

Sen. Schultz is assigned to supervise the staff of Sen. Risser

Sen. Wanggaard is assigned to supervise the staff of Sen. Wirch

Sen. Zipperer is assigned to supervise the staff of Sen. Cullen

Petty Politics: These measures follow earlier efforts to force absent legislators back to the state including a rule adopted last week stating that absent senators can no longer receive their paychecks via direct deposit but must pick them up in person on the Senate floor during a session, and a resolution aimed at staffers, which rolled back access codes to the copy machines in the statehouse.
ASSEMBLY DEMS MEET CONSTITUENTS ON CAPITOL LAWN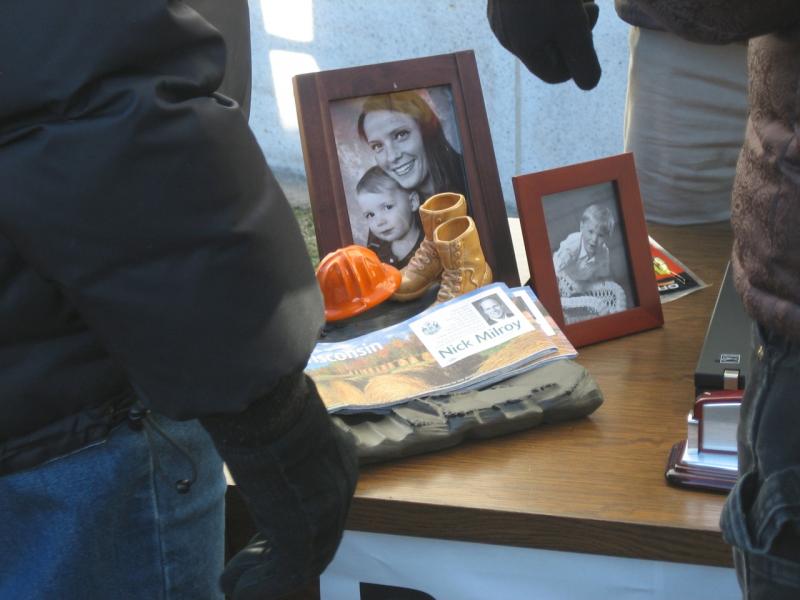 A hearing on the merits of the Temporary Restraining Order issued by the court Tuesday at 9:30 a.m. to open the capitol went all day today in the Dane County Courthouse. In the meantime, Assembly Democratic Reps. couldn't get their work done in a capitol in a virtual lockdown, so they took their desks out on the lawn for office hours. Reps. Clark, Mason, Barca and Milroy are open for business and constituent services on a muddy capitol lawn.
Democratic Rep. Nick Milroy spoke with constituents standing in the freezing cold -- the Wednesday low for Madison was -6 degrees Fahrenheit -- not including windchill. Milroy relocated his desk, complete with family pictures and trinkets.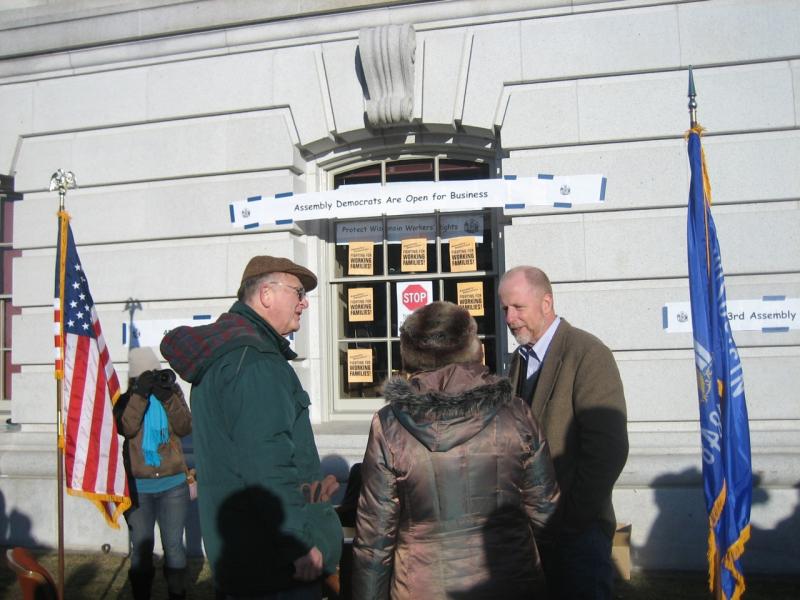 Visibly shivering, Rep. Clark spoke briefly to CMD on the new rules, including the appointment of Republican State Senators as "supervisors" of Democratic State Senators' staffs. "They're all just stupid little ways to harass them," he said, referring to the Senate bills targeting the Democratic 14, who remain out of state.
The court is anticipated to rule again tomorrow on opening the capitol. In the meantime the original court order is in effect and many lawmakers consider the Governor in contempt of court.
MOVEON.ORG: STAND WITH THE WI 14
From an email sent by MoveOn.org:
The Wisconsin 14—the brave Democratic state senators who left the state to stop the Republican attacks on workers—are under increasing pressure to return to Wisconsin.

Governor Walker is even threatening to lay off thousands of state workers to blackmail Democrats into coming back. And as soon as just one Democratic senator returns, Republicans will be able to jam through their terrible bill.

Unfortunately, over the last 24 hours there have been credible reports from blogs and local news reporters that this is imminent.

These senators have been away from their homes and families for almost two weeks now, at great personal cost. Their bravery has made this whole fight possible, and it can't be easy. That's why we need to show them that they have the support of millions of progressives nationwide—and that as long as they stay strong, we'll stand with them.

Will you add your name to our emergency statement of support? We'll deliver your signatures and comments electronically, throughout the day, to the senators or their staffs, so they can see how much support they have.
1:56 p.m. - Mary Bottari reports the hearing on the temporary restraining order to open the capitol building is still dragging on at the Dane County Courthouse. This afternoon a legislator took the stand to complain about the disruption of the normal work routine at the capitol and said that capitol officials had to cancel over 40 student tours. Some might consider a tour of the capitol in the midst of a citizenry expression of the right to free speech an educational event.
There were very few spectators in the audience and it is still unclear when this will wrap up.
12:00 p.m. - SENATE DEMOCRATS IN ILLINOIS TO BE FINED
From the Milwaukee Journal Sentinel:
In an effort Wednesday to step up the pressure on the Democrats, the state Senate unanimously adopted a resolution that would fine senators $100 each time they miss a session day without a valid excuse.

The rule -- approved with only Republicans present -- would apply to senators who have missed two or more unexcused session days.

The Senate's 14 Democrats fled to Illinois last month to block action on Gov. Scott Walker's budget repair proposal.
8:30 a.m. - Mary Bottari went by the capitol and it seems like the same access rules that were in place yesterday will continue today. She met with one protester who had been waiting for half an hour.
THE RACHEL MADDOW SHOW: WALKER DISCOURAGING REPUBLICANS, ENERGIZING DEMOCRATS
MORNING NEWS ROUNDUP, WEDNESDAY, MARCH 2, 2011
TRUMKA: UNIONS ENERGIZED BY CLASH IN WISCONSIN
The New York Times reports:
AFL-CIO President Richard Trumka said the effort to strip collective bargaining rights from public workers in Wisconsin and other states has brought a level of excitement to unions that he hasn't seen in years.

"We've never seen the incredible solidarity that we're seeing right now," Trumka told reporters at the federation's annual meeting of union leaders.

Trumka said he hopes to tap into that enthusiasm to help spur union organizing and growth after decades of decline.
Milwaukee Journal Sentinel - ROUND 2 OF CAPITOL ACCESS COURT BATTLE:
"Dane County Circuit Judge John Albert this morning is expected to reconvene a hearing involving a lawsuit by the Wisconsin State Employees Union, AFL-CIO, AFSCME Council 24, against the state over the rights of public access to the State Capitol."
RNC'S AD ABOUT 'OBAMA'S UNION BOSSES' TO AIR IN STATE
The Milwaukee Journal Sentinel reports:
The Republican National Committee said Wednesday that it would begin airing an ad in Wisconsin that it says "showcases the efforts by Democrats and government unions to obstruct Republican reforms to tackle the debt at all levels of government and move the country forward."
Milwaukee Journal Sentinel - WALKER'S PENSION PLAN DOESN'T PASS LEGAL MUSTER, CITY ATTORNEY SAYS:
"Langley states in a 15-page opinion released Monday that the bill doesn't pass legal muster for three reasons: It interferes with the city's home-rule authority over its pension plan; it violates employees' contractual rights; and the bill would violate workers' due process rights because it would conflict with terms of the city's global pension settlement with city workers from a decade ago."
Capital Times - SOUTH OF THE BORDER: DEM SENATORS SHARE SNIPPETS OF LIFE ON THE LAM:
"Sen. Jon Erpenbach, D-Waunakee, steps off the elevator to his latest hideout, a downtown Chicago hotel room he found for eighty bucks a night on Priceline.com."
WHY DID GOVERNOR CONSIDER DISRUPTING RALLIES?
Cap Times editorial:
Embattled Wisconsin Gov. Scott Walker has now acknowledged in a press conference and in a nationally televised interview -- with Fox News host Greta Van Susteren -- that he engaged in discussions with political allies about hiring "troublemakers" to disrupt peaceful demonstrations against his budget repair bill.
Capital Times - DANIEL ELSASS: WALKER BUDGET WOULD TRIGGER BIG LAYOFFS AT LOCAL LEVEL:
"Wisconsin's local governments and school districts certainly are no strangers to forays by governors to force them to bear the brunt of state budget revenue gaps. Fill-in Gov. Scott McCallum was unsuccessful in a similar attempt in 2001. If successful, Gov. Scott Walker and the GOP Legislature's ultimate aim to shove an annual state deficit of $1.8 billion down to the local level will test severely local governments' fiscal health and maybe even their very existence."
New York Times - A TAX CUT MAY CARVE INTO THE BUDGETS OF 19 STATES:
Last year's business tax cut signed by President Obama also included a provision allowing businesses to deduct the full value of new equipment purchases from their taxes through 2011; because 26 states (including Wisconsin) link state tax law to federal tax law, the deduction will drive down corporate and income tax contributions. According to the CBPP report, Wisconsin would lose $466 million if it conformed with the federal expensing provision.
New York Times - WHY COMPARISONS OF WALKER AND CHRISTIE DON'T HOLD UP:
"My profile of Chris Christie, New Jersey's combative Republican governor, on the cover of the Times Magazine this past Sunday generated a lot of discussion. In particular, a lot of commentators seem to be pairing Mr. Christie with Wisconsin's Republican governor, Scott Walker, who has become a national figure in his drive to curb collective bargaining for state employees."
"It seems to me a mistake, though, to equate what the two governors are trying to do, and not just because Mr. Christie hasn't gone as far as to attack collective bargaining rights in New Jersey. There are significant differences between the two states and the two governors, and those differences might tell us a lot about each man's chances for success."
New York Times - ROVE GROUPS PLAN $120 MILLION CAMPAIGN IN 2012:
Rove's American Crossroads and Crossroads GPS look to raise $120 million, with an eye on Wisconsin and supporting Walker. Spokesman claims that "[t]hese resources will fund advocacy efforts to compete with the torrent of outside money from unions and left-leaning groups."
New York Times - AMERICANS DON'T HATE UNIONS:
"The new poll reported in this morning's Times will, I suspect, come as a shock to many political commentators. Quite a few news analyses of the assault on public-sector workers have simply assumed that the move was a political winner, with little if any thought given to the possibility that the general public wasn't actually ready to go along. But whaddya know: while people don't necessarily love unions — hey, I personally don't necessarily love unions — most people apparently see them as having a legitimate role."
UNION CONTRACTS, NOT PAY, ARE STATES' PROBLEM
The New York Times reports:
...Over all, government workers are modestly underpaid or overpaid, depending on which technical accounting assumptions are used to value their pensions.

Either way, modestly is the crucial word. There is no good case that government pay is a major cause of the budget problems now facing states.

To be clear, I'm making an argument that's different from "Government workers are overpaid." I'm saying that they are paid in the wrong ways — in ways that make life easier on union leaders and elected officials, at least initially, but that eventually hurt both workers and taxpayers.
---
Wisconsin Protests photo gallery