MARY BOTTARI ON DEMOCRACY NOW!
Watch our own Mary Bottari speak on Democracy NOW! about thousands of protesters that were being denied entry to the State Capitol yesterday despite a court order to open the building to the public.
CMD REPORTS: WISCONSIN GOVERNOR DENIES COURT ORDER TO OPEN CAPITOL
From Mary Bottari. Read the full article here.
In a dramatic turn of events at the Wisconsin State Capitol today, Governor Scott Walker defied a court order to open the Capitol for normal business operations. State legislator, Representative Marc Pocan, called the move "not only unprecedented, but contempt of court as well."

On Monday at 8:00 a.m., the Wisconsin Capitol building, which was the site of dozens of major protests in the last two weeks -- including one of over 100,00 on Sunday -- was virtually locked down as the Governor moved to limit protester access in advance of his scheduled budget address on Tuesday.

After untold numbers were turned away at the door Monday and told they could not speak to their legislators, Dane County Sheriff David Mahoney pulled his deputies from the Capitol saying it was not their job to act as "palace guard." Wisconsin has some of the strongest open meetings and open government laws in the nation, and the local sheriff's department had played a key role in allowing protesters to exercise their legal rights in a public space, while keeping the protests inside and outside the Capitol safe and incident-free.
KOCH-FUNDED AMERICANS FOR PROSPERITY STRIKES BACK
Americans for Prosperity Launches Bus Tour Across Wisconsin: "Stand Against Spending. Stand with Walker"
Americans for Prosperity today announced the launch of its "Stand Against Spending. Stand With Walker." bus tour across Wisconsin, March 3-6, to stand against out-of-control state spending by showing continued support for Governor Walker's commonsense reform to tackle the state's nearly $4 billion deficit.
"While union protesters continue to rally on the taxpayer's dime and opposing groups attempt to stifle public debate, Americans for Prosperity will not be intimidated," said Americans for Prosperity President Tim Phillips. "We will continue to take a firm stand against wasteful government spending and support responsible economic policies like Governor Walker's."
The tour will start in Kenosha on Thursday, March 3 and end in Madison on Sunday, March 6, traveling to 10 Wisconsin cities. A complete schedule of events is below.
BUDGET ADDRESS NEWS
Wisconsin Gov. Scott Walker's budget address Tuesday evening revealed some shocking and drastic cuts to programs around the state. The state papers take inventory:
The Milwaukee Journal Sentinel: WALKER'S BUDGET CUTS WOULD TOUCH MOST WISCONSINITES
JSOnline provides a comprehensive round-up for the state's residents, focusing on education, health care, local governments, transportation, public safety and environmental budget slashes.
The Milwaukee Journal Sentinel: BUDGET CUTS SCHOOL FUNDING 5.5%, EXPANDS CHOICE
Among drastic cuts, Walker proposes "a massive expansion" of Milwaukee's private school voucher program by phasing out the income requirements and eliminating enrollment caps on Milwaukee families as well as expanding eligibility to all private schools in Milwaukee County. Another non-fiscal, potentially controversial portion of Walker's education budget plan: "Removing mandates that school districts employ reading specialists and only licensed nurses with bachelor's degrees, prepare indoor environmental quality plans and require training on drug administration to be approved by the state Department of Public Instruction."
STATE RECYCLING MANDATE, FUNDING ELIMINATED UNDER WALKER'S BUDGET
Wisconsin State Journal reports:
State-mandated recycling, in place in Wisconsin since 1995, would be eliminated under Gov. Scott Walker's budget. And payments to local governments to run those programs — a total of $32 million this year — would be halted.

...

Also included in the budget are changes to controversial rules that would limit the emission of phosphorus by municipalities. The budget would change the rule so limits on phosphorus, which causes weed and algae growth in lakes and streams, are no more strict than such rules in neighboring states. And communities would no longer have to meet the standards by 2013.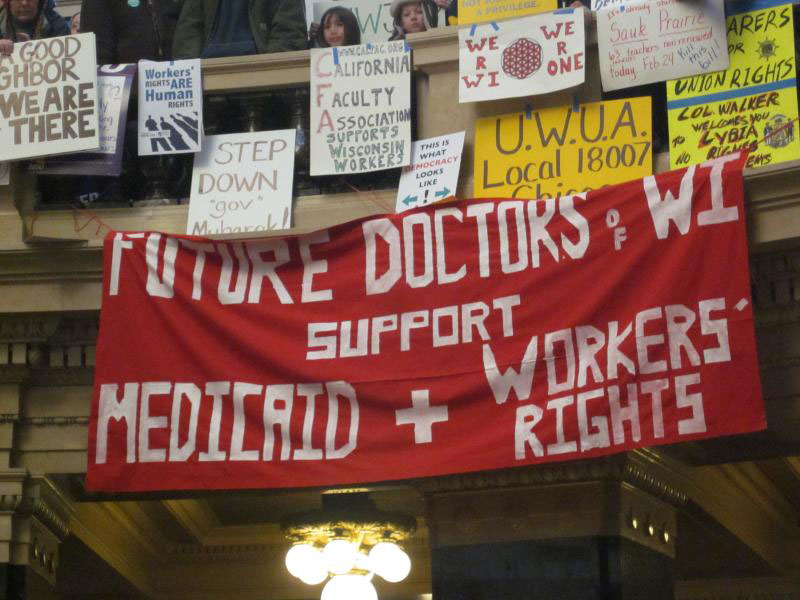 Wisconsin State Journal: BUDGET AIMS TO END GROWTH OF MEDICAID PROGRAMS IN STATE
Reforms would "bring an end to the unsustainable rate of growth" of Medicaid under Gov. Scott Walker's budget being released Tuesday, according to a summary that provides few details. The governor did say Medicaid enrollees would have to pay "modest co-pays and premiums as they transition from the safety net that these programs provide to gainful employment."
CAMPUS CONNECTION: WALKER PLANS TO PHASE OUT WISCONSIN COVENANT
From the Capital Times:
Gov. Scott Walker plans to phase out a program designed to help students — especially those from low-income families — find a path to attend college....

"The question that this raises is, if not the Covenant, then what?" says UW System spokesman David Giroux. "What is the State of Wisconsin going to do in the future to put more eighth graders and ninth graders on a very clear glide path toward higher education and help contribute to a stronger, more educated workforce? We know the state needs more college graduates and we know a big part of that will be the pre-college pipeline."
8:52 p.m. - Denise Oen reports members of the vigil are singing "we are a gentle angry people fighting for our rights." Many are going one at a time to knock on the door of the Capitol and kindly ask to enter.
8:29 p.m. - Denise Oen reports: groups participating in the candlelight march are merging at the Capitol, circling with candles, singing and chanting. The group stretches half way around the square.
7:30 p.m. - CMD REPORTS: CITIZENS EJECTED FROM GOVERNOR'S ADDRESS
Erica Pelzek reports:
At least 3 of the handful of protesters allowed to watch Wisconsin Gov. Scott Walker's budget address from the State Capitol's Assembly Gallery Tuesday evening were ejected from the Gallery, escorted out by State Patrols.

"I was one of the 20 people invited in from the general public," said David Wasserman, a Madison Metropolitan School District teacher at Sennett Middle School.

He didn't get to stay for long.

"We looked at the list of things we weren't supposed to do – we knew we weren't supposed to clap, we knew we weren't supposed to have our cell phones on," Wasserman said of the rules posted in the Assembly Chamber, noting that all the Republicans in the Assembly Chamber were clapping and cheering for Walker's address.

"Then, the woman next to me, who I don't even know, stood up when everyone was clapping, and she booed," he said. She realized she had broken the rules, Wasserman said, and voluntarily left, escorted by an officer.

Shortly thereafter, a sheriff came back to Wasserman's seat and said, "You two [David and his friend Thi] are going to have to be escorted out."

Wasserman explained: "And we said, 'We didn't do anything! What did we do?!' This other woman was screaming. We weren't clapping. We weren't whistling and cheering. We weren't doing anything we weren't supposed to be doing."

According to Wasserman, two State Patrol officers escorted them out around 4:40 p.m., before the end of Walker's address, passing them from sheriff to sheriff on the way out. They kept asking, "Why do you keep escorting us out? What did we do? Why?" Wasserman noted the initial two sheriffs who escorted Wasserman and Thi from the Gallery never responded as to why they were ejected from the address.

The Assembly Chamber is 73 feet by 68 feet by 41 feet high and has seating for 240 people in the Assembly Gallery, to watch legislation in action from above. Of the 240 seats, he noted, there were only about 20 people that were from the general public, and they were a "very, very small minority of non-Republican viewers."

"And they didn't like that. They didn't like that there were 20 people very obviously not clapping with the rest of the Republicans. It didn't look good for them."

The Center for Media and Democracy also checked in with Marcia Colsmith, a Madison resident, service worker and union member Tuesday evening.

"They [State Patrol troopers] watched us like hawks during the whole address and if you even coughed or sneezed they would give you a dirty look…they put us in folding chairs, too, so they could watch us really closely."

At the end of Walker's address, Colsmith added, she and the other protesters declined to applaud, simply standing up and turning around, "like we were turning our backs on the Governor."

She then said the State Patrol officers immediately told the protesters they had to leave and escorted them out.

The act of letting such a limited number of protesters in to watch the governor's budget address "seemed like a farce," Colsmith said, like officials were letting a small quota of protesters in to hear the governor speak for publicity's sake.

"But we didn't even get regular chairs," she exclaimed, "And at the end, they took our shoulders and marched us out."

Wasserman similarly expressed his frustration with being escorted from the address early.

"We had made it the whole time there, I actually stood in the beginning when there was a prayer to open the address, but I stood backwards because I'm Jewish," Wasserman explained, and he did not wish to pray a Christian prayer. "And they [the officers] actually told me to turn around because that was disrespectful. And so I sat down. But I didn't do anything wrong that was written in their rules."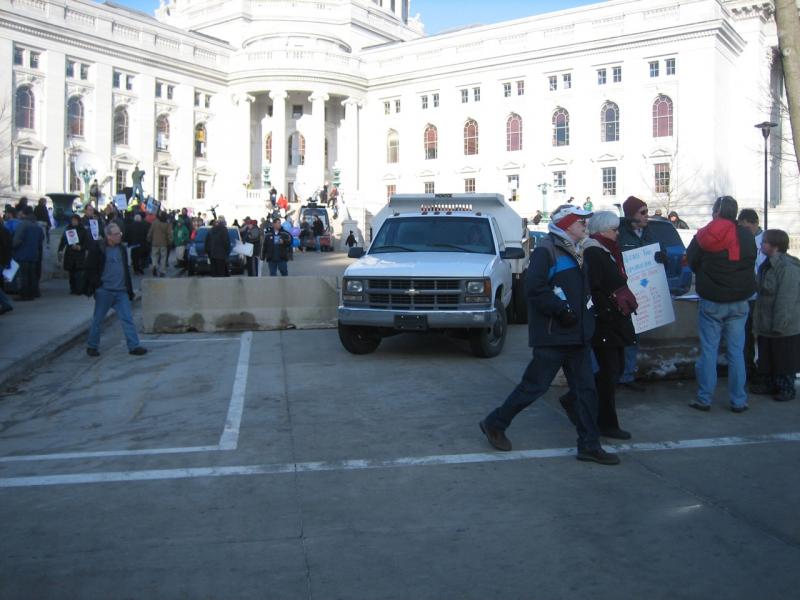 CAPITOL SHUTDOWN TIGHTENS
5:40 p.m. - Erica Pelzek reports:
Not a single person was allowed into the Capitol at the King Street entrance between 4:15 and 5:30 p.m., during the bulk of Gov. Scott Walker's budget address. All other entrances were closed and guarded by police.

Currently, a line of police officers guards the King Street entrance of the Capitol, only allowing people to exit the building. The police officers from varying Wisconsin counties, as per orders from their superior, said they are no longer letting people inside the Capitol in the one-to-one ratio. The small group of protesters still gathered at the King Street entrance ask questions of the police officers, or in the case of Valerie, a home health care worker from Madison, heckle them.

"Why are you violating the court's order?" she yelled. The 2:15 p.m. hearing today regarding the temporary restraining order issued by Dane County Judge Daniel Moeser this morning continues well past 5 p.m., with the intention of clarifying the Capitol's "open to the public" policies for frustrated protesters.

Currently, to be allowed into the Capitol, constituents must contact their legislator(s) and be escorted into the building by the legislator. The restrictions Tuesday provoked Dane County Sheriff Dave Mahoney to refer to the Capitol as Walker's "palace." "I like to call Walker a little Napoleon," Valerie said. "I think he has presidential aspirations; he wants to get a name for himself by causing a lot of harm in here."

Also spotted was UW-Madison Chancellor Biddy Martin exiting the King Street entrance of the Capitol at 5:05 p.m., escorted by two police officers.

Martin has come under heat recently for having "chatted" with Walker regarding the New Badger Partnership, a plan that would privatize the University of Wisconsin-Madison and grant it autonomy from the UW System.
5:10 - Mary Bottari reports that the legislators addressed the crowd inside the Capitol after the budget address. "He said there would be less money for education, but more funds for prisons." 
5:00 p.m. - Mary Bottari reports that Governor Scott Walker concluded his budget address in a Capitol building completely shut to the public. Thousands of protesters outside waited, chanting "Let Us In!" at the top of their lungs, as 3 blocks away a quiet court hearing was underway on the legality of the Governors shut down. Court is still in session and the matter is not yet resolved.
TRANSCRIPT OF GOVERNOR WALKERS BUDGET ADDRESS TODAY
4:31 p.m. - Erica Pelzek reports that people have gathered on the Capitol lawn and are shouting because the shouts can be heard from inside the Assembly room where the budget address is being delivered.
A line of police officers from many different Wisconsin counties are lined up blocking off the King Street entrance. A woman yells "Why are you violating court orders?!" to which police respond that they are doing their job. If anyone wishes to enter the Capitol, their legislator must come down and escort them inside the building.
SUMMARY OF BUDGET PROVISIONS
4:22 p.m. - Loud chants of "Recall Walker" coming from outside the Assembly.
4:20 p.m. - Erica Pelzek reports that protesters have filled the Capitol lawn and are chanting "Let us in!"
4:17 p.m. - From Jonathan Rosenblum:
It appears from Peg Lautenschlager's approach to this hearing that the Union decided to go ahead with the full hearing seeking ongoing access to the Capitol. According to one Attorney present who is familiar with contempt law one alternative would have been to seek to argue that the Department of Administration and the Governor are in contempt of court for limiting access to the Capitol today, including during the budget address.
A contempt claim could have been filed in state court today on behalf of those denied entry to the Capitol. Other actions are also possible, including what is known as a "mandamus" action giving a judge power to enforce the current injunction or a federal injunction to protect free speech and assembly rights.  Attorneys for other unions and for citizens whose access to the Capitol has been impeded are actively considering such filings on Wednesday. 
4:11 p.m. - Erica Pelzek reports that people have moved from the King Street entrance after being told no one would be allowed in except for those individuals who had been given tickets to the Governor's budget address. Concrete barriers have been installed on West Washington Avenue to block vehicles from the West Washington driveway of the Capitol. The barriers were installed by the county. The West Washington entrance is the media entrance.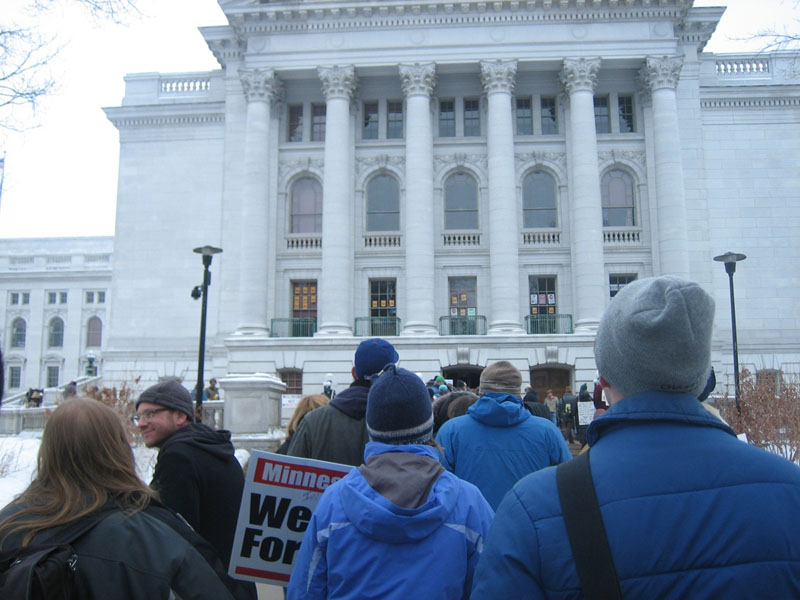 4:04 p.m. - WALKER'S PALACE CLOSED TO THE PUBLIC
Erica Pelzek reports:
Wisconsin Gov. Scott Walker's "palace" remains closed to the public currently, as a hearing regarding the temporary restraining order imposed this morning continues. The hearing creeps dangerously close to Walker's budget address, which begins in 5 minutes. This hearing running overtime veers dangerously toward calculated prevention of allowing protesters into the building. Only people with tickets to the budget address are being allowed inside currently, and Defend Wisconsin urges protesters to call their Democratic state representatives, as representatives are allowed to bring in 8 constituents to the budget address.
The hearing's intention is to clarify whether the Capitol should simply be open to the public or if the three rules enforced this morning should stand:
Allowing protesters to enter the Capitol in a one-to-one ratio: One allowed in for one exiting.
Constituents who wished to sit in on hearings were allowed into the Capitol but were escorted at the door.
Constituents who wished to meet with their representatives were allowed into the Capitol but were escorted at the door.
FROM THE DANE COUNTY COURTHOUSE: CITIZENS REQUEST ACCESS TO THEIR CAPITOL
3:46 p.m. - Mary Bottari reports from the Dane County Courthouse that it appears this hearing will drag on and it will not be resolved by 4:00 p.m. in time for the Governor's budget address.
3:38 p.m. - Jonathan Rosenblum from the hearing room: Current witness is a social services division representative of AFSCME who observed Tea Party and Union rallies last week. He did not see any matters of safety or disturbances. Testifying that only Monday February 28 the state appears to have now limited entry. At 2:45 p.m. Monday the union leader testifies he was surrounded by four police officers who were in the process of developing procedure to allow entry. They stated the union representative would not be allowed entry despite the need to represent members.
3:34 p.m. - Concrete barricades are being installed around the Capitol.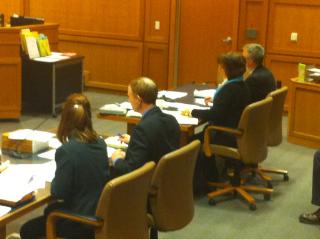 3:25 p.m. - Heiser says workers said protesters were helping to clean up the Capitol. State objects that Heiser testimony is hearsay regarding what janitors said others told them about conditions in the Captiol.
3:24 p.m. - Sean Heiser of AFSCME Council 24 Field Representative says that as a field representative he represents workers including janitors in the state Capitol. Working conditions imposed in locking doors and barring windows by legislative order could endanger workers in the Capitol. Asked workers whether they were obstructed in work at Capitol.
3:18 p.m. - Scene: Two attorneys for the state and two for the unions. Peg Lautenschlager, former Attorney General of Wisconsin and Aaron Halstead appear to be for the union. Beil now sits behind union counsel.
3:13 p.m. - Beil testimony concludes. 40 spectators in the courtroom.
3:10 p.m. - Discussion of whether protesters have impeded the cleaning of the Capitol.
3:03 p.m. - Judge asks whether groups with competing opinions confronted each other in the Capitol. Beil says no.
2:50 p.m. - Beil: Current rally many more than other rallies, but notably peaceable and orderly. No citations, no arrests for ordinance violations. We have ensured that the rally remains peaceful and organized.
2:42 p.m. - Beil is currently testifying. AFSCME council 24 Executive Director for 28 years. He describes the union role representing 22,000 state workers throughout the state. Union often comes to state Capitol including "hot" lobbying issues. Beil testifies that 2,000 workers may come to lobby days at State Capitol and that they have never been subject to restrictions.
2:41 p.m. - AFSCME president Marty Beil now to testify.
2:33 p.m. - Judge John Albert says he will proceed on basis of judicial efficiency. Defense by state says that the draft order allowing access should be vacated because the order is vague. The judge says he will commence hearing and take testimony because Wisconsin has flexible rules for notice of a valid complaint.
2:30 p.m. - Two exhibits provide evidence: citizens request access to their Capitol to exercise their constitutional rights. Peg agrees that the petition for complain has technical defect. The judge states that he recommends immediate refiling.
1:56 p.m. - Mary Bottari reports that the crowd outside the Capitol is growing and people are still not being allowed entry.
1:51 p.m. - SHERIFF PULLS DEPUTIES FROM CAPITOL
From The Wisconsin State Journal: Dane County Sheriff David Mahoney also spoke about law enforcement's role in keeping the peace at the Capitol. He said that when the state Department of Administration decided to block access to the Capitol, he pulled his deputies from that duty because it is not their job to act as "palace guard."
1:08 p.m. - There will be a rally for workers' rights beginning at 2:00 p.m. at the State Capitol today.
12:58 p.m. - According to Kelda Helen Roys recent FaceBook update, the court is attempting to serve Judge Moeser's order to Mike Huebsch, DOA Secretary for Walker's administration. The Capitol Police Chief has already been served. As soon as that happens, the people's house should be back open!
There will be a public hearing on access to the Capitol today at 2:15 p.m. at the Dane County Courthouse.
JUDGE ORDERS STATE CAPITOL OPEN TO GENERAL PUBLIC: AUTHORITIES LIMITED ACCESS TO CAPITOL
From Channel3000.com:
The Department of Administration officials released a statement on Tuesday afternoon saying that they did receive the judge's temporary injunction requiring the department to open the Capitol to members of the public during business hours and when governmental matters, including hearings, are being conducted. Officials said that the policies that department has in place are "in compliance with this order."

...

DOA officials said on Monday that Capitol police were preventing people from entering the building, saying they need more demonstrators who have stayed inside the Capitol during the past two weeks of protests to leave first.
Department of Administration officials said that a hearing on the matter is scheduled for 2:15 p.m. at the Dane County Circuit Court before Judge Albert.
DEPARTMENT OF ADMINISTRATION CLAIMS COMPLIANCE WITH TEMPORARY RESTRAINING ORDER
12:47 p.m. - Lisa Graves writes:
Three hours ago, a court issued a "temporary restraining order" ordering that the State of Wisconsin to open the Wisconsin state capitol to members of the public during business hours and when any public proceedings are being conducted.
In the ensuing three hours, observers report that the state has failed to comply with the spirit of the order and have refused to allow citizens access to the Capitol on the same basis as had been allowed in the preceding two weeks and as had been allowed in preceding years. The Wisconsin Constitution commands that the legislature "be kept open except when the public welfare shall require secrecy."
A protestor took to the stage to say that the state claims its new rules which limit access drastically from the open access which had previously been in effect. The new rules were imposed Monday, after peaceful protestors continued to protest the new Governor's effort to take away people's right to organize in unions and collectively bargain.
The speaker on the podium asked listeners to call the state Department of Administration, at 608-266-2309, to ask that the people be given free access to their capitol on the same basis as before.
Under the terms of the temporary restraining order, the State was required to comply until a hearing could be held, and that hearing is slated to begin at 2:15 p.m.
12:31 p.m. - According to Defend Wisconsin, there will be a hearing at 2:15 p.m. on public access to the Capitol in room 4A of Dane County Courthouse.
12:29 p.m. - Mary Bottari reports that some firefighters are entering the Capitol, but it is still not clear whether the temporary restraining order is being enforced.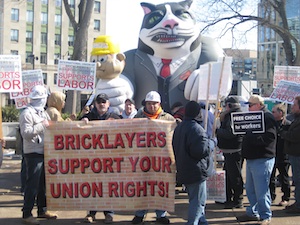 12:10 p.m. - Mary Bottari reports that a large contingent of about 100 older folk with flowers pinned to their straw hats marched up to the Capitol steps. They are the Raging Grannies, a local women's singing group. They are amassed outside the Capitol, along with a large group of firefighters and labor union members in bright orange as well as the International Union of Bricklayers and Allied Craftworkers. Everyone is very confused as to why they are not being allowed entry to the Capitol because they are aware that the temporary restraining order was issued over two hours ago, and they came with the expectation that they would be allowed inside.
11:30 a.m. - Mary Bottari reports that dozens of members of the International Union of Bricklayers and Allied Craftworkers, a private sector worker group, have arrived at the Capitol to show their support. They brought with them a giant inflatable fat cat, complete with a suit, diamond ring and Koch Industries lapel pin, strangling a Wisconsin worker in a hard hat.
While this large crowd is standing outside trying to gain entry, lobbyists are having no trouble getting inside via a side door.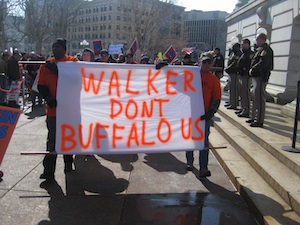 11:24 a.m. - Mary Bottari reports that there is a large labor union presence at the Capitol now. Someone has just read the conditions of the temporary restraining order to the crowd, causing individuals to become angry. Shouts of "Whose house? Our house!" and "Let us in!" enhance the tense atmosphere, and Bottari reports that uniformed officials look unhappy.
11:17 a.m. - Mary Bottari reports the crowd of about 100 - 200 protesters is chanting "Let us in, please!" an hour after the temporary restraining order has been issued. They are not being allowed in.
11:00 a.m. Mary Bottari reports from the Capitol that people are still being denied entrance to the building.
Bottari was there at 8:00 a.m. this morning when security members were admitting people on a one-to-one rule: for every one person who exits the building one would be permitted entrance. Bottari is there now at 11:00 a.m., one hour after the temporary restraining order has been issued, and security is still operating the one-to-one protocol. Nobody is getting in.
Michael Moore, Peg Lautenschlager, and John Nichols on GRITtv with Laura Flanders
AFL-CIO IS REPORTING THAT JUDGE ORDERED WI CAPITOL OPEN!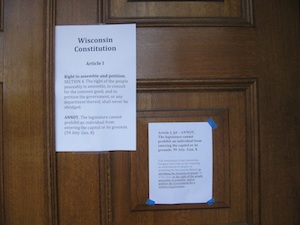 10:15 a.m. From the AFL-CIO: Chalk up another win for working families in Wisconsin as a judge just issued a temporary restraining order opening the capitol building back up and ruling against Walker and the Senate R's illegal actions keeping it closed. Stay tuned for more info.
Dane County Judge Moeser's TRO says state shall open the capitol to members of the public during business hours and at times when government matters (hearings, etc.) are being conducted. Order in effect until the assigned trial court is able to schedule a hearing on the matter (Judge Albert). If state wants a hearing on this order, will be scheduled ASAP before Judge Moeser if Albert unable to hear promptly.
Wisconsin State Employees Union et al vs. State of Wisconsin et al
Dane County Case Number 2011CV000990
The order reads:
Resp. shall open the Wisconsin Capitol to members of the public during business hours and at times when governmental matters, such as hearings, listening sessions and court arguments are being conducted. This ex parte restraining order is in effect until the assigned trial court is able to schedule a hearing on the matter. If resp. wishes to have a hearing with respect to this order one will be scheduled as soon as possible before this court, the duty judge, if the assigned trial court is unable to hear the matter promptly. Pet. shall immediately serve a copy of this order on resp.
STATE CAPITOL ACCESS THIS MORNING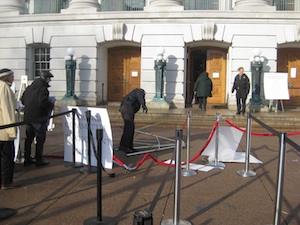 9:30 a.m. - Mary Bottari reports from the King Street Entrance of the WI Capitol:
Initially, four rope lines were set up to enter the building. There is an assembly gallery queue; a hearing committee queue; supreme court queue; and a constituent queue. However the signs that were prepared to make it all orderly are blowing around in the wind.
At the moment it appears the police are only allowing in one person as another exits. People exiting say that they have been told that only 250 people will be allowed into the building today, a number that no one can explain. They were told this number was chosen for safety reasons. They estimate that there are about 125 protestors inside, so the one-to-one ratio is falling short of the promised 250.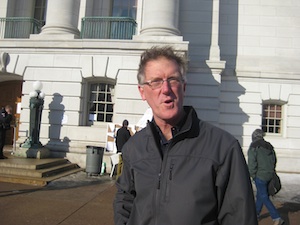 Occasionally people are being allowed in for the 8:00 a.m. legislative hearing called by Rep. Marc Pocan. There are lots of media on the scene but not a lot of protesters or people attempting to gain access.
I interviewed Denny Caneff who asked to see Representative Cory Mason and was told he would have to call Mason's office and be escorted by Mason's staff to gain entry to the capitol. I also spoke to Tim Eisley, a freelance writer waiting to get into a 9:30 a.m. Senate public hearing of the Natural Resources and Environment Committee.
Eisley was visibly annoyed at having to wait 15 minutes or so in the freezing cold. "This is supposed to be a public space and I am here for a public hearing," he said. As I left the Capitol grounds it appeared he found a legislative aide to get him into the building.
SCHEDULE FOR TUESDAY, MARCH 1, 2011
2:00 - 6:00 p.m. - RALLY AT THE CAPITOL: Defend Wisconsin is calling for a rally at the Capitol during Governor Walker's budget address, which will take place inside the Capitol Building Assembly Chambers at 4:00 p.m. Learn more here.
12:00 p.m. - ELDERS' MARCH from State Street entrance to Capitol Square
4:00 p.m. - GOV. WALKER'S BUDGET ADDRESS: Watch it live on Wisconsin Eye.
7:00 p.m. - CANDLELIGHT VIGIL: Candlelight march will originate at First Unitarian Society, 900 University Bay Dr and culminate at the Capitol, passing over the pedestrian bridge (at Campus Dr) as well as Bascom Hill (at Park St). Click here to see a map of the route. Participants will bring their own candles and flashlights. All positive signs welcome. Participants will meet in the parking lot of the First Unitarian Society or may join at any point along the way. Participants are encouraged to bring their friends, unions or congregations.
---
Wisconsin Protests photo gallery