CMD REPORTS: LEGAL ACTION TAKEN MONDAY TO KEEP CAPITOL OPEN, TUESDAY COMMITTEE HEARINGS "OPEN" TO THE PUBLIC
9:00 p.m. - Mary Bottari reports: Peg Lautenschlager, the former Attorney General of Wisconsin, announced Monday night on the Ed Schultz Show (MSNBC) that she had already filed a temporary restraining order (TRO) to keep the WI State Capitol open to citizens. The TRO was filed in response to the fact that citizens are having a more and more difficult time getting into the WI capitol building, as the Governor's office attempts to clear the building in advance of his 4:00 p.m. budget address on Tuesday.
Access to the capitol is protected by the Wisconsin Constitution and WI open records law when there is legislative business. Late tonight, Jonathan Rosenblum spotted committee hearing notices at the State Capitol with the following language at bottom:
EXECUTIVE SESSION

Joint Committee on Finance

Access for the public will be available by contacting the Sergeant-at-Arms staff and lining up at the King Street entrance of the Capitol 30 minutes prior to the start of the meeting. Attendance will be limited to available seating.
Of course, no phone number was provided. The Assembly Sergeant-at-Arms is: 608-266-1503.
THE FOLLOWING COMMITTEES ARE MEETING TOMORROW AND OPEN TO THE PUBLIC:
10:45 a.m. - Joint Committee for Review of Administrative Rules, 417 North (GAR Hall)
11:00 a.m. - Assembly Public Hearing Committee on Forestry, 300 Northeast
6:00 p.m. - Joint Committee on Finance, 412 East
If you are denied access contact the Center for Media and Democracy at 608-260-9713 so we can report on the situation.
WISCONSIN CONSTITUTION
Article IV, SECTION 10
Journals; Open Doors; Adjournments
Each house shall keep a journal of its proceedings and publish the same, except such parts as require secrecy. The doors of each house shall be kept open except when the public welfare shall require secrecy. Neither house shall, without consent of the other, adjourn for more than three days.
WISCONSIN OPEN MEETINGS LAW
19.81 Declaration of policy.
(1) In recognition of the fact that a representative government of the American type is dependent upon an informed electorate, it is declared to be the policy of this state that the public is entitled to the fullest and most complete information regarding the affairs of government as is compatible with the conduct of governmental business.
(2) To implement and ensure the public policy herein expressed, all meetings of all state and local governmental bodies shall be publicly held in places reasonably accessible to members of the public and shall be open to all citizens at all times unless otherwise expressly provided by law.
(3) In conformance with article IV, section 10, of the constitution, which states that the doors of each house shall remain open, except when the public welfare requires secrecy, it is declared to be the intent of the legislature to comply to the fullest extent with this subchapter.
FOX NEWS RUNS VIDEO OF ANGRY "WISCONSIN" PROTESTERS, NOTE THE PALM TREES IN THE BACKGROUND
10:15 p.m. - SEN. DALE SCHULTZ MUM ON INTENTIONS FOR BUDGET REPAIR BILL VOTE
The Wisconsin State Journal reports:
Sen. Dale Schultz may know how he will vote if the state Senate takes up Gov. Scott Walker's budget repair bill Tuesday but he refused to let his intentions be known to the 450 people who jammed the bleachers at Dodgeville High School Monday night.

Schultz, R-Richland Center, took part in a community forum and panel discussion that also included a farmer, nurse, utility worker, business owner and pastor. He reiterated that his position has not changed and he would not say how he will vote when the bill, passed by the Assembly last week, is called to a vote.

"I have not told people how I'm going to vote because I'm trying to bring people together," Schultz told the crowd. "When you draw a line in the sand and you are definitive of what you say, people tend to move away from you, closer to the abyss. I want to bring people together."
8:08 p.m. - Jonathan Rosenblum reports: Even when blocked from the Capitol, the protest will not be frozen out. Snowman's protest sign says "icy bill, Scott!"
8:01 p.m. - Protesters prepare to spend the night on the Capitol lawn at the King Street entrance.
7:37 p.m. - According to DefendWisconsin, some food and medical supplies are being brought inside the building.
7:24 p.m. - Jonathan Rosenblum reports: Announcement to crowd: tent village supplies for outside the Capitol are expected to be delivered tonight and numerous Madison stores and restaurants agree to offer food and supplies.
7:07 p.m. - Jonathan Rosenblum reports: President of Dodgeville teachers union Tym Allison reports that Senator Dale Schultz is currently attending a listening session.
6:59 p.m. - Jonathan Rosenblum reports that a crowd of protesters gathering outside the Capitol is offering a collective yell to people inside. The crowd continues to be forbidden entry to Capitol -- less than 100 apparently remain inside.
6:51 p.m. - Jonathan Rosenblum reports six police officers held a protester, Iris Patterson, a teacher at Lowell Elementary in Madison, after she attempted to enter the Capitol. The officers erased video on her camera and said that because it was after 6:00 p.m. she was not permitted to be in the Capitol. A Madison police union member is attempting to get the video back.
6:42 p.m. - Jonathan Rosenblum reports: Eric Cobb of Wisconsin Building Trades Council of South Central Wisconsin says the only words to capture the moment with crowds of 2,000 spontaneously gathering outside the Capitol are "love and peace."
6:34 p.m. - Jonathan Rosenblum reports: AFL-CIO representative declares, "How dare you Scott Walker attempt to deny the rights to freedom of association and collective bargaining. These rights are enshrined in United Nations conventions and in our religious traditions," she declares.
6:00 p.m. - DEFEND WISCONSIN HOLDS IMPROMPTU RALLY
From Brendan Fischer:
Late in the afternoon DefendWisconsin called a 6:00 p.m. rally at the State Capitol.
Supporters gathered outside the capitol to support those still within. The chanting, speakers, and donated Ian's pizza continued, but in response to the effort to shut down the capitol to protesters, the message has changed slightly: signs read "your dirty tricks only increase our resolve to be here," and the chant "we take the high road" was added to the repertoire.
A protester named Erica told the crowd that she has been sleeping on-and-off inside the capitol for the past two weeks. "When we were locked inside last night, they told us the doors would open at 8:00 a.m. That did not happen," she said. "They issued a press release saying that the delay was because they needed to do a second cleaning, but that was not true. The second shift cleaners came in late last night and did a great job," she said to cheers, "but there were no cleaners in the morning. Then, they issued another press release saying that the doors were closed because of an 'incident,' but the only 'incident' happened outside the capitol, and it happened after the press release was issued ... they are trying to make us out to be an unruly mob and turn us against one another!"
Representative Kelda Helen Roys (D-81) from Madison also felt that protesters are being divided, and echoed the message that they remain positive. Referring to efforts to squeeze protesters from the capitol, Helen Roys said "there is not one excuse for this outrageous and democratic behavior ... [Walker] wants us to get beaten down and lash out, but we cannot do it, she said. "We are here with love in our hearts, and smiles on our faces. We have gotta keep that joy!"
As has been previously reported, access into the capitol is extremely limited. A person can only visit their representative, and the police will escort the person to and from their office. A limited number of public hearings are also happening in the following days, and a list of those hearings are posted outside of the King Street entrance to the capitol. Persons interested in attending the hearings must contact the Sergeant-at-Arms and line up outside the capitol 30 minutes before the hearing begins.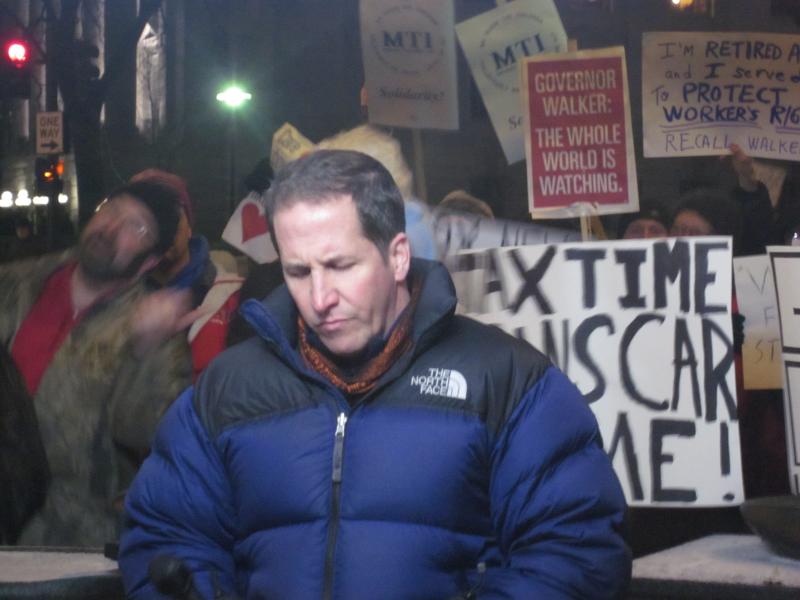 4:07 p.m. - FOX NEWS REPORTER GETS HIT WHILE WI PROTESTERS SCREAM 'FOX NEWS LIES'
Brendan Fischer reports:
I was standing about ten feet from Mike Tobin as FOX filmed this segment and was very surprised to see the report come out this way when I arrived home Sunday evening. Tobin looked worked up even before the cameras began rolling, and once they did, he was quickly surrounded by chanting protesters. One man standing to Gregg Jarrett's right was chanting "FOX News lies" with the rest of the crowd, and I saw the camera turn to him; the man's hand went up briefly in front of the camera, which struck me at the time as a pretty natural reaction to a camera in one's face (on the tape, Jarrett said that the man, and by extension all protesters, "want to shut down the communication"). From my vantage point I did not see anybody hit Tobin. Emotions were running high on both sides, so I cannot say that it did not happen, but perhaps FOX News can release the full tape (without the b-roll of the capitol rotunda) and we can clear up what really went down.
3:36 p.m. - The Department of Administration has issued a statement regarding protester access to the Capitol.
When the State Capitol closed at 4:00 p.m. last night, the majority of protestors voluntarily left the building as requested by the Capitol Police. Of those who remained, all but a few have voluntarily complied with the request of law enforcement to remain in a designed area of the building. Officers in the building are continuing to work with those few individuals to gain their compliance.

No additional protestors will be allowed into the building until this situation is resolved. Once it is, law enforcement will continue to implement the procedures that were announced this morning. Under those procedures, protestors will be allowed into the building, but crowd size will be adjusted to accommodate the cleaning crews, the preparation for the Tuesday's joint legislative session and the number of protestors who remained in the building overnight.
3:28 p.m. - CMD REPORTS: UTAH GROUP SEEKS TO RECALL WISCONSIN DEMOCRATIC SENATORS
Lynn Welch reports from PR Watch:
The conservative American Recall Coalition, a group from Salt Lake City, Utah, is leading the charge to real eight Democratic Senators in Wisconsin who are among 14 lawmakers who left the state in protest of Gov. Scott Walker's budget repair bill, according to the Wisconsin Government Accountability Board.

The out-of-state group last week filed with the GAB website to recall the Senators, but initial filings did not have anyone from the local senatorial district as part of the recall requests.

"They didn't have any local people involved, so we contacted them and said they need to have one local person in each district," said GAB spokesman Reid Magney. "They withdrew those initial filings and made new ones and we are waiting for the signed paperwork."
3:27 p.m. - WALKER WOULD LOSE IF RACE WERE HELD TODAY
From the AFL-CIO: We'll have our full poll on the Wisconsin conflict out tomorrow but here's the most interesting finding: if voters in the state could do it over today they'd support defeated Democratic nominee Tom Barrett over Scott Walker by a a 52-45 margin.
3:00 p.m. - WINDOWS IN THE CAPITOL BEING SEALED SHUT
Reports have been rolling into CMD all day on the new crack down in the Capitol Building. No one is allowed in unless they have an appointment. Bags are being checked and people are being frisked.
The latest from the AFL-CIO: As we speak Walker & the Senate R's are literally having the windows of the capital welded shut to keep people from passing food into the building to the people inside. Attorneys are collecting affidavits from the people who witnessed this, along with people who have been illegally denied access to a public, government, building. We will be filing for a Temporary Restraining Order to open the capitol.
FOR RIGHT, WISCONSIN BATTLE WAS YEARS IN MAKING
From POLITICO:
The conservative assault on public sector unions that seemed to explode out of nowhere in Wisconsin and spread across the Midwest was in fact months – if not years – in the making, the result of methodical polling, lobbying, messaging, grassroots organizing and policy crafting by a coterie of well-funded conservative groups.

"We go back a long way on this in Wisconsin, and in other states, as well," said Tim Phillips, president of Americans for Prosperity, which for years has been urging its members to push their elected officials to reduce government salaries and benefits, and which has spent more than $340,000 on television and radio ads supporting the push by Wisconsin Gov. Scott Walker's effort to strip union bargaining rights from state employees.
2:15 p.m. - Erica Pelzek reports that DefendWisconsin will hold a rally tonight at 6:00 p.m. at the Capitol. Participants will meet at the State Street entrance.
11:30 a.m. - UNFAIR LABOR PRACTICES SUIT BEING FILED AGAINST WALKER
AFSCME workers their attorney are filing an unfair labor practice against Governor Scott Walker. Alleging that he has violated his legal duty to bargain in good faith. The workers have agreed to ALL of Walker's concessions on wages, benefits and pensions but he is refusing to sit down to bargain a compromise to get Wisconsin moving forward again and creating jobs.
Learn more at Wisconsin AFL-CIO.
11:27 p.m. - Erica Pelzek reports that the Senate Organization Committee is circulating a ballot requiring the Majority Leader's signature on all paychecks of Senate Democrat employees, with no access to a copier. Typically each month, lawmakers certify their employees' hours. Under this ballot, that job would go to the Majority leader Scott Fitzgerald.
MONDAY MORNING NEWS ROUND-UP
NEW RESTRICTIONS FOR PROTESTERS AT STATE CAPITOL
From Channel 3000.com:
"People wanting to enter the State Capitol Monday will need to have official business with lawmakers or be there to attend a hearing, following new restrictions announced by Department of Administration officials."

The press release also said that visitors who do not have an appointment but who wish to see their legislators or meet with others in the building can get assistance from Capitol police, who will be stationed at the King Street entrance.

The press release said protesters will be allowed into the building, but crowd size will be adjusted to accommodate preparation for the Tuesday's joint legislative session and the number of protesters who remained in the building overnight.
Milwaukee Journal Sentinel: BUDGET STALEMATE AS STRONG AS EVER
With the Democrats still out of state and Republican Gov. Scott Walker refusing to budge on his budget repair bill, the forthcoming budget address on Tuesday could see little to no progress.
Looking at what's to come, JSOnline points out the discrepancy between Gov. Scott Walker's "firm" budget deadline delivery, this Tuesday, and a March 16 deadline to transfer state funds under current law. Walker's administration claims it needs two weeks to prepare to restructure state-issued bonds. There is no real deadline, claims Sen. Mark Miller, D-Monona, and Walker could start paperwork now for the bond restructuring. Until then, the Senate Dems will stay away.
The Capital Times: WITH POLICE AMONG PROTESTERS, SUNDAY STANDOFF ENDS PEACEFULLY
After a 4 p.m. deadline for protesters to leave the Capitol came and went, and Dane County Sheriff Dave Mahoney admitted there would be no arrests made, protesters chanted, drummed and sang from the first floor Capitol Rotunda for the evening. The people remaining in the Capitol past 4 p.m. who wished to "risk arrest" were instructed to move to the first floor Rotunda. Police officers stationed throughout the building maintained a "voluntary compliance" policy -- people could leave whenever they wanted, but could not re-enter the building. A few dissenters, however, made their intentions clear when they remained on the ground floor Rotunda. "The occupation is vital," said UW-Madison alum Kelty Carew.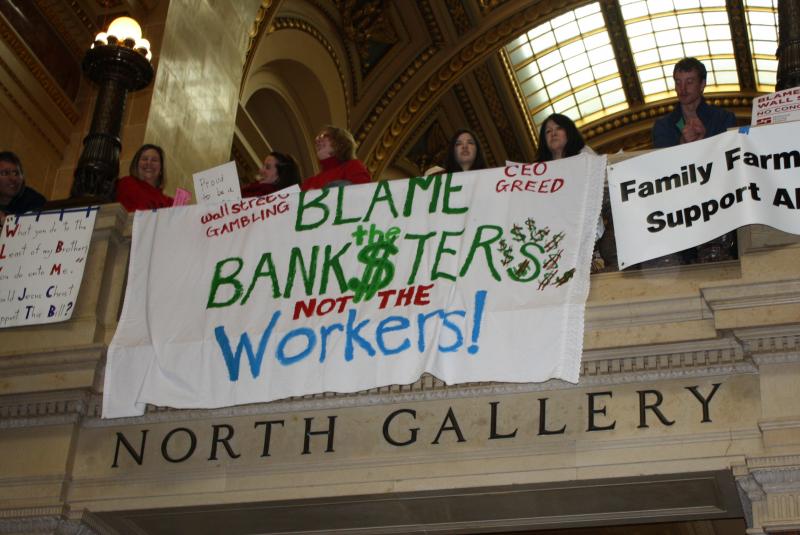 COULD A GENERAL STRIKE HAPPEN HERE? EXPERTS SAY MAYBE
The Capital Times reports:
Thousands have thronged the Capitol daily since large scale demonstrations began Feb. 14. Madison school teachers called in sick for several days to protest and on Feb. 21, the Madison-based South Central Federation of Labor took the unprecedented step of endorsing a general strike among its 45,000 members if Gov. Scott Walker's controversial budget repair bill is made law.

...

On the other hand, a strike that does not win public support can be a public relations disaster, says Don Taylor, an assistant professor at the School for Workers at University of Wisconsin-Extension. But in Madison, where the battle over collective bargaining is centered, circumstances favor support for widespread job actions, he says.
SCHEDULE FOR MONDAY, FEBRUARY 28, 2011
It appears there are no rallies planned for Monday but watch the news for possible recall filings from both sides.
Tuesday is rumored to see a large vigil at the Capitol while Governor Walker introduces his budget.
---
Wisconsin Protests photo gallery