5:16 p.m. - Brendan Fischer reports that the rally has a bigger showing than past days with international representation.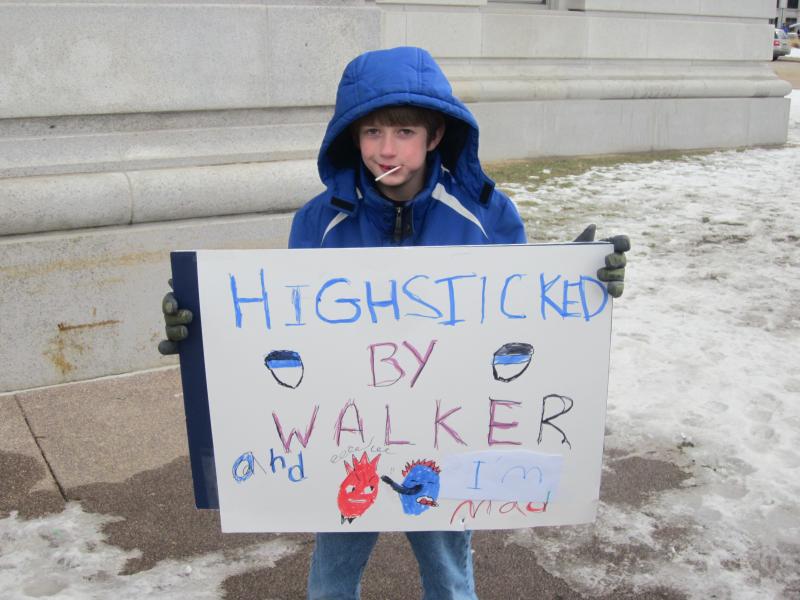 5:15 p.m. - KOCH LOBBYING OFFICE DRAWS PROTEST; BUILDING EMPLOYEES GAWK FROM WINDOWS
Erica Pelzek reports:
Cars, SUVs and buses whoosh down Madison's King Street Thursday afternoon, honking, windows rolled down, thumbs up in solidarity as neon-vested police officers direct traffic.

"Stay strong!" shouted a man out the driver's-side window of a State Employee Vanpool van. A Madison Metro bus driver drives by, honking and cheering.

Hundreds of protesters marched from the Capitol Square at 4 p.m. to 10 E. Doty St.'s glass-windowed office building, on the seventh floor of which the Capital Times revealed that Koch Industries opened a lobbying office in late October. Koch's PAC was one of the largest donors to Walker's political campaign, and multi-billionaire, David Koch, has bankrolled groups that ran expensive ad campaigns last year that helped him win the governorship.
5:12 p.m. - Erica Pelzek reports that the Assembly has 11 amendments left to debate before they will begin discussion on final passage of the bill. With a ten-minute cap on each bill, discussion could be underway in less than two hours.
3:15 p.m. - MADISON POLICE CHIEF COMMENTS ON KOCH CALL
From Erica Pelzek:
Even Madison Police Department Chief Noble Wray wants to know where Gov. Scott Walker's head is at.
In a 2:30 p.m. press conference Madison Police Department Chief Noble Wray emphasized his concern regarding the public safety implications of Gov. Scott Walker's admission in a prank phone call from a New York editor posing as billionaire Tea Party-funder David Koch.
Regarding Walker's consideration of planting "troublemakers" in the protest crowds, Wray addressed his and the MPD's desire to speak with the governor and ensure such a notion "never happens again."
As of press time, Wray still had not gotten a hold of the governor.
Wray stressed his concerns were for the public safety of Madison residents and visitors, and not for the partisan politics surrounding the prank call and the budget repair bill.
"This is not about me," he said, when a reporter asked how he would feel if Walker undermined his public safety authority again. "This is about the State of Wisconsin."
2:53 p.m. - WISCONSIN ASSEMBLY VOTES TO CLEAR PROTESTORS FROM LEGISLATIVE OFFICES AND HEARING ROOMS
UW Teachers Assistant Association officers put out this statement:
Today's vote to ban protestors from legislative offices and hearing rooms at the Capitol starting Saturday is a blatant attack on our democratic rights to be heard on the very important matter of the union-busting budget repair bill. Protestors, supported by up to 60,000 protestors outside, have been in the Capitol around the clock for more than a week, slowing down the vote on the bill and forcing the state government to hear the voices of workers on a bill that would crush the ability of public sector workers to unionize. Offices and hearing rooms have been used to organize the protest, and removing us from them cripples our ability to continue to make the voices of the people of Wisconsin heard.
2:15 p.m. - The BoDeans, a rock band, are rumored to be performing in Madison.
MADISON POLICE CHIEF TROUBLED BY WALKER'S COMMENTS ON PROTESTERS
The Milwaukee Journal-Sentinel reports today:
Madison Police Chief Noble Wray said Thursday that he found comments by Gov. Scott Walker made about protesters at the state Capitol during a prank phone call "very unsettling and troubling." ...

Wray said he was disturbed that Walker thought about planting troublemakers among peaceful protesters.

"I would like to hear more of an explanation from Governor Walker as to what exactly was being considered, and to what degree it was discussed by his cabinet members. I find it very unsettling and troubling that anyone would consider creating safety risks for our citizens and law enforcement officers," the chief said....
1:26 p.m. - Erica Pelzek reports that the Assembly and the Senate have both gone into partisan caucus. Huge cheers erupted from the rotunda protesters as Assembly Democrats crossed the bridge exiting the hearing room.
The Wisconsin Eye offers both live and archived video streaming of Capitol coverage. Click here to access their video archive, including recent videos about Walker and the budget repair bill.
BILLIONAIRE RIGHT-WING KOCH BROTHERS FUND WISCONSIN GOVERNOR CAMPAIGN AND ANTI-UNION EFFORTS
EX-AG SEE ETHICS, LABOR LAW VIOLATIONS IN WALKER-KOCH CONVERSATION, SUGGESTS INQUIRY
From The Capital Times:
"There clearly are potential ethics violations, and there are potential election law violations and there are a lot of what look to me like labor law violations," said Peg Lautenschlager, a Democrat who served as Wisconsin's attorney general after serving for many years as a U.S. attorney. "I think that the ethics violations are something the (state) Government Accountability Board should look into because they are considerable. He is on tape talking with someone who he thinks is the funder of an independent political action committee to purchase advertising to benefit Republican legislators who are nervous about taking votes on legislation he sees as critical to his political success."
KOCH BROTHERS "PRANK" NO LAUGHING MATTER
Mary Bottari reports from PR Watch:
But the Governor also explains how he is going to lay off thousands of Wisconsin workers as a tactic to get the Democrats to cooperate: "So, we're trying about four or five different angles. Each day we crank up a little bit more pressure. The other thing is I've got layoff notices ready, we put out the at-risk notices, we'll announce Thursday, they'll go out early next week and we'll probably get five to six thousand state workers will get at-risk notices for layoffs. We might
 ratchet that up a little bit too." The move has been called "despicable" and "ruthless " and "sickening." But most importantly, if Walker is choosing to lay off workers as a political tactic when he wasn't otherwise planning to do so, then it is not just morally repugnant, but legally questionable. State and federal contract and labor law has protections against this type of abusive behavior and inappropriate quid pro quo.
11:50 a.m. - WISCONSIN GOVERNOR SCOTT WALKER VIOLATES REAGAN'S LEGACY
Anne Landman reports:
In his attack on workers' right to bargain collectively, Scott Walker is diametrically opposing the legacy of former President Ronald Reagan -- the same conservative figure Walker idolized in his prank phone call with a blogger posing as "David Koch."

Reagan understood the importance of unions intimately. He served seven terms as president of a labor union -- the Screen Actors Guild -- during tumultuous years from 1947 to 1952, and again from 1959-1960. Under his tenure, the union became one of the first to require a loyalty oath from its members. As president of SAG, Reagan fought for and won many payment rights for actors during at the time when the popularity of big-screen movies waned due to the advent of television. Under Reagan's presidency, SAG members also won pension and health plans.
11:45 a.m. - BARGAINING RIGHTS AND STATE DEFICIT SIZE ARE UNRELATED
Anne Landman reports:
Data gathered by the Center on Budget and Policy Priorities shows no direct correlation between the size of a state's budget deficit and whether a state has collective bargaining or not. Wisconsin is projected to have a 2012 fiscal year budget deficit of 12.8 percent, but North Carolina, which is non-unionized and prohibits government employees from bargaining, has a significantly higher deficit of 20 percent. The state of Ohio, whose Republican governor, like Scott Walker of Wisconsin, is also pushing to curtail collective bargaining rights, faces a deficit half the size of North Carolina's. This shows that collective bargaining is unrelated to the size of a state's budget deficit. Rather, the size of a state's deficit is the result of the relative impact of the recession within that given state. What these Republican governors have failed to explain is how curtailing collective bargaining rights will create good jobs in the private sector or improve the lot of the struggling middle class -- the main concerns of citizens at the moment.
11:41 a.m. - Erica Pelzek reports that the Senate will not take the final vote on the Voter ID bill because it has fiscal impact. But it is now past the amendable stage. Senator Fitzgerald "begged" Miller to come back because they are voting on something important today -- the Voter ID bill.
10:45 a.m. - Erica Pelzek reports that Hustisford schools give preliminary layoff notices to members of teacher union, including wife of Senator Majority Leader Scott Fitzgerald.
10:31 a.m. - Erica Pelzek reports that the Assembly has about 14 amendments remaining at 10 minutes of debate per piece. The Senate will be in at 11:00 a.m. with the voter ID bill.
THE DAILY SHOW: CRISIS IN DAIRYLAND SCOTT WALKER PRANK CALL
WEAC PRESIDENT MARY BELL: WALKER'S POLITICAL PLAY "DISAPPOINTING AND SICKENING:
"The information revealed in a conversation Governor Walker thought he was having with wealthy, right‐wing donor David Koch is shocking and disappointing."
"Governor Walker may have done everything he could to avoid talking about his true motives at his press conference. But Wisconsin knows the score."
"This phone call proves what hundreds of thousands of working‐class Wisconsinites have been saying all week – this bill is not about the budget. It's about denying rights to Wisconsin's nurses, teachers, EMTs and other public employees – and now we know he was doing it to help his wealthy corporate donors."
Bell also breaks a bit of news:
"According to the Department of Employee Trust Funds, more than 1,200 state employees have retired in the past six weeks alone. In addition, more than 4,500 retirement applications have been filed within the last six weeks – far above the same period last year...."
THURSDAY, FEBRUARY 24, 2011 MORNING NEWS NATIONAL ROUNDUP
THE 'KOCH CALLER' EXPOSES SCOTT WALKER: From National Public Radio:
The conversation is so stunning in its brazenness that the Center for Media and Democracy, which had already filed freedom-of-information requests for records of contacts between the governor and his aides and representatives of Koch industries, is stepping up those demands.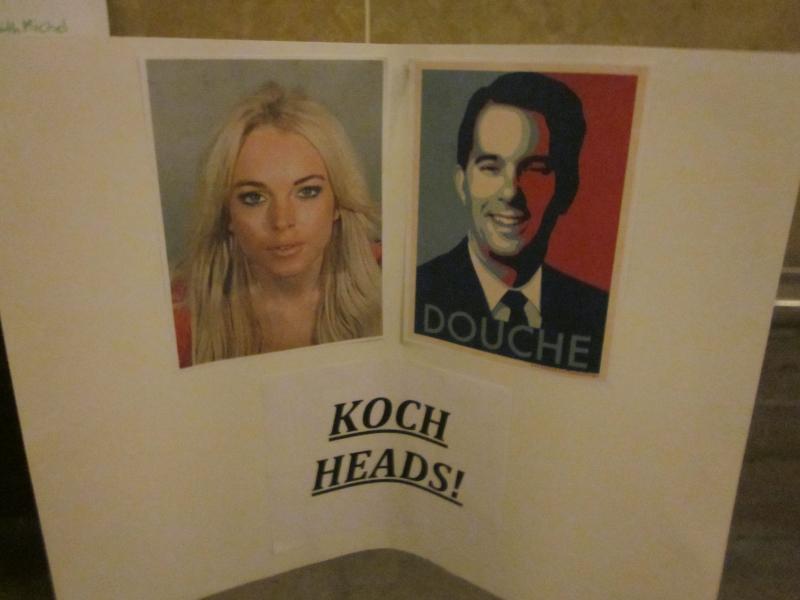 WIS. PATROL FINDS NO DEMOCRATS: The Washington Post reports:
The Wisconsin state Senate sergeant at arms says Wisconsin state troopers have gone to the homes of multiple Senate Democrats but left after finding no one at home.

Troopers were sent Thursday morning to the homes of some of the 14 Senate Democrats who left town eight days ago rather than vote on a bill taking away collective bargaining rights from public workers.

Sergeant at Arms Ted Blazel says troopers knocked on the doors and looked around but left after finding no one at home. He would not say how many homes they went to.

Police can't arrest senators but Republican Senate Majority Leader Scott Fitzgerald says he hoped the lawmakers would feel compelled to return if police showed up at their doors.
SCOTT WALKER DENIES WRONGDOING ON PRAK CALL: Politico reports:
Wisconsin Gov. Scott Walker on Wednesday denied committing any wrongdoing when he told a blogger posing as a billionaire contributor that he was trying to lure his Democratic opponents into coming back to Madison.

Walker had taken a 20-minute prank call from a blogger posing as "David Koch," one of two conservative activist brothers who contributed to Walker's campaign contributors and allegedly have been funding the counterprotests in Madison. In the call, Walker revealed an apparent plan he had to bring Democrats back to the Capitol in order to establish a quorum in the Senate to hold a vote on his budget measure, which would strip collective bargaining rights from state employee unions.
KOCH INDUSTRIES SAYS IT WON'T GAIN FROM WISCONSIN BILL: From Politico:
A lesser-known provision of Wisconsin's budget-repair bill would allow the state to sell off publicly owned power plants in no-bid deals – prompting a flurry of speculation by liberal bloggers who allege that Gov. Scott Walker is attempting a giveaway to energy conglomerate Koch Industries.

The bill includes language saying the Wisconsin Department of Administration "may sell any state-owned heating, cooling, and power plant or may contract with a private entity for the operation of any such plant, with or without solicitation of bids, for any amount that the department determines to be in the best interest of the state."

It would also exempt the deals Public Service Commission scrutiny, and says any profits would go into a budget stabilization fund.

Koch insists it doesn't stand to gain from the legislation, and is furiously denouncing the rumors as they have spread to media outlets including MSNBC, Forbes and Bloomberg.

"The power plant assertion is one more example of many baseless falsehoods and speculation made by a vested interest that gets picked up and repeated over and over in the media," said a statement from Philip Ellender, president of government and public affairs for Koch Cos. Public Sector LLC. "We have no interest in purchasing any of the state owned power plants in Wisconsin and any allegations to the contrary are completely false."
LIBERALS TO STAGE TEA PARTY-LIKE REVOLTS AGAINST REPUBLICAN SPENDING CUTS: From The Hill:
Democratic strategists believe their Tea Party moment has arrived.

Working with labor unions and liberal groups, they are using the Presidents Day congressional recess to organize a public backlash against billions of dollars in cuts to federal programs.

One labor organizer said that members have been urged to attend congressional town-hall meetings to ask Republican lawmakers "pointed questions" about the cuts they supported last week.
GO TO WISCONSIN TO SUPPORT LABOR, LIBERAL LEADER URGES OBAMA: From The Hill:
President Obama should go to Wisconsin to show his support for the labor movement, a House liberal leader said Wednesday night.

Rep. Keith Ellison (D-Minn.), the co-chairman of the Congressional Progressive Caucus, ramped up pressure on the president to weigh in more heavily against the Republican governor's labor reform proposal.

"I'd like to hear more from President Obama. He's made some statements. He should get credit for that," Ellison said on MSNBC....
WISCONSIN'S PENSION FUND AMONG NATION'S HEALTHIEST: The Huffington Post reports:
"We're going to ask our state and local workers ... to pay a little bit more, to sacrifice, to help to balance this budget," Walker said...

But the Wisconsin pension fund is simply not in fiscal trouble...

According to the Pew study, Wisconsin had about $77 billion in total pension liabilities in 2008. But according to that same Pew study, those liabilities were 99.67 percent "funded," giving Wisconsin one of the four-highest of such ratios in the nation. Other states had funding ratios as low as 54 percent. For comparison, expert analysts and the Government Accountability Office consider an 80 percent level to be a good benchmark for pension fund stability, while Fitch Ratings considers 70 percent adequate....

...Walker could make the state's pension system bear the costs of a broader state budget shortfall -- one created almost entirely by lower tax revenues resulting from the economic downturn -- without raising taxes on public workers or eliminating public bargaining rights. All he has to do is cut a few ties with the financial-services industry.

According to the pension fund's 2010 report, the fund spends about 84 percent of its management costs on outside help -- highly-compensated fund managers who work for private-sector financial firms....

In 2009, roughly half of the pension fund's total assets were managed by state employees, who were paid a total of $28.4 million for their work. By contrast, outside Wall Street professionals were paid $194.7 million to manage the other half of the fund's assets. Cutting Wall Street pay, or simply moving more fund management in-house, could easily generate the $30 million in new taxes Walker wants to assess on state employees.
STOP THE PRESSES! FOX NEWS SPEAKS THE TRUTH!
Shepard Smith who gained a reputation as a hard-hitting reporter not afraid of telling the truth during the Katrina crisis, did it again in reporting on the crisis in Madison. Check out this clip.
THURSDAY, FEBRUARY 24, 2011 MORNING NEWS LOCAL ROUNDUP
WALKER PRANKED BY CALLER POSING AS BILLIONAIRE DONOR DAVID KOCH: The Wisconsin State Journal news report of the fake Koch call reports that Gov. Scott Walker had thought about planting ruckus-makers among the peaceful Madison protesters of his budget repair bill. He also said a trip funded by Koch to California after these protests and media coverage die down would be outstanding.
END TO MARATHON ASSEMBLY DEBATE COULD COME TODAY: The Milwaukee Journal Sentinel reports:
Shortly after 6 a.m., Assembly leaders announced a deal had been reached in which Democrats who have strenuously objected to Walker's plan to sharply curb public worker bargaining rights would limit remaining debate to 38 amendments. They further agreed to restrict debate on each amendment to no more than 10 minutes.

That could bring the budget bill that includes the worker rights provisions up for a final vote in as little as six hours, though further distractions are always possible.

Not everyone was happy with the deal to cut off debate.

Rep. Mark Pocan (D-Madison) said Democrats had planned to debate as many as 225 amendments, in a strategy aimed at stalling final votes while protests to Walker's plan have engulfed the Capitol and dominated the news for more than a week. ...

The Assembly has debated 100 Democratic amendments, with majority Republicans setting aside every one of them.

Under the new 10-minute rule, Republicans set aside a Democratic amendment from Rep. Sandy Pasch (D-Whitefish Bay) requiring a constitutional review of another provision of Walker's bill that would give his administration the unilateral power to trim Medicaid benefits.
SCHEDULE FOR THURSDAY, FEBRUARY 24, 2011
8:00 a.m. - 11th Annual Faith-Labor Breakfast, 4100 Nakoma Road, Madison. Visit South Central Federation of Labor for more information.
10:30 a.m. - March to Capitol. Participants meet at AFSCME tent on the Capitol Square at the intersection of Wisconsin Avenue and Mifflin Street.
11:00 a.m. - Wisconsin State Assembly floor session. Watch live on Wisconsin Eye.
12:00 p.m. Rally at the State Capitol
4:00 p.m. - Protest of Koch lobbying office at 10 East Doty Sreet. Participants will meet at 3:45 p.m. at Walgreens on East Main Street of the Capitol Square.
5:00 p.m. - Rally at the State Capitol
Sleep Over at the Capitol - TAA will provide dinner at 7:00 p.m. and doors close at 10:00p.m.
7:00 p.m. - Democracy Now's Amy Goodman will be at the Orpheum Theatre tonight on State Street
---
Wisconsin Protests photo gallery