6:57 p.m. - WI SENATE DEMS JOIN PROGRESSIVES IN SOLIDARITY CALL WEDNESDAY
Erica Pelzek reports:
Voicing support for Wisconsin workers and imploring Gov. Scott Walker to compromise on the budget repair bill, Sen. Mark Miller, D-Monona and Sen. Chris Larson, D-Milwaukee joined other progressives on a Progressive Change Campaign Committee radio segment Wednesday afternoon.
Adam Green of PCCC led the discussion, which included U.S. Rep. Keith Ellison, D-Minnesota and U.S. Rep. Raul Grijalva, D-Arizona.
Both Grijalva and Ellison rallied with the Wisconsin state Senators, with Ellison calling Walker's unwillingness to compromise and his proposed budget repair bill "extreme, radical and reckless—and he's going to fail!"
Miller agreed that Walker has pursued "an extreme right-wing agenda" since taking office.
"He's got a victory. He should claim it. And instead he continues to push his agenda and raise the stakes. A true leader would not do that," Miller said of Walker's no-negotiation stance on the bill and his efforts to get the Dem Sens back into Wisconsin to reach quorum. "He tried to ram it through in four days…before anybody had ever read it."
Wisconsin has a powerful history of collective bargaining and labor rights, Ellison said, and told listeners that at a rally this week in his constituents' city of Minneapolis, protesters from private unions—not just public unions—chanted, along with public safety officers.
He maintained Walker's bill was about union busting and that the State of Minnesota "stands foursquare."
"We will never, ever, ever tolerate that," Ellison said. "This is provoking and igniting and inspiring the movement."
Regarding the prank call phoned in by Buffalo, NY journalist Ian Murphy masquerading as David Koch to Walker, Miller said he was not aware of it, but that the conversation perhaps "reveals something about the Governor's character."
"If he accepted that crank call, it might say something about who he literally answers to," Green said, referring to Walker's extensive financial ties to the conservative, billionaire Koch brothers of Koch Industries.
AMERICA'S UNION REVOLUTION GROWS, BUT OBAMA REMAINS UNSEEN (Video from RT Question More.):
Madison's own John Nichols will be on Ed Schultz MSNBC tonight covering the latest developments from Madison. Read his latest post on the Koch Brothers scandal: Scott Walker to 'Koch Caller': Thanks for All the Support.
6:30 p.m. - TIM CULLEN'S RESPONSE TO WALKER-"KOCH" CRANK CALL
WisPolitics reports on Dem Sen. Tim Cullen's response to the "Koch" crank call saying it revealed Walker's true nature and damaged the governor's working relationships with the state Democrats.
"Cullen also said the call reveals Walker's true intention in his budget repair bill is to kill the unions. He said it was telling he does not mention to the prank caller the savings he has argued would be generated by the budget repair bill and how the changes were needed to balance the state's books."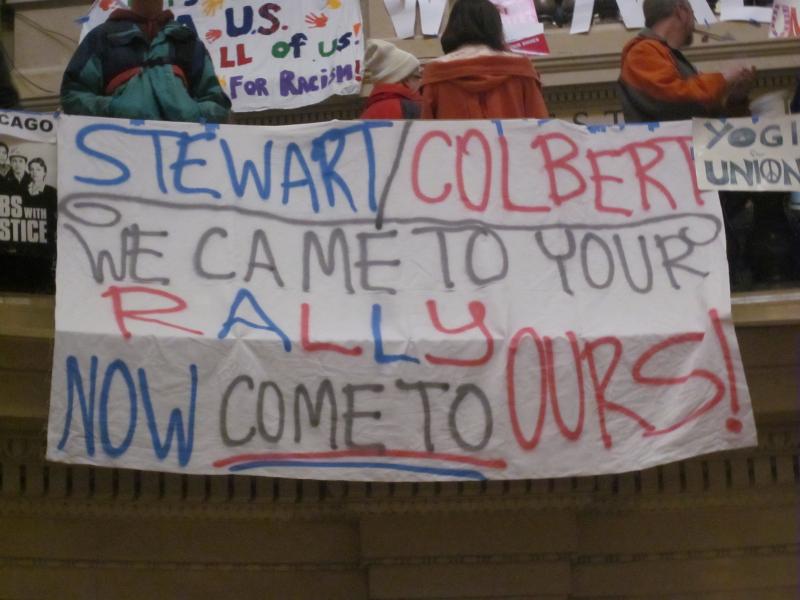 6:26 p.m. - STEWART/COLBERT: DESPITE RECENT SHOWS FEATURING WI, PROTESTORS ARE STILL WAITING
Despite last night's Colbert Report, protesters are still waiting for Stewart/Colbert to show up at the capitol. "That's 'Stephen Colbert'," corrected Colbert last night.
6:00 p.m. - WISCONSIN LAW SCHOOL HOLDS LEGAL AND POLITICAL FORUM ON GOVERNOR'S BUDGET REPAIR BILL
Brendan Fischer reports:
A standing-room-only crowd poured into the hallways to hear several law and political science professors discuss Governor Walker's budget repair bill at the University of Wisconsin Law School on Wednesday evening. All professors seemed to agree that the bill was an unequivocal attack on public sector unions, especially in light of Governor Walker's phone discussion with a David Koch impersonator; political science professor David Cannon said "Walker called his effort in Wisconsin a historic moment. If he is truly trying to balance a budget, this is not a historical moment." According to Cannon, "he basically admitted his purpose is crushing unions, and compared himself to Reagan and the air traffic controllers."
History professor William Jones provided background on the public sector labor movement, noting that government workers were excluded from early union protection laws primarily because public workers did not need it: during the 1930s and 1940s, they were better educated than the private sector and protected by civil service rules offering seniority and just cause provisions. As state and local governments expanded services, non-professional workers filled new low-wage positions (such as garbage collection or maintenance) and the face (and race and gender) of the public employee began to change. These workers were widely abused, paid so far below the minimum wage they remained below the poverty line despite working 50 hours per week, were hired as day-to-day contractors to evade civil service rules (even after working the same job consistently for many years), and saw an increasing divergence between private and public sector pay for the same position. While the AFSCME for years had opposed collective bargaining provisions, it shifted its policy in the late 1950s to respond to these inequalities. States passed laws permitting public sector unionization throughout the 1960s and 1970s (following Wisconsin's lead in 1959) resulting in fewer strikes, as workers had a means to negotiate grievances, and increased wages; according to Jones, public sector unionization was a primary vehicle for lifting African-Americans out of poverty.
Professor Jones also noted that the public sector's benefits packages criticized by Scott Walker and the GOP actually arose from union concessions made to cities and municipalities during the 1970s budget crisis. The public unions agreed not to request wage increases in exchange for benefits, whose delayed compensation helped state and municipal governments weather the storm of that decade's recession.
Emeritus professor of law (and former U.S. Solicitor of Labor) Carin Clauss discussed how severely the bill curtails collective bargaining rights (as she previously told CMD here), and noted that "collective bargaining is really about the process; nothing requires one party to give in." As for the bill's impact, Clauss said that the bill is imposing a defacto tax on poor and middle class Wisconsinites, despite the governor's and Republican legislature's claims that "tax increases are off the table" to balance the alleged budget crisis. "We have to acknowledge that we are imposing the bulk of this bill's impact on the poor and middle classes." She estimated "the bulk of the savings are coming from decreasing income for people earning between $30,000 and $75,000 per year" by kicking the poor off medicaid and requiring increased pension and health care contributions.
In response to an implied statement that the "Democrat 14" who fled to Illinois are doing something analogous to Republican efforts to block President Obama's health care reform, Clauss remarked "if I remember correctly, all we talked about for 18 months was health care reform." She said that Governor Walker's budget bill makes very substantive changes to the law, and "to release it to the public on Friday afternoon and to schedule a vote on Tuesday is to cut off all public debate. The senators had nothing to discuss." Similarly, in regards to action at the capitol, she said "there is no way to have a debate. The only way they can speak is to protest at the capitol," and that "we see [protest] repeated when you try to quash all input."
Clauss also expressed concern about the bill delegating rulemaking authority to the head of the Department of Health Services, including the ability to unilaterally alter medicaid eligibility: "I think delegation should come with a few more strings attached." The former labor secretary also questioned how the small Wisconsin Employment Relations Commission could possibly manage and process annual union recertification elections for the state's 200,000 employees without adding hundreds of new employees.
Finally, in an overlooked point that would further increase the bill's impact on the poor, Clauss wondered how urban mass transit will survive if it loses federal funding, which could happen if Wisconsin violates provisions protecting transportation workers' collective bargaining rights.
FEBRUARY 23 - RACHEL MADDOW: GOP BET AGAINST UNIONS IS BACKFIRING
5:12 p.m. - JOHN NICHOLS ON KOCH-GATE
John Nichols reports on Governor Walker's taped phone conversation with a David Koch impersonator:
The phone rang in Wisconsin Governor Scott Walker's office and the caller identified himself as David Koch, the billionaire who has funded the Tea Party movement and whose business interests stand to benefit from the so-called "budget repair bill."

Then the caller, actually a prankster pretending to be Koch, and the governor joked about the "vested interest" Koch Industries has in the bill.

The 20-minute call, which the governor's office has confirmed Walker participated in, raises questions about collaboration between the governor and benefactors of his 2010 to enact legislation that would benefit those interests.

Those questions point to a more profound question: Has Walker violated Wisconsin's strictest-in-the-nation ethics rules, which require elected officials to "maintain the faith and confidence of the people of the state" when it comes to their actions?

The conversation is so stunning in its brazenness that the Center for Media and Democracy, which had already filed a freedom-of-information requests for records of contacts between the governor and his aides and representatives of Koch industries, is stepping up those demands.

"One request is for the phone logs and the other is for their emails. We are looking for any contacts between Scott Walker and his staff and anyone with Koch Industries or the Kochs (brothers David and Charles)," says Lisa Graves, a former deputy Assistant Attorney General of the United States who now heads the Madison-based center. "We are interested as well in calls to and from the group Americans for Prosperity, with which Mr. Koch is closely tied."

Says Graves: "We are interested in a number of things, especially contacts between the financial interests that helped elect Governor Walker and the governor and his staff. We are interested in whether the governor and his staff have maintained faith with the ethics requirements and responsibilities associated with their positions."

Read the full item from The Nation.
WEDNESDAY, FEBRUARY 23, 2011 AFTERNOON NEWS ROUNDUP
UNIONS PLAN SATURDAY PROTESTS IN EVERY STATE:
A collection of prominent progressive groups and unions, including MoveOn.org and the Service Employees International Union, are working to organize rallies in every state capital at noon local time on Saturday. The demonstrations, organizers said, are to show solidarity with union workers in Wisconsin and to protest the cuts to wages and public services proposed by Republican governors throughout the country.
WISCONSIN GOVERNOR'S -- AND THE GOP'S -- STRANGE 'BUDGET DISCIPLINE':
Wisconsin's Republican governor, Scott Walker, says that concern over his state's relatively modest budget crisis motivates his drive to strip public-sector employees of their ability to bargain collectively. And yet, he just decided to put Wisconsin into a fiscal strait-jacket, signing a bill Tuesday that would require a two-thirds supermajority in the state legislature or a state-wide referendum to raise a range of taxes. This is not the sign of a serious budget hawk, whatever you think of Walker's policies on public-sector unions.
If Walker believes that the state is spending too much and should cut outlays to balance its books now, fine. He won his election, and he has the votes in the legislature to pass his solution. But he's attempting to force every governor after him to choose the same course, even if future state governments face drastically different budgetary circumstances.
WISCONSIN MATTERS TO THE WORLD:
Until a few weeks ago, there was a disconnect between the financial disaster the United States faces and the battles its mainstream political actors were waging. The White House and Congress were busy expanding government while anti-government critics, including the tea party movement, were more interested in crusades than in restoring fiscal and regulatory sanity to the nation.
Thanks to controversial efforts by Wisconsin Gov. Scott Walker to cut some benefits and collective bargaining rights, as well as the $61 billion in federal spending cuts approved by the House of Representatives and the likely government shutdown if the Senate rejects them, the fault lines have been redrawn. The country is finally focused on what matters if the United States wants to avoid giving the impression that it is headed for Third World status.
SF CHRONICLE: WISCONSIN AND THE FUTURE OF AMERICA:
Scott Walker, the smug and obstreperous Governor of Wisconsin, and other hard liners of the Grand Old Party are attempting to dismantle organized labor in the name of fiscal responsibility. This is dangerous. For a slew of reasons, it is also a disingenuous and cynical position.
First, the hard right of the GOP does not care about balanced budgets. If they cared about fiscal responsibility, they wouldn't have pushed for, under Bush, the spending of billions of dollars in illegitimate and illegal wars. They also wouldn't be such grotesque and fervent advocates of financial deregulation (a euphemism for carte blanche recklessness on Wall Street), which (as we know) allowed the big banks to take America on a short, tragic joy ride, that culminated in the financial wreck of 2008-2009. That fiasco is, of course, the most immediate cause of our current budget problems.
Second, eviscerating public sector unions will not solve the budget crisis facing state and local governments or the federal government. Public employee unions are not the cause of the current fiscal crisis facing Wisconsin, or any other state for that matter, nor are they the principal obstacle to balancing the budget. The current budget crisis has been caused by, among other factors, the incredibly irresponsible Bush tax cuts for the wealthy (renewed by Obama), the extraordinary costs of unnecessary wars, a deep recession rooted in the unchecked greed of Wall Street, the skyrocketing costs of a senseless health care system run by the pharmaceutical and insurance industries, and, perhaps most importantly, the simple fact that America is not capable of sustaining the current "American way of life".
POLITICO: INDIANA KILLS 'RIGHT-TO-WORK' BILL:
Republicans in Indiana's state senate on Wednesday killed a proposed "right-to-work" bill that would have reduced the power of unions in the state.
"It was a mistake," said Senate President Pro Tempore David Long, a Republican, at a late morning press conference, the Courier-Journal reported.
Long said he is dropping the legislation for the time being and instead will consider the measure in a committee study, a plan with which Republican Gov. Mitch Daniels and the Republican speaker of the House both agree.
Long said he had urged House Speaker Brian Bosma not to pursue the bill "because of the chance it would blow up the session and we would have exactly the reaction we have out there." Democratic legislators fled the statehouse on Tuesday to block a vote on the proposed bill, following a similar move by Democratic lawmakers in Wisconsin over that state's proposed legislation to limit collective bargaining rights for public sector unions.
MOST OPPOSE WISCONSIN STYLE BILLS:
Most Americans say they oppose limiting or ending collective bargaining for public sector unions, according to a poll released Tuesday. Sixty-one percent of Americans surveyed for a USA Today/Gallup Poll said they would oppose a law in their own state similar to the one that has sparked massive protests in Wisconsin, while 33 percent said they would support such legislation. Six percent said they had no opinion.
The poll also found that 71 percent of Americans said they would oppose a hike on sales, income or other taxes to tackle budget shortfalls, while 27 percent said they would oppose such increases.
Fifty-three percent of those surveyed said they opposed reducing pay or benefits for government employees, while 44 percent said they would support such a move. Americans were divided over whether cutting government programs would be an acceptable way to handle state budget shortfalls: 47 percent of those polled said they supported government cuts, while 48 percent said they opposed them. The poll surveyed 1,000 adults on Monday night and has an error margin of plus or minus 4 percentage points.
4:30 p.m. - WISCONSIN WAVE RALLY, MONONA TERRACE (OUTSIDE WMC CONFERENCE)
Brendan Fischer reports:
At Wisconsin Wave's second rally of the day, I spoke with Stevie Martin, a non-union state employee and mother of two, who said she has been at the capitol every day since last Tuesday. Her rosy-cheeked seven-month-old, Oliver, was strapped to her chest in a sling, with a sign that read "Please sir, can I have an education?" Ms. Martin said Oliver had slept through most of the noise of the protests; the only noise that has woken him has been the bagpipes of the firefighters. "When I am at home, I get sad when I think about what Walker is trying to do," she said. "Here, it is inspirational. Here there is hope." She said that last week, she was singing a lullaby to her other child, a four-year-old, about making a more wonderful world (she would not sing it for me on the street), and decided she couldn't talk about a better world without trying to do something about it, and she drove to the capitol with her children and spent the night.
"I can be here breastfeeding and with two kids; what's your excuse?"
On the stage, Liberty Tree founder Ben Manski reminded protestors that "the Republicans are trying to make the middle class uncomfortable, and by making us uncomfortable they can drive wages down," and said "we need to be nonviolent, but we need to make them uncomfortable!" He urged protestors to back UW students as they mobilize two days from now: "they had our back, now we need to have their backs!"
Next up was Clay Christiansen, a Lieutenant firefighter in local 311 in Madison. He was part of a contingent of 250 firefighters that marched on the WMC conference at noon, but was stopped at the doors. Christiansen said that Walker's attack on the middle class "is not a left/right issue." He said that "we need to reach out to those who voted for Walker" and find common ground, reminding protestors that "firefighters are usually a conservative bunch, and many of them voted for Walker, but now they are regretting it."
THE MIGHTY MIGHTY TEAMSTERS LEND SUPPORT
From Mary Bottari's report:
On the first day protesters occupied the Wisconsin Capitol building a young man held a sign, "Where is Jimmy Hoffa when you need him?" Well, International Brotherhood of the Teamsters President James Hoffa rolled into town today with a group of Wisconsin Teamster members to lend support to the Capitol protesters. Three members I spoke to were UPS drivers, private sector workers lending support to public sector nurses and teachers. I asked Hoffa about the news this morning that Governor Scott Walker had been caught on tape with a blogger who he thought was David Koch, of Koch Industries, specifically about Walker's comments that he would "crank up" pressure on the workers with layoff notices. "We'll announce Thursday, they'll go out early next week and we'll probably get five to six thousand state workers will get at-risk notices for layoffs. We might ratchet that up a little bit too," says Walker on the call.
3:50 p.m. - Steve Horn reports that the United Council of University of Wisconsin Students are planning a course of action to respond to Chancellor Biddy Martin's proposal to cut the University from the UW system. The Chancellor will meet with the UW Board of Regents on Friday at 10:00 a.m. where the sole agenda item is the New Badger Partnership. Check back for more updates on Friday morning's action.
Steve Horn is live-tweeting from the Madison protests. Follow his updates: @Steve_Horn1022.
3:39 p.m. - KOCH-BACKED GROUP, TEA PARTY MOBILIZE IN WISCONSIN:
CBS News reports on the Wisconsin protests, citing the Center for Media and Democracy:
Walker said eliminating most collective bargaining rights is necessary because "the system is broken," the Center for Media and Democracy reports. He repeated his threat that thousands of workers could face layoffs if the state legislature doesn't pass his bill.
WE ARE WISCONSIN
Watch this inspiring video from Finn Ryan:
2:37 p.m. - Minority and Majority leaders are meeting to discuss potential compromises.
2:29 p.m. - Erica Pelzek reports that Senator Fitzgerald says he was not aware of any strategy to get Democrats back to get quorum and then vote without them present.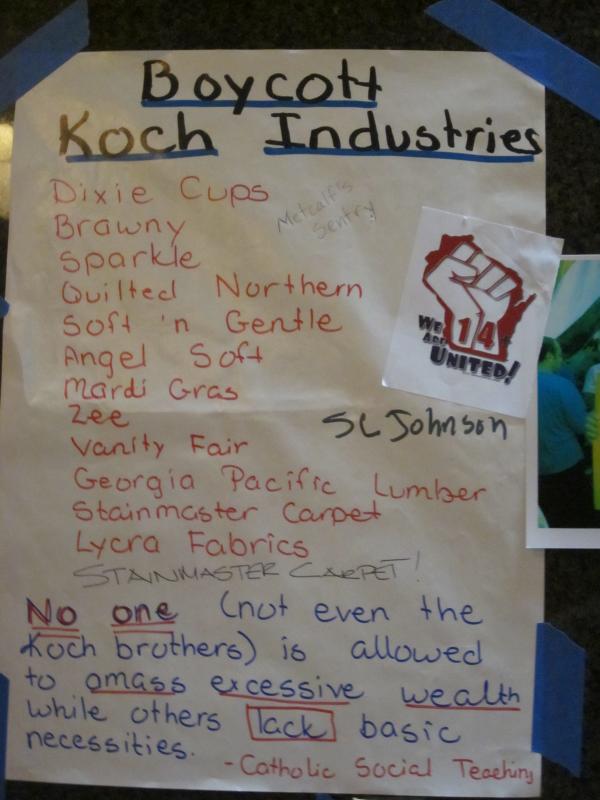 BREAKING NEWS: KOCH BROTHERS AND SCOTT WALKER
Today, WI Gov. Scott Walker, believing he was talking to prominent financial backer David Koch, told a Buffalo, N.Y. blogger that he was getting ready to issue pink slips to state workers in a strategy to force Democratic Republican Senators back to work. In the short interview posted on YouTube and discussed at length by the Milwaukee Journal Sentinel today, there is a wealth of news.
Watch the YouTube video and tell us what you think. The embarrassing revelations prompted Walker to cancel a 2:30 p.m. press conference today.
1:31 p.m. - Steve Horn reports that tomorrow, Thursday, February 24 at 4:00 p.m. there will be a rally at the Koch lobbying office, 10 East Doty Street, Madison. Protesters will be meeting at 3:45 p.m. at Walgreens on East Main Street.
1:14 p.m. - Steve Horn reports that firefighters are circulating back through the rotunda, bagpipes and all. Chants of "Whose house? Our house!" as the firefighters file through.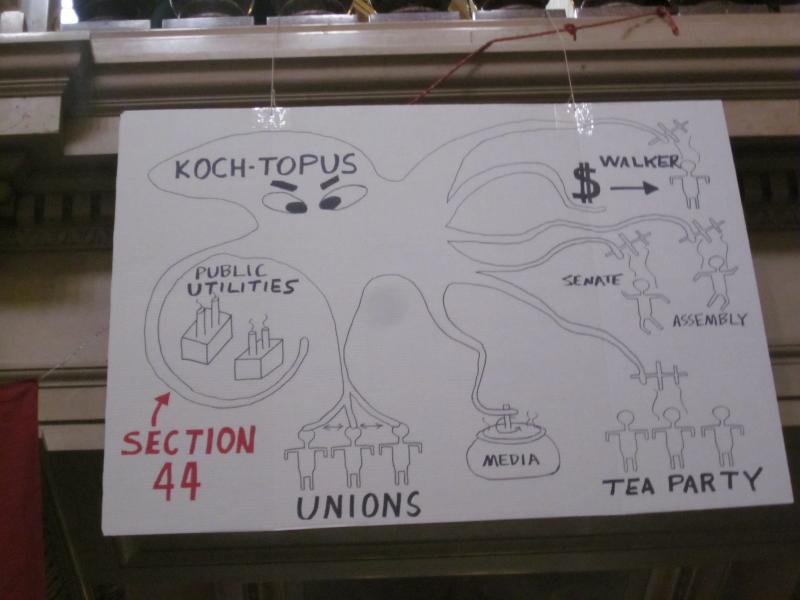 1:02 p.m. - Steve Horn reports chants of "fill the bucket!" echo in the rotunda. Police will be helping protect the bucket.
1:01 p.m. - Steve Horn reports that people are circulating recall petitions outside of the Capitol.
1:00 p.m. - Steve Horn reports that the bucket is already halfway full. People are dropping money in to the bucket from the second level of the rotunda.
12:59 p.m. - Steve Horn reports that people are already putting money in the bucket.
12:57 p.m. - Steve Horn reports that there is a new budget repair bucket: $132 million would mean $32 per person. The bucket starts today. $32 per person would "repair" the budget. The bucket will be in the middle of the rotunda. It will be accounted for at bucketrepairbudget.com.
12:53 p.m. - Mahlon Mitchell: "1963 MLK had his 'I Had a Dream' speech. In 2011, Walker gave his 'I Have a Nightmare' address."
12:48 p.m. - Steve Horn reports that firefighters have been streaming through the Capitol entrance for five minutes.
12:39 p.m. - Mahlon Mitchell, president of the Professional Fire Fighters of Wisconsin, is speaking in the Capitol rotunda. "We will be here every single day until the job is done. All of the labor leaders will be going to Governor Walker's office to see if he is willing to negotiate. We won't leave until he comes out."
12:36 p.m. - Saunders: "The eyes of the nation and the world are on you. Wisconsin, stand tall, stand strong!"
12:35 p.m. - Steve Horn reports that chants of "This is where we fight!" fill the rotunda.
12:34 p.m. - Saunders: "We support the right of collective bargaining! This is about our freedom! This is about democracy! This is ground zero! This is where we stand! This is where we fight!"
12:33 p.m. - Saunders: "I want to thank one group of people who have been here from the start, the students! This is about who we are as a people!
12:31 p.m. - AFSCME Secretary/Treasurer Lee Saunders is speaking in the center of the Capitol rotunda.
11:58 p.m. - Steve Horn reports that dozens of firefighters and steelworkers are filing in to the rotunda.
11:19 a.m. - THE COLBERT REPORT - A LESS PERFECT UNION
The Wisconsin state workers' request to keep collective bargaining rights may sound reasonable, but that's just the accent. Watch Stephen Colbert's coverage:
11:30 a.m. - GENERAL STRIKE LOOMS IF WALKER SIGNS UNION-BUSTING BILL
From Anne Landman's report:
Wisconsin's South Central Federation of Labor is getting ready to call a general strike if the state's legislature passes Governor Scott Walker's bill to curtail collective bargaining rights.
10:47 a.m. - Steve Horn reports that Scott Walker is at Monona Terrace right now and urges those who are in the vicinity to head over.
10:36 a.m. - South Central Federation of Labor of Wisconsin, a group that represents dozens of Wisconsin unions, has voted and agreed to a general strike.
10:30 a.m. - SHOULD PUBLIC SECTOR UNIONS EXIST?
Brendan Fischer reports:
Governor Scott Walker's budget repair bill effectively dismantles over 50 years of public sector collective bargaining rights in Wisconsin. While bill supporters have obscured the reasons that hundreds of thousands have been protesting (acting as if the controversy is really about pension and healthcare contributions rather than union-busting, and claiming the fiscal gaps exacerbated by Walker's tax cuts leave the state with no choice but to crush unions), others recognize the attack on collective bargaining rights but nonetheless support it as applied to taxpayer-funded public servants. Should public sector workers be allowed to organize?
10:19 a.m. - JAMES HOFFA, IBT PRESIDENT AT NOON RALLY
Mary Bottari reports that James Hoffa, President of the International Brotherhood of Teamsters, will address the 12:00 noon rally on the Capitol steps today. Hoffa has been a long-time champion of working people and has been a critical player in the fights regarding international trade and is rumored to be an excellent public speaker.
A CALL FOR A WISCONSIN WAVE OF RESISTANCE
This Wisconsin Wave is an awakening of Wisconsinites independent of — but not exclusive of — whatever other political, union, faith or organizational affiliations we each might have.

To the giant corporate interests that currently dominate our state, we say that we will not stand by and watch you destroy Wisconsin's democracy, Wisconsin's economy, Wisconsin's schools and Wisconsin's communities. We will not pay for your crisis. We will organize. We will march. We will nonviolently resist your policies and overcome your agenda.

To our fellow Wisconsinites we say simply, "join us." Join the Wisconsin Wave of resistance against corporatization and austerity, and for democracy and shared prosperity for all: www.WisconsinWave.org.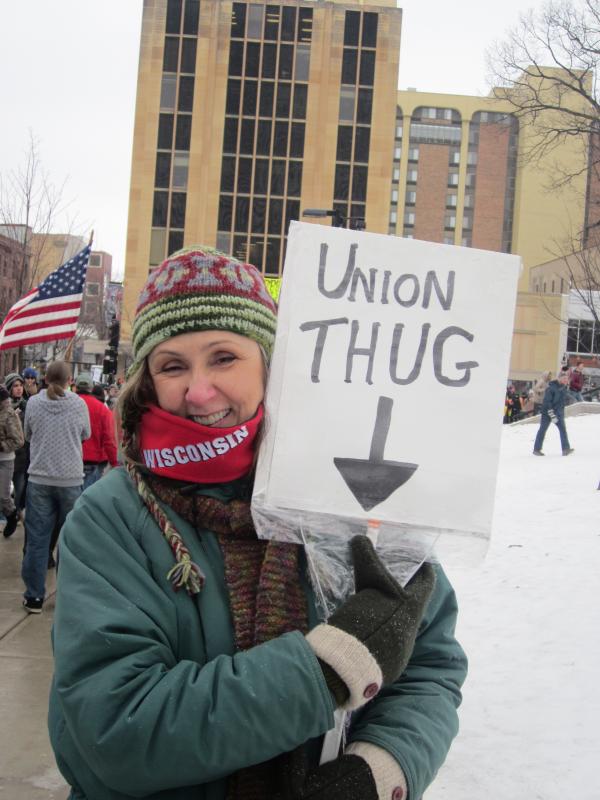 WEDNESDAY, FEBRUARY 23, 2011 NEWS ROUNDUP
WI LABOR FEDERATION VOTES TO ENDORSE GENERAL STRIKE
The Wisconsin State Journal Reports: The 97-union strong South Central Federation of Labor, an umbrella organization representing more than 45,000 workers in Wisconsin, voted last night to endorse a general strike. The vote was unanimous. About 100 delegates of the 97-union federation voted unanimously in favor of the strike, and called for the group to start educating its members and affiliates on the "organization and function of a general strike." There were no details available about how the strike would work or how many workers would take part.
WISCONSIN 14 CUT OFF FROM PAYCHECKS
Missing From the Headlines: CMD reported yesterday from the WI Capitol Building a story that the media seems to have missed -- the WI Senate voted to implement a new rule that if you miss two days of floor action you must come to pick up your paycheck in person. In other words, they have just cut off the Wisconsin 14 from their paychecks. The campaign contributions to the State Senate Democratic Committee registered on ActBlue have jumped substantially.
THOUSANDS MARCH ON STATE CAPITOLS AS UNION FIGHT SPREADS
New York Times: After a week of upheaval in Madison, Wis., where the thumping din of protesters has turned almost celebratory, the battle moved to Ohio, where the Legislature held hearings on a bill that would effectively end collective bargaining for state workers and drastically reduce it for local government employees like police officers and firefighters. Several thousand pro-union protesters filled a main hall of the state courthouse in Columbus and gathered in a large crowd outside, chanting "Kill the bill," waving signs and playing drums and bagpipes. One Democratic state legislator put the figure at 15,000.
In Indiana, nearly all of the Democratic members of the state's House of Representatives stayed away from a legislative session on Tuesday in an effort to stymie a bill that they say would weaken collective bargaining. By late Tuesday, they seemed to have succeeded in running down a clock on the bill, which was to expire at midnight. Representative Brian Bosma, the speaker of the Indiana House, said the bill would die when the deadline passed.
WI ASSEMBLY DEBATES BUDGET FIX THROUGH THE NIGHT
Milwaukee Journal Sentinel: Democrats said they had as many as 200 amendments. But as of 5:30 a.m. - after a whole night of debates and breaks - Republicans had only tabled eight amendments and the body appeared to have hours of debate left to go. At 7 a.m., they were still talking and still tabling Democratic amendments as the marathon session dragged on.
KOCH BROTHERS OPEN LOBBY SHOP IN MADISON
The Capital Times reports: Koch Companies Public Sector LLC occupies a seventh-floor suite at 10 E. Doty St. According to an unidentified tenant there, the lobbying group moved in two weeks before Walker was elected governor on November 2.
WI UNIQUE RECALL LAW: DEMOCRACY DOES NOT END ON ELECTION DAY
John Nichols of the Capital Times reviews Wisconsin's long history of recall. In Wisconsin, however, the people have something else. They have the power, established by the progressive movement, to recall those elected officials who choose to govern not as representatives or men and women of conscience but as "elected monarchs."
WI GOP PROPOSES ROLLBACK OF MANDATORY DISINFECTION FOR DRINKING WATER
You can't make this stuff up. From the Capital Times: Republicans have introduced bills in each legislative house that would repeal a Department of Natural Resources rule that requires municipal governments to disinfect drinking water. The rule went into effect on Dec. 1 of last year, and it affects 12 percent of the state's municipal water supply systems. The other 88 percent of municipalities already disinfect their water. "When I heard about this law being proposed, I thought, 'You might as well legislate that the sun rises in the west," says Mark Borchardt, a leading infectious groundwater disease specialist and a staff member with the Environmental Protection Agency Advisory Board. He has done groundbreaking studies that showed that about 13 percent of acute gastro-intestinal illnesses in Wisconsin municipalities that don't disinfect their water supplies are tied to dirty drinking water.
SCHEDULE FOR WEDNESDAY, FEBRUARY 23, 2011
11:00 a.m. - The bill will be revisited on the floor of the Wisconsin State Senate.
12:00 p.m. - Rally at the State Capitol
12:00 p.m. - Picket line blocking Wisconsin Manufacturers and Commerce meeting at the Monona Terrace MLK Blvd. entrance (Sponsored by WisconsinWave)
2:30 p.m. - Press conference with Madison Police Chief Noble Wray
4:30 p.m. - Rally at Monona Terrace (Sponsored by WisconsinWave)
5:00 p.m. - Rally at State Capitol
6:00 p.m. - Forum on legal and political issues raised by the Budget Repair Bill. All are welcome. Room 2260, University of Wisconsin Law School
Sleep over at the Capitol: TAA Union will provide dinner at 7:00 p.m., doors close at 10:00 p.m.
For the latest schedule and bus service schedules across the state please check WEAC's website or Wisconsin AFSCME's website, or call the Center for Media and Democracy at 608-260-9713 for more information.
---
Wisconsin Protests photo gallery