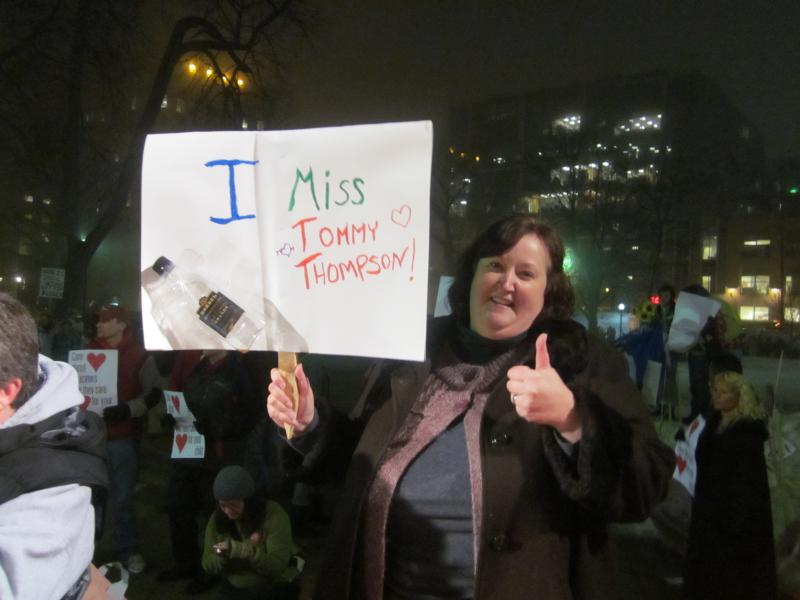 10:10 p.m. - GOOD OLE DAYS
Mary Bottari reports that another protestor says she yearns for the good old days when republicans were somewhat reasonable.
10:00 p.m. - WEAC INVITES TEACHERS AND CITIZENS TO CAPITOL
Wisconsin's largest teacher's union, Wisconsin Education Association Council (WEAC), announced that its 98,000 teachers and citizens across the state are invited to the state capitol tomorrow to visit their state legislators. This means that schools across the state will be closed. Check your local TV listings for news on your local school district. Madison Schools are closed.
9:30 p.m. - WISCONSIN GOVERNOR WALKS ON WORKERS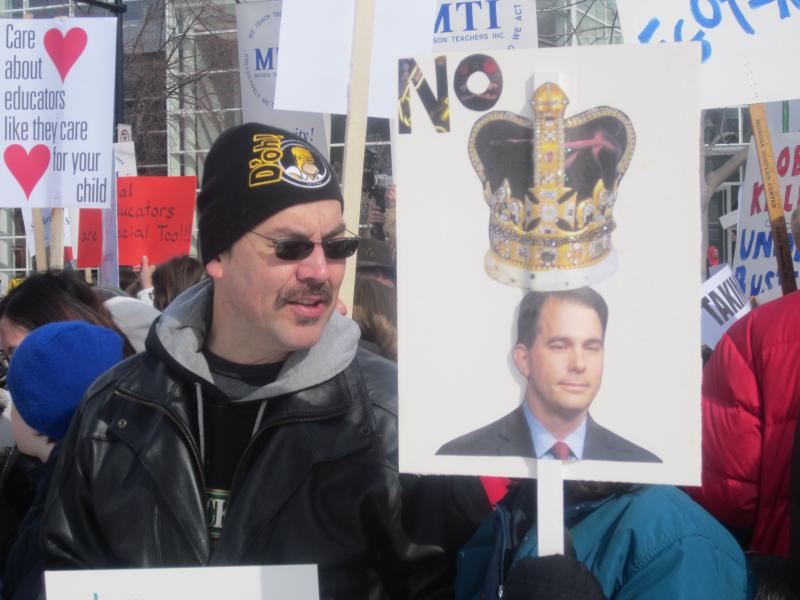 Brendan Fischer reports:
Wisconsin Governor Scott Walker is trying to end collective bargaining rights for public employees in Wisconsin, and thousands have converged on the state capitol in protest of what many consider a radical and blatantly political move. Walker's plan threatens the rights of all Wisconsin workers, and if it prevails in this state, could threaten the rights of working people across the nation. It would also reverse the legacy of Dr. Martin Luther King, Jr. and all those who have fought for economic justice through the power of organizing.
9:15 p.m. - SCHULTZ, WANGGAARD PROPOSING CHANGES TO GUV'S BUDGET REPAIR BILL
Wispolitics.com reports about proposed changes to the "budget repair" bill. It appears that the protestors are gaining a few key Republican friends.
GOP Sens. Dale Schultz and Van Wanggaard are proposing an alternative to the guv's budget repair bill that would strip public employees of their ability to collectively bargain on wages, pensions and health care costs through 2013 before reinstating those rights, according to a source familiar with caucus discussion.
9:00 p.m. - "WHAT'S DISGUSTING? UNION BUSTING!"
Madisonian John Nichols reports for the Nation magazine:
"I have never been prouder of our movement than I am at this moment," shouted Wisconsin AFL-CIO President Phil Neuenfeldt, as he surveyed the crowds of union members and their supporters that surged around the state Capitol and into the streets of Madison Wednesday, literally closing the downtown as tens of thousands of Wisconsinites protested their Republican governor's attempt to strip public employee unions of their collective bargaining rights.

Where Tuesday's mid-day protests drew crowds estimated at 12,000 to 15,000, Wednesday's mid-day rally drew 30,000, according to estimates by organizers. Madison Police Chief Noble Wray, a veteran of twenty-seven years on the city's force, said he had has never see a protest of this size at the Capitol—and he noted that, while crowd estimates usually just measure those outside, this time the inside of the sprawling state Capitol was "packed."

Read the entire article here. (Subscription required)
6:30 p.m. - THOUSANDS RALLY AT CAPITOL
Mary Bottari reports that thousands of people were outside the Capitol tonight at a rally before heading inside to wait for a Joint Finance Committee vote on the budget repair bill. The vote is to take place around 7:00 p.m. CST. It is anticipated that the vote will pass, and there will be a floor vote on Thursday, February 17, in the Senate.
6:15 p.m. - WALKER SAYS HIS BUDGET BILL COULD CHANGE IN RESPONSE TO GOP LAWMAKERS
The Milwaukee Journal Sentinel reports that Governor Walker has said he will consider changing his bill in response to pressure from Republican lawmakers. This means it is more important now than ever to contact your local representatives.
Gov. Scott Walker said Wednesday he was responding to requests from Republican legislative leaders to make at least some changes to a bill that would strip public workers of most of their union rights.

The Legislature's budget committee is expected to meet later this evening to consider changes to the bill, which also would require public employees to pay more for their benefits to help close a state budget gap. Meanwhile at least two Republican senators have put forward a plan that would amend Walker's bill.
5:45 p.m. - REPUBLICANS PLAN TO OFFER CHANGES TO WALKER BUDGET PROPOSAL
The Wisconsin State Journal reports that Republicans will offer amendments to Walker's proposal, but that these changes will not update the collective bargaining portion of the plan.
Republican leaders are planning changes to Gov. Scott Walker's sweeping budget repair proposal, which would effectively end collective bargaining for most of the approximately 175,000 public workers in Wisconsin, a staffer confirmed Wednesday afternoon.

But Senate Majority Leader Scott Fitzgerald, R-Juneau, says main provisions of the budget plan will stand. Amendments will not change the collective bargaining proposal, he said.

"It will be amended," said Kit Beyer, a spokeswoman for Rep. Robin Vos, R-Rochester, co-chairman of the Legislature's budget committee. Beyer didn't elaborate but said the changes were "not just technical."
5:25 p.m. - THOUSANDS ASSEMBLE AT WISCONSIN STATE CAPITOL
Mary Bottari reports that there were 15,000 in Madison yesterday, 30,000 at noon today... will there be 50,000 tomorrow? Be a part of history.
4:50 p.m. - AT THE RALLY
Steve Horn reports that a first year MATC liberal arts student came to the rally today because he believes that "a society that values education respects its educated people and treats them with respect and dignity. Walker's bill proposal is the total opposite and would degrade the state of Wisconsin for generations to come."
4:30 p.m. - DEMS LISTENING SESSION
Mary Bottari reports that the Democratic legislators' listening session is still going on. According to counts kept by Democratic staff, since 3:00 a.m., 1,271 people have registered against the bill and 385 have spoken against the bill. No one has registered or spoken in favor of the bill. Several hundred are still waiting to speak. Rumors are swirling around the Capitol that a few Republican Senators are having doubts about the Governor's radical proposal to end collective bargaining.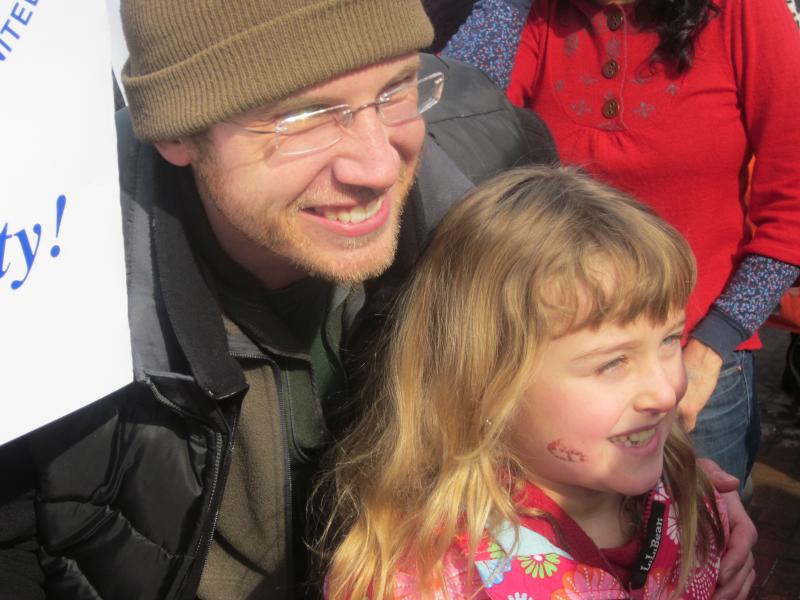 4:20 p.m. - STUDENTS AND TEACHERS
Eight-year-old Cleo joins her teacher Mr. Marks from Lapham Elementary School at the massive protest in Madison today.
4:15 p.m. - Brendan Fischer reports that a Milwaukee Public School math teacher named Cheryl takes issue with the bill limiting collective bargaining to wages. "If I wanted money, I would have become an engineer or actuary. I do this because I love my kids." The math teacher said "We are more concerned with working conditions than with wages. Our concern is with what is best for our students."
4:00 p.m. - Steve Horn reports that he spoke with a Kenosha School District teacher who he said he had asked for the day off to attend the rally, but his request was rejected by administration. He decided to show up because he knew it was the right thing to do. "If I lose my job, I lose my job, but I had to come because it was the right thing to do for the state as a whole. Down the road there will be no more public jobs."
3:45 p.m. - IRAQ VETERAN ASKS COMMITTEE TO VOTE AGAINST BILL
Brendan Fischer reports that at the committee hearing, David Keller, corrections facility officer and Iraq war veteran, said "this is a naked power grab by Walker. I served in Iraq to unseat a despot," only to return home to have one take control in Wisconsin. Stating "you must know how hard it is for a soldier to ask for help," Keller asked the committee to vote against the bill and its restrictions collective bargaining rights.
3:30 p.m. - FIREDOG LAKE INTERVIEWS MARY BOTTARI
Firedog Lake is reporting on the protests in Wisconsin, with an interview with CMD's own Mary Bottari.
Madison was not the only Wisconsin town to see protests yesterday. Governor Walker's home in Wauwatosa had 1,000 protesters out in front of it Tuesday night, blocking traffic on the residential street.

But Madison was clearly the hub for activism yesterday, with reports of up to 10,000 protesters participating. "The vote is planned for Thursday, so we want twice as many people there today and twice as many as that tomorrow," said Mary Bottari of the Center for Media and Democracy in Madison. Bottari is also a parent, and her daughter came home with a a note from the school superintendent yesterday afternoon basically explaining that many teachers would be walking out tomorrow. At the time, local schools were still scheduled to be open, but it was clear from the message that they would not be operating under a normal schedule. By last night, 40% of the 2,600 teachers had called in sick, and the school district did not have enough substitute teachers to replace them.

Bottari described the protests yesterday – separate ones at midday, and another in the early evening after teachers got off work – as lively. They included workers from all over the state, including firefighters, who are exempt from the collective bargaining changes under the bill. "They ran buses from parking lots on the outskirts of the city into the Capitol," Bottari said. A couple Democratic lawmakers in the Capitol unfurled a large banner reading "Solidarity" during the protests.
3:15 p.m. - CONFUSION AT THE CAPITOL
Mary Bottari reports that there is a lot of confusion at the Capitol about what is formally happening with the Budget Repair Bill. To recap: the official Joint Finance Committee hearing ended last night at 3:03 a.m. They decided that they were not going to take any more registration slips. With throngs of people still waiting to testify, the the Democratic committee members continued to take testimony today. It is not clear if this testimony will count for the record. It is anticipated that the Joint Finance Committee will vote on Walker's proposal at approximately 4:00 p.m. today and votes are scheduled for the Senate Thursday and the Assembly on Friday.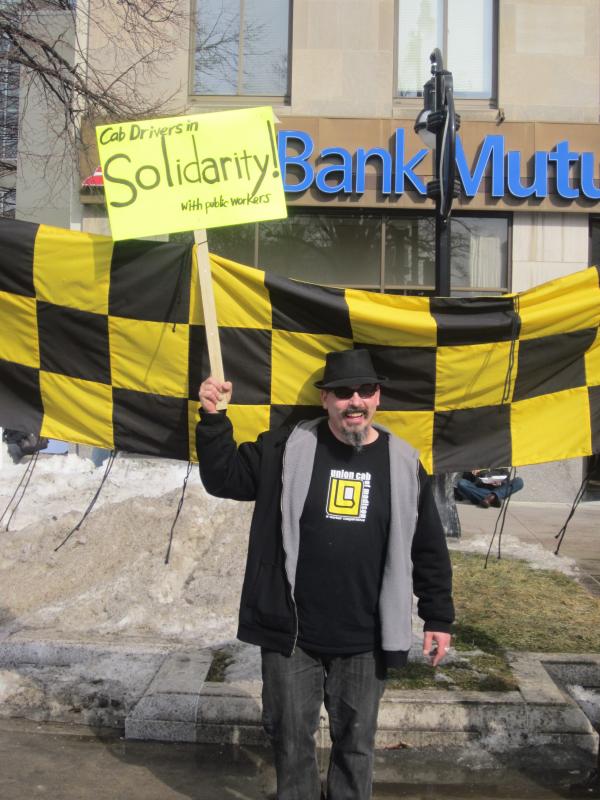 3:00 p.m. - CAPITOL POLICE FRIENDLY AND HELPFUL
Brendan Fischer reports that capitol police are especially friendly and helpful to protesters. One officer said "to the best of our knowledge, we also are affected" by the bill's restrictions on collective bargaining and increases in pension and health care contributions. Municipal police officers and state sheriffs, whose unions supported Walker in the 2010 campaign, are exempted from the governor's plan.
2:30 p.m. - LTE EMPLOYEES WILL LOSE HEALTH INSURANCE UNDER GOVERNOR WALKER'S PLAN
Brendan Fischer reports that David Giehtbrock, Bureau of Fisheries Management from the Department of Natural Resources spoke at the committee hearing on behalf of limited term employees (LTE), who will lose health insurance under the plan. Noting the importance of tourism and fishing to Wisconsin's economy, Giehtbrock stated "if you've caught a fish in the last ten years, an LTE employee has had an important role" in stocking, and if LTEs lose their health insurance, they are gone. "We are not open for business if we are not stocking fish."
2:00 p.m. - Brendan Fischer reports that protestors outside of Governor Walker's office are chanting "up with unions, up with knowledge, hey there Walker go back to college."
12:45 p.m. - FIREFIGHTERS--ALTHOUGH EXEMPT--SHOW STRONG SUPPORT OF PROTESTERS
Mary Bottari reports that the largest roar from the crowd came when a phalanx of Madison firefighters marched in boots and hats down Main Street on the Capitol Square. The firefighters are exempt from the Governor's proposal to get rid of collective bargaining for workers, but they came to show their support. Mahlon Mitchell, President of the Professional Firefighters of Wisconsin, addressed the crowd: "We could have stayed home. We could have said it was not our fight. But what do firefighters do when there is an emergency? We turn up and we go in first."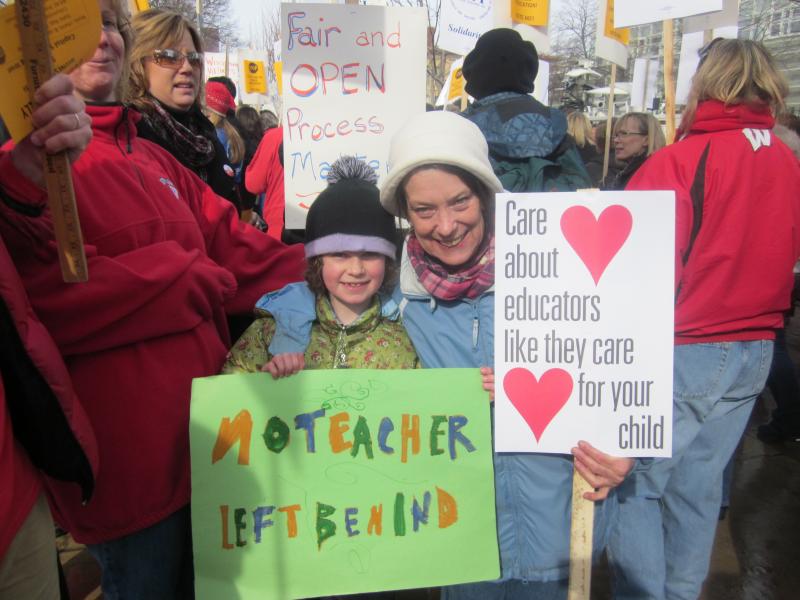 12:15 p.m. - RALLY KICK OFF
Mary Bottari reports that the big rally kicked off with the Star Spangled Banner and a prayer. The first speaker was Air Force veteran and nurse Dee Ives. She became a nurse in the 1990s to help serve our veterans. "I ask legislators inside to pause and think about the great harm this bill will do to our ability to provide services to our veterans," Ives said during her speech. She is a proud Reagan Republican but says this bill is not about party politics.
12:00 p.m. - Steve Horn will be live-tweeting from the inside. Follow his updates: @Steve_Horn1022
11:30 a.m. - WORKERS TOPPLED A DICTATOR IN EGYPT, BUT MIGHT BE SILENCED IN WISCONSIN
Harold Meyerson of the Washington Post weighed in on the battle in Wisconsin:
But even as workers were helping topple the regime in Cairo, one state government in particular was moving to topple workers' organizations here in the United States. Last Friday, Scott Walker, Wisconsin's new Republican governor, proposed taking away most collective bargaining rights of public employees. Under his legislation, which has moved so swiftly through the newly Republican state legislature that it might come to a vote Thursday, the unions representing teachers, sanitation workers, doctors and nurses at public hospitals, and a host of other public employees, would lose the right to bargain over health coverage, pensions and other benefits. (To make his proposal more politically palatable, the governor exempted from his hit list the unions representing firefighters and police.) The only thing all other public-sector workers could bargain over would be their base wages, and given the fiscal restraints plaguing the states, that's hardly anything to bargain over at all.
---
Wisconsin Protests photo gallery