An organization called the "Save America Foundation" is putting on conferences around the country that it promotes to host communities as "Constitutional Conventions." John Michael Chambers, the Save America Foundation's founder and spokesman, is telling local press that these events are intended to "stress the Constitution, not current politics," but Chambers is stingy on the details. He doesn't say exactly how these gatherings will "stress the Constitution," or describe specific goals the gatherings hope to achieve.
Investigation reveals that these so-called "Constitutional Conventions" are part of a wave of hysterical fear and scapegoating currently sweeping the country, and that the "Save America Foundation" has overtones of an apocalyptic cult that relies on fear to motivate susceptible audiences. John Michael Chambers, the Clearwater, Florida radio talk show host and financial planner who founded the group, believes the United States is being overtaken by a "New World Order" perpetrated by "elitists." He writes on the organization's Web site that:
The New World Order is not a conspiracy theorists' fantasy but rather a cold hard realty and it is here and present every second of every day in our lives. Globalization is a fact of life. The Age of Global Governance has arrived. Globalization is here. By careful, calculated design (for decades). We are witnessing not only the transformation of America but also the transformation of life for all of us on this planet.
Chambers writes that this is "Not the end of the world, but the end of the world as we know it." He is believes "elitists" are trying to create one world government, one world currency, and one world military. He urges people to buy gold bullion and join the Tea Party.
Glenn Beck Redux
The Save America Foundation's web site lists nine principles and twelve values for which the Foundation stands. They are exactly the same nine principles and twelve values that conservative Fox News talk show host Glenn Beck put forth in his 9/12 Project. Thus, the Save America Foundation is, at its core, an extension of Glenn Beck's project. 9-12 Project protests drew attention for participants carrying signs bearing Nazi swastikas and photos depicting Obama as Hitler.
Fear Inducing, Apocalyptic Speakers
The speakers and organizations scheduled to appear at the first "Constitutional Convention" event to be held in Grand Junction, Colorado on August 28 have similarly apocalyptic, and sometimes racist, overtones.
The headline speaker at the convention is Tom Tancredo, the former Colorado congressman who claimed Obama won the presidency because we "don't require a literacy test before people can vote." In explaining his opposition to Sonia Sotomayor, Tancredo called the hispanic civil rights and advocacy group La Raza "a Latino KKK without the hoods or the nooses."
Another listed speaker is Marita Noon, executive director of the Citizens' Alliance for Responsible Energy (CARE), a fossil fuel advocacy group funded by New Mexico oil and gas interests that flatly opposes the pursuit of "green," or sustainable energy development. CARE claims that the pursuit of solar and wind power "will end the America we know and love." The group refers to sustainable energy advocates as "Gang Green," and its Web site contains a quote by Fred L. Smith, Jr., president of the Competitive Enterprise Institute, in which Smith claims that environmental activists are seeking to undermine American sovereignty and advance a "global wealth transfer scheme." His quote says in part,
We can say this for environmental activists -- they are persistent, constantly developing collectivist schemes to increase the size and scope of government. And they are becoming more ambitious. Not content with giving more power to Uncle Sam, they now seek to give greater power to the United Nations, a move that would seriously undermine American sovereignty and pave the way for top-down global wealth transfer schemes that would make the Great Society look small.
Wacky Theorists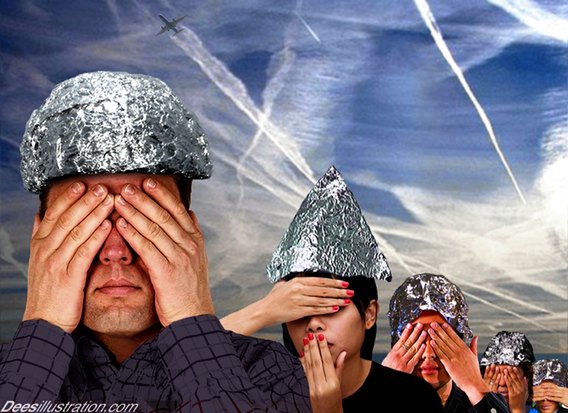 Another speaker expected at the Grand Junction "Constitutional Convention" is Paul St. John, whose claim to fame is organizing the "Chemtrails Truth and Awareness Movement." Adherents to this movement believe that the condensation trails ("contrails") that jet airplanes leave behind in the sky contain heinous chemical and biological agents that the government is deliberately spraying onto people for purposes ranging from population control to "global dimming" to biological warfare against the country's own citizens. This bizarre "chemtrail conspiracy theory" has been around for years. It has been repeatedly debunked by scientists and governments around the world, and is standard fare on wacky, late-night AM radio talks shows that also discuss things like UFOs, channeling the dead and the coming of the anti-Christ.
The conference is being sponsored locally in part by the Western Slope Conservative Alliance, the right-wing, western Colorado group that worked with Americans for Prosperity last year to generate "grassroots" opposition to health care reform legislation in western Colorado. The group's major spokesperson is Mesa County Commissioner and former Colorado candidate for Lieutenant Governor Janet Rowland, who is known for making comments linking gay marriage to polygamy, incest, and marriage involving 11-year-olds during a March 17, 2006 broadcast of the Rocky Mountain PBS television show "Colorado State of Mind," in a discussion about a referendum to allow domestic partnerships. Rowland made headlines in western Colorado for insisting on reciting says Christian prayers in the name of "Jesus" at taxpayer-funded public meetings, even though she has been informed by attorneys that the practice violates the U.S. Constitution.
We won't know until August 28th exactly what this "Constitutional Convention" has in store for attendees from Colorado's western slope, or how many people are likely to attend. Tickets are $60 to $115 for participants who want to attend the "Constitutional Banquet" with keynote speaker Tom Tancredo. If you go, be sure to bring your tinfoil hat, just in case.