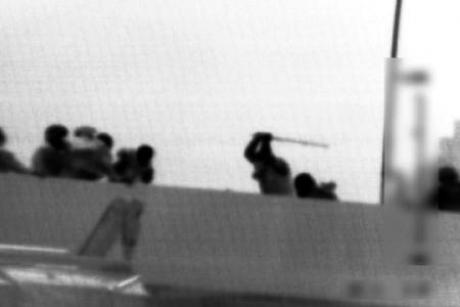 From video of Gaza flotilla (Reuters)President Obama came to power promising to end the foreign policy of the Bush era and institute a commitment to international cooperation and diplomacy, especially with the Muslim world. The controversy surrounding Israel's recent raid on a Turkish aid flotilla has made it difficult for the Obama administration to fulfill that promise. The administration does not want to alienate Turkey, a large Muslim nation with aspirations of joining the European Union, nor does Obama want to anger Israel, which has strong historical ties to America. Trying to pacify both nations, the Obama administration has taken an ambivalent and ambiguous position on how to resolve the conflict, which does not include a definitive statement on an international investigation into the causes and culpability of the confrontation. While Secretary of State Hillary Clinton declared last Tuesday that the United States "supports the Security Council's call for a prompt, impartial, credible and transparent investigation" and "an Israeli investigation that meets those criteria," the administration is merely "open" to the possibility of international participation.
Murky Words
Turkish Foreign Minister, Ahmet Davutoglu, saw through Secretary Clinton's murky words, and called for an independent and international investigation. Mr. Davutoglu's demand for multi-lateral involvement has been echoed across the globe by world leaders such as Russian President Dimitry Medvedev and European Council President Herman Van Rompuy. Instead of making good on his pledge to enforce international cooperation, President Obama seems to be attempting to convince Turkey and the rest of the world into believing an investigation conducted exclusively by Israel will be "prompt, impartial, credible and transparent."
Effects of Obama's Position
By failing to actively support an international investigation, does the Obama administration seem to be aligning itself with more with tea-party politicians like Massachusetts Senator Scott Brown, more than the international community? Senator Brown stated on Sunday that Israel is "no liability for the U.S.," and that he was disappointed by the widespread criticism of Israel's actions. On this volitile issue which has captured the world's attention, President Obama risks being grouped with the conservative segment of America if the administration continues to support an Israeli-only investigation, while giving lip service to international participation by stating that it is just open to the possibility. This course of action is already showing severe effects on America's relationships with the Muslim world. The good will President Obama generated with his speech last year in Cairo, has been severely undermined by the Israeli raid and U.S. response, as demonstrated by numerous articles and cartoons in Arabic newspapers which depict Israel as flouting international law with American assistance. If President Obama wishes to truly bring about a new era in international law and diplomacy, he should fully support an international investigation into the Gaza-bound aid flotilla, and persuade Israel that a impartiality is possible if other nations are involved.