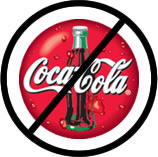 Some times you've just got to laugh about how clumsy PR companies can be. Last week the Boston-based Campaign For A Commercial-Free Childhood got an email from Katharina Wirtz, who works for the German PR company Jeschenko MedienAgentur Köln GmbH. "In terms of documentation for our client Coca-Cola, I would be glad to have the number of site visits per month on your homepage www.commercialexploitation.com. It would be so kind of you helping me with the data," Katharina wrote.
Of course, it should be no surprise that Coca-Cola or one of its PR firms would be interested in the Campaign For A Commercial-Free Childhood, which documents and challenges corporate marketing aimed at children. It is amusing though, to see a PR company wanting a non-profit group to provide free research on itself so the flacks could impress their client.
The good thing about Katharina's email is that it helps add some otherwise unavailable information on just who works at the PR company and who one of their clients are. You see, Jeschenko MedienAgentur Köln GmbH are one of those PR companies that provide the names of only a few of their clients or key staff that might help the curious figure out what they are up to. (The company has approximately 50 staff at their Berlin and Cologne offices but only a handful are mentioned on their website.) We have started a new profile on them in SourceWatch, so that you or anyone else can add to what is known about them.
The company's website - which states on the homepage "we stage reality" - is worth a look too. In one section the PR company explains its approach to crisis management. "Presenting a few examples of crisis management in industries and companies in this section would in itself be a faux-pas regarding the customers involved. Good public relations work consists in not telling the whole world about unfortunate matters - even if the originator can't do anything about it. Our job is to minimise the damage, inform the public quickly and sensibly, and turn potential malicious pleasure in the misfortune of others into positive energies. Be it a case of recall campaigns, defamation or industrial incidents," the company states.
We have to thank them for their honesty - it's nice to see a PR company offering a frank definition for crisis management. There are plenty of PR practitioners who would like us all to believe that in a crisis the job of PR is "to tell it all and tell it fast." It sounds reassuring, but I have yet to see it happen.