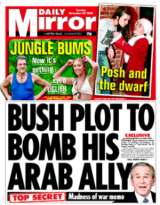 By anybody's standards, the last few weeks have been unusual. The Mirror, a British tabloid, reported receiving a leaked government memo which purportedly shows that George W. Bush wanted to silence Al Jazeera's journalistic coverage of Iraq with a bombing strike on its Doha, Qatar headquarters. When a memo of the April 16, 2004 meeting between Bush and British Prime Minister Tony Blair was leaked, Blair wanted the British media gagged to stop the public from finding out other details of his chat with Bush. While he doesn't want discussion of his meeting with Bush, Blair does want to foster public debate over his plan to expand nuclear power as a 'solution' to climate change.
Then there has have been the revelations that the Lincoln Group, hired by the Pentagon to run a propaganda campaign in Iraq, were planting stories in Iraq's media. There has also been the fall from grace of media tycoon and corporate highflyer Conrad Black, who has been charged by U.S. federal prosecutors with eight counts of mail and wire fraud. Added to that has been the ongoing controversy over U.S. lobbyist Jack Abramoff (and his PR buddy, Michael Scanlon) and the criminal conspiracy and money laundering charges against the former majority leader of the U.S. House of Representatives, Tom DeLay.
In fact, there have been so many scandals and controversies that it has been hard to keep on top of the latest developments. That's where you come in.
Cyber-Tracking
Over the last month, volunteer contributors to SourceWatch - the Center for Media and Democracy's online encylopedia of people, issues and groups shaping the public agenda - have been cyber-tracking the zigs and zags of these developments, adding an impressive 300 new articles and profiles. More contributors - like you - could do an even better job of recording and parsing the news behind the news.
Over the last few weeks:
Navigating with Categories
One of the features of the SourceWatch software is that it allows contributors to create a "category" to automatically index a group of articles. One article can also be added to many categories. In this way, SourceWatch readers or contributors can easily find the articles that most interest them.
For example, AI has created the scandals category. Neoconned's work on the nuclear debate in the UK is being added to the nuclear power category, Miriam's work is expanding the body of work in Category:Australia, and I've recently started the nanotechnology category. (You can have a look at all the categories created so far here.)
The constant expansion of SourceWatch has also increased the number of visitors to the site. Over 36 million SourceWatch pages have been served to visitors over the last year, according to the latest numbers, with major growth in traffic since September.
Of course, all of these articles can benefit from further editing and refinement. Can you help? Documenting and uncovering public relations campaigns is an ongoing research project. If you'd like to participate, become a SourceWatch volunteer contributor and help add to or edit these and other articles. It's free to sign up, and we'd love to have you join us.