Signaling Support for Siemens
Warning: Pilots and XETV-6 Viewers May See Red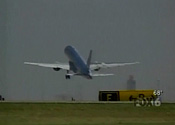 Clients: Siemens
Release Date: June 2006
Aired By: 1 station
Disclosed By: No stations
"Thanks to new technology, air travelers may soon be a little bit safer," said XETV-6 (San Diego, CA) anchor Brian Christie. "Not in the air, but on the runway."
In the June 20, 2006, segment, Christie casually mentioned that "the FAA reports about 300 runway accidents a year." That's a bit of an overstatement.
According to the U.S. Federal Aviation Administration, recent years have seen some 300 runway incursions annually. An incursion includes "any occurrence in the airport runway environment involving an aircraft, vehicle, person or object ... that creates a collision hazard." Nearly 90 percent of incursions "involved little or no risk of a collision," according to the FAA.
Such are the dangers of re-voicing a video news release (VNR).
In the original VNR, produced by Medialink Worldwide for Siemens, publicist and fake reporter Kate Brookes says that "the FAA reports about 300 runway incidents every year." By switching "incidents" for "accidents," XETV-6 created the image of 300 fiery crashes instead of mostly-minor glitches in flight protocol.
Siemens might not mind the blunder, however. The purpose of its VNR was to promote the company's new Runway Status Light System, a pilot program using sensors and red lights to visually warn airplanes approaching an occupied runway.
The VNR featured Ed Runyon, who works for Siemens' Airfield Solutions division. The XETV-6 segment—an edited version of the VNR re-voiced by anchor Christie—claimed that Siemens' runway system "is considered very revolutionary." The station then showed Runyon describing the product that his employer would like to install at thousands of airports across the United States. A similarly-skewed story on the website of New York City's WABC-7 asks why the Siemens system is "still so far from being installed here."
Siemens' runway light system is currently being tested at the Dallas-Fort Worth and San Diego international airports. According to an April 2006 USA Today article, "The money-strapped FAA has not yet committed to fund the system," though an FAA official called it "very promising." The VNR may be part of Siemens' efforts to secure FAA approval—and funding.
Yet one warning system completely failed: Although every frame of the aired segment came from the Siemens VNR, XETV-6 did not provide disclosure to its San Diego viewers. Perhaps the station's newsroom had its signals crossed?
| | |
| --- | --- |
| Original Siemens VNR | XETV-6 10PM newscast |
| Created by Medialink | June 20, 2006 |
| Voiced by publicist | Re-voiced by station anchor |
| | |