Coverage They Can Count On
Michigan newscast delivers an uncut VNR about GM's corporate headquarters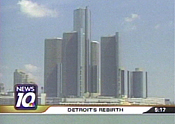 Clients: General Motors
Release Date: January 2006
Aired By: 1 station
Disclosed By: No stations
On January 24, 2006, General Motors (GM) wrote a love letter to itself and WILX-10 delivered it to viewers without a single edit.
In its 5:00 PM newscast, the NBC affiliate in Lansing, Michigan, devoted nearly three minutes to a packaged feature on the Renaissance Center, the landmark Detroit complex that GM acquired in 1996 and turned into its worldwide corporate headquarters. The timely news hook, in this case, is that the building would soon be serving as the international media headquarters for Super Bowl XL.
Dubbing the RenCen as "the architectural icon of Detroit" and the "symbol for the city's rebirth," the report included soundbites from John Gallagher, the architecture critic for the Detroit Free Press, and Matthew Cullen, an executive with General Motors. Both men happily asserted that GM's investment in the RenCen has turned a once-bleak area into a thriving metropolitan wonderland.
What viewers didn't know is that the entire story was a video news release (VNR) funded by General Motors and produced by Medialink Worldwide. WILX-10 took the entire two-and-a-half minute VNR and dropped it into their newscast, keeping the narrative audio of Medialink publicist Kate Brookes. The only work WILX performed on the VNR—beyond pressing the "play" button—was to replace the on-screen titles with station-branded graphics, advancing the illusion that this was a genuine homegrown news report.
At no point did anchor David Andrews or anyone else at WILX-10 disclose the story's true source or sponsor to viewers.
Since January, the Center for Media and Democracy (CMD) has observed WILX-10 airing another complete and uncut VNR from Medialink, a story about National Pancake Week from General Mills and Bisquick.
The station's motto is "Coverage You Can Count On."
View the original VNR, as well as the WILX-10 news story, below. Additionally, CMD has monitored two other VNRs from General Motors, one about Internet car shopping and one about auto technicians.
| | |
| --- | --- |
| Original General Motors VNR | WILX-10 5PM newscast |
| Created by Medialink | January 24, 2006 |
| Voiced by publicist | Complete VNR voiced by publicist |
| | |