Unfiltered Spin from an Internet Porn-Blocker
L.A. station adapts a promotional news release about child-safe search engine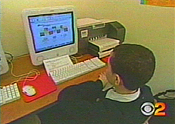 Clients: NetTrekker
Release Date: January 2006
Aired By: 2 stations
Disclosed By: No stations
"Let's face it," the video news release (VNR) begins, "the days of doing homework like this are over."
The narrator was talking about children doing old-fashioned pen-and-paper research, but she might as well have been referring to KCBS-2. On January 27, 2006, the Los Angeles CBS affiliate aired a brief report on a new search engine that helps kids safely use the web, a crucial tool considering that "the Justice Department says one in four children will have an accidental encounter with Internet porn," according to the station anchor.
What KCBS-2 didn't tell its viewers is that the story—and all statistics contained therein—was provided by NetTrekker, the company behind the search engine.
The VNR was created by Medialink Worldwide and distributed to news stations on January 26. In adopting the story, KCBS-2 removed the voice of the narrating publicist, Emily Wright, and replaced all on-screen identifiers with station-branded graphics.
The newsroom apparently hadn't done its own research, online or otherwise. If it had, it would have learned that the "one in four children" statistic came from a 1999 telephone survey conducted by the National Center for Missing and Exploited Children. In the six-and-a-half years since the poll was concluded (a lifetime in Internet terms), nearly every major search engine has developed a free child-safe version that blocks adult content. Whether it's better or worse than its competitors, NetTrekker is by far the most expensive, costing users $10 a month or $100 a year. The price tag was also left out of the KCBS-2 report.
Another version of the NetTrekker VNR found its way onto WJBK-2, the Fox affiliate in Detroit, Michigan. Like KCBS-2, the newscast used an anchor re-voice and station-branded graphics to disguise the VNR as their own journalism. But WJBK-2 at least disclosed that NetTrekker was a paid subscription service.
View the original VNR, as well as the KCBS-2 news story, below.
| | |
| --- | --- |
| Original NetTrekker VNR | KCBS-2 5PM newscast |
| Created by Medialink | January 27, 2006 |
| Voiced by publicist | Re-voiced by station anchor |
| | |