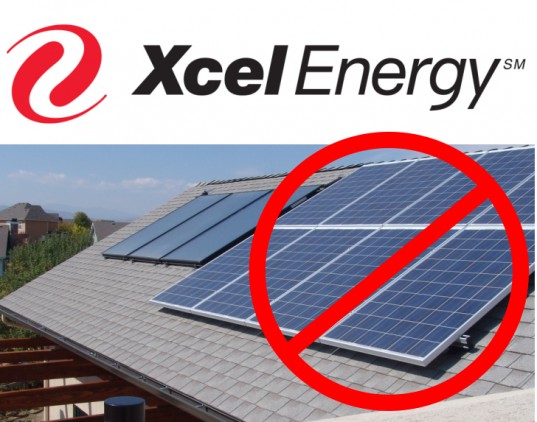 A spokesperson for Xcel Energy [3] -- a $10.1 billion [4] a year public company based in Minnesota -- said that the company hasn't been a member of the American Legislative Exchange Council [5] (ALEC) since 2011 in response to a recent letter to the Boulder Weekly criticizing Xcel's efforts to reduce homeowner solar "net metering" credits as a hindrance to transitioning to renewable energy sources. The spokesperson attempted to distance the company from ALEC, complaining [6], "if you've been affiliated once, then they'll brand you for life."
Xcel Energy was listed as a state co-chair in ALEC documents from the summer of 2011, but Xcel told Boulder Weekly that it last paid dues in 2010. It is not clear when Xcel actually stopped aiding ALEC.
In addition, responding to investor pressure, Endo Health Solutions -- a $3 billion a year publicly traded company based in Pennsylvania -- has cut ties to ALEC and stopped providing any funding to the group, according to a statement by Trillium Asset Management, which is engaged in shareholder advocacy with the company.
Xcel Energy's Involvement with ALEC
Xcel Energy was the corporate state co-chair of ALEC in Wisconsin as of ALEC's 2011 annual meeting in New Orleans. "Xcel claims it wants more solar and is trying to publicly distance itself from ALEC's assault on clean energy," Gabe Elsner told CMD. He is the Executive Director of the Energy & Policy Institute (EPI) -- a non-profit group that "performs research and analysis on lobbyists, front groups, and politicians working to expand our reliance on fossil fuels and slow the development of a clean energy economy," according to its website [7]. "But in reality, their trade association, Edison Electric Institute [8] (which Xcel gave over $300,000 in 2012), is spearheading a national attack on rooftop solar through ALEC. And Xcel is working to gut incentives for homeowners that invest in solar in Colorado. Actions speak louder than words."
The Edison Electric Institute (EEI) was an exhibitor at ALEC's 2011 annual meeting and funded the 2012 ALEC States & Nation Policy Summit, according to [9] ALEC materials obtained by the Center for Media and Democracy (CMD). Other groups EEI has funded include the euphemistically named Global Climate Coalition [10], which prior to its disbanding in 2002, was one of the most outspoken and confrontational industry groups in the United States battling reductions in greenhouse gas emissions. Notably, last year, ALEC's staff director for its energy task force, Todd Wynn, left ALEC to join EEI as its Director of External Affairs.
Undisclosed fossil fuel industry interests introduced an "Updating Net Metering Policies Resolution [11]" -- proposing that state policymakers "require that everyone who uses the grid helps pay to maintain it" (even those who are contributing power to the grid) -- to ALEC's Energy, Environment and Agriculture Task Force [12] at the group's States & Nation Policy Summit in Washington, DC, in December 2013. EEI's Executive Director of retail energy services, Rick Tempchin, told EPI's Elsner that Brian McCormick, EEI's Vice President for Political and External Affairs, "worked with them on the resolution" attacking net metering, according to [13] Elsner's HuffPo blog.
Later that month, Arizona became the first state to authorize a monthly fee [13] to ratepayers of 70 cents per kilowatt of solar energy installed on their roof. Arizona Public Service [14] (APS) -- a company that pledged not to renew its ALEC membership [15] in April 2012, then turned around and funded ALEC again [16] starting in November 2012 -- had initially proposed charging the same customers $50 - 100 a month.
On February 3, 2014, the Colorado Public Utility Commission -- which could soon include [17] former ALEC Commerce, Insurance, and Economic Development Task Force [18] co-chair Glenn Vaad [19] -- will consider a similar Xcel Energy proposal to rollback solar net metering, according to [20] EPI.
Endo Health Solutions' Involvement with ALEC
Endo Health Solutions was a member of ALEC's Health and Human Services Task Force [21] as of ALEC's October 2011 States and Nation Policy Summit. Candie Phipps, former Government Affairs Director at Endo, presented a "model" resolution to the task force meeting at that time. Phipps had also introduced the same resolution at ALEC's annual meeting earlier that year.
According to a statement released by Trillium Asset Management, "In 2012, Trillium filed a shareholder proposal at Endo on behalf of our clients, including the Christopher Reynolds Foundation, pressing the company on lobbying spending disclosure and its affiliation with ALEC. ... Endo has recently informed Trillium that it is no longer a member of ALEC and has stopped providing any financial support to the organization." Endo Senior Director of Corporation Affairs BRian O'Donnell confirmed that the company had cut ties with ALEC, did not fund the group in 2012 [22] or 2013, and has no plans to do so in 2014.
Jonas Kron, Director of Shareholder Advocacy at Trillium Asset Management, told CMD, "We're gratified that the company has made this decision and is no longer a member of ALEC and has stopped providing any financial support. ... We believe this is a prudent step that the company has taken in the best both of the company and its shareholders. This is one of the places where we believe that the broader social importance of this is in alignment with shareholder interests."
The Rush to Cut Ties to ALEC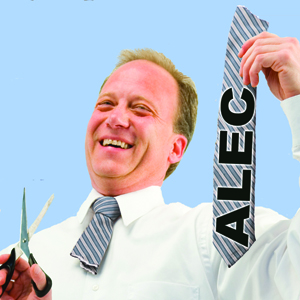 Corporations that have publicly cut ties to ALEC [23] since CMD launched ALECexposed.org [5] in 2011 and highlighted Coca Cola's role in the group include Coca Cola, Wells Fargo, General Electric, Western Union, Sprint, General Motors, Walgreens, Best Buy, Hewlett-Packard, MillerCoors, John Deere, Dell, Johnson & Johnson, Wal-Mart, Amazon.com, Procter & Gamble, Mars, Wendy's, McDonald's, Kraft Foods, and PepsiCo. The addition of these two companies brings the total to at least 72 corporations. These and 19 non-profits that have cut ties brings the total number of private-sector ALEC members who have cut ties to at least 91.
At least 77 state legislators [24] have also cut ties with ALEC, including South Carolina Rep. Jimmy Bales (D-80) [24], who told Unite Blue SC this month that he had not renewed his ALEC membership in April 2012.
The Iowa Senate Majority Leader Michael E. Gronstal (D-Council Bluffs) [24] also reiterated on behalf of all Democratic members of the Iowa State Senate that they do not fund or support ALEC despite ALEC telling its board that it counted all Iowa state legislators as members. "ALEC's claims about all Iowa legislators being members of their organization are deceptive and deceitful," Sen. Gronstal said in a statement [25].
Diverse groups have been actively campaigning to pressure corporations to leave ALEC. Public interest groups including Sierra Club, Forecast the Facts, Sum of Us, CMD and others are urging Google to uphold its motto "don't be evil" by cutting ties to ALEC [26], which spent years peddling Stand Your Ground [27] gun laws and bills to make it harder for Americans to vote [28] before trying to distance itself from that legacy, and it has also worked to repeal renewable energy laws [29] and the ability of the EPA to regulate greenhouse gases [30]. Despite Google's stated commitment to efforts to address global climate change, ALEC has routinely worked to indoctrinate legislators against the near consensus (97 percent) in the scientific community that global climate changes are underway and has sought to undermine the power of the EPA and other agencies to address climate change.
---
Xcel image credit: Andrew Michler [31].