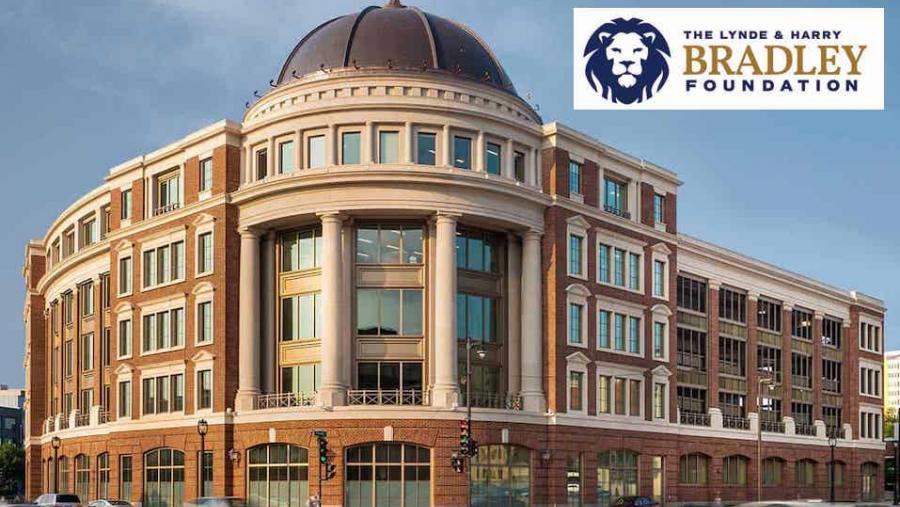 The Milwaukee-based Lynde and Harry Bradley Foundation [3], a major source of funding for right-wing groups with over $854 million in assets, gave grants to FreedomWorks Foundation and the Wisconsin Manufacturers and Commerce Foundation this year to specifically assist with their efforts to rapidly reopen the economy amidst the coronavirus pandemic.
The political pressure generated by the lobbying and litigation efforts of Bradley-funded groups and President Trump led many states to prematurely roll back stay-at-home safety measures and reopen businesses. As a result, the three-day average of COVID-19 cases has more than doubled [4] over the past three months, from 20,316 on April 24 to 59,474 on July 14, leading a number of states to now shut down again [5]. 
"Save Our Country"
In a list of Quarter 2 grants [6] posted to its website, Bradley staff lists $100,000 to the FreedomWorks Foundation to "support the Save Our Country initiative."
Save Our Country was launched [7] in April by FreedomWorks Foundation, the American Legislative Exchange Council [8] (ALEC), the Tea Party Patriots, the Committee to Unleash Prosperity, and other right-wingers to push for a "quick" reopening of the states after many had enacted stay-at-home orders as confirmed coronavirus cases rapidly increased. Bradley added another $275,000 to FreedomWorks Foundation for "general operations."
In June, The Guardian reported [9] that Save Our Country had raised "just over $800,000 towards a $5m goal for projects including new ad efforts – online, radio and print – to rev up grassroots pressure to reopen states faster, plus curtail more federal spending and promote business-favored tax cuts." Bradley is the first Save Our Country donor identified.
One five-figure ad [10] placed last month featured ALEC's favorite economist and Committee to Unleash Prosperity founder Stephen Moore [11] claiming that New York "Governor Cuomo allowed thousands to die in nursing homes," and ended with the statement, "Tell your governor to reopen society & get America working again."
Save Our Country switched to using "reopen society" instead of "reopen the economy" after polling FreedomWorks commissioned in late April found that reopening the economy amidst the pandemic was unpopular, files obtained by the Center for Media and Democracy (CMD) detail.
Records examined by CMD show that Scott Rasmussen, editor-at-large of Ballotpedia, presented his polling to ALEC state legislative leaders stressing the message that, "We need to talk about reopening society and not the economy."
The poll of 1,000 registered voters conducted by Rasmussen found that "People do not necessarily care about going to businesses, but to be with each other," so, "When you introduce any action-emphasize social aspects and not the almighty dollar."
ALEC played a major role [12] in the right-wing campaign to reopen the economy by organizing a sign-on letter urging Trump and state leaders to reopen and in hosting calls with Vice President Mike Pence, Labor Secretary Eugene Scalia, Education Secretary Betsy DeVos, and others from the Trump administration on the topic.
To date, ALEC has received $500,000 from Bradley in 2020 for "program activities."
Ballotpedia, which received $100,000 [13] from Bradley in 2019, is a project of the right-wing Lucy Burns Institute. Leslie Graves, its founder, president, and CEO, is married to the Republican operative Eric O'Keefe [14], who serves as chairman of the board for Convention of State Action [15].
Convention of States Action launched openthestates.com to facilitate the planning and discussion of efforts to "reopen America for business," CMD reported [16].
In addition to FreedomWorks Foundation and ALEC, the following Save Our Country Coalition members received Bradley money in 2020:
Council for National Policy: $75,000 to "support the Conservative Action Project and Key Influencers Program"
First Liberty Institute: $50,000 "to support general operations"
National Review Institute: $250,000 "to support the Buckley Legacy Project and the Thomas L. Rhodes Journalism Fellowship"
Wisconsin Manufacturers and Commerce Foundation
The Bradley Foundation also disclosed a grant of $50,000 [6] to the WMC Foundation "to support efforts to reopen Wisconsin safely after COVID-19." WMC Foundation is the 501(c)(3) sister organization of Wisconsin Manufacturers and Commerce (WMC), the state chapter of the U.S. Chamber of Commerce.
WMC announced [17] its "Back to Business" plan for the state on April 24, calling for Wisconsin to reopen businesses on May 4. In a press release for the plan, WMC's president and CEO Kurt Bauer said, "We need to protect lives, but we also need to protect livelihoods."
WMC's plan was based on a number of risk factors so that business owners would have an idea of when and how they could reopen.
Dr. Patrick Remington, a retired UW-Madison medical school professor, told [18] the Wisconsin Examiner, "There's really no evidence to suggest that this risk model actually translates to true risk. It's a model based on assumptions, and it's not based on evidence."
A protest to reopen Wisconsin [19] drew 1,500 to the state capital the same day, April 24, which was promoted in part by Convention of States-Wisconsin State Director Joanne Laufenberg on openthestates.com.
Wisconsin State Senator Kathy Bernier (R-Chippewa Falls), who delivered remarks at the protest, announced that she was working on a "Back to Business" plan at the rally and directed people to wmc.org to view it.
WMC is one of the largest dark money political spenders for Republican candidates in Wisconsin and was infamously investigated in bipartisan "John Doe" proceedings for illegal campaign coordination with former Governor Scott Walker's campaign and O'Keefe's Wisconsin Club for Growth [20].
Bradley also gave WMC Foundation $600,000 in 2011-2012. "WMC, the trade association, was one of the biggest spenders for Republicans in the 2011-2012 recall period. Bradley could not give the association or its campaign arm funds, but funneled funds to the 'charitable' arm," CMD reported [21] as part of its Bradley Files [22] investigation. "Bradley records indicate that WMC Foundation Inc. also received matching funds of $600,000 in 2011 from M&I Foundation (a foundation associated with M&I Bank, now BMO Harris)."
Lawsuit Against Wisconsin's "Safer at Home" Order
GOP legislative leaders filed a legal challenge to the state's April 16 "Safer at Home" order resulting in 4-3 State Supreme Court ruling [23] on May 13 striking it down.
A number of Bradley-funded groups backed the GOP's legal maneuver, by filing amicus briefs [24], including WMC, the Wisconsin Institute for Law & Liberty [25] (WILL), and Charles Koch's Americans for Prosperity-Wisconsin.
Bradley and its affiliated Bradley Impact Fund has granted WILL $7.7 million and Americans for Prosperity Foundation $1.4 million between 2011 and 2020, according to tax and grant records examined by CMD.
Following the Supreme Court decision, confusion ensued as people flocked [26] to Wisconsin's bars and pubs, and counties and cities scrambled to set their own rules to replace the state's order.
Since then, the seven-day average number of coronavirus cases in Wisconsin has more than doubled [27], from 286 on May 13 to 755 on July 13.