Fake Newshounds with Worms
Once Again, WCTI-12 Hosts Hidden Interests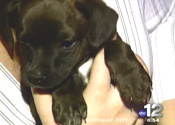 Clients: Companion Animal Parasite Council
Release Date: July 2006
Aired By: 1 station
Disclosed By: No stations
Even with the relatively modest number of video news releases (VNRs) that the Center for Media and Democracy (CMD) has tracked, a few television stations stand out as frequent VNR broadcasters. Oklahoma City's KOKH-25 was singled out as the worst repeat offender of CMD's "Fake TV News" report. But WCTI-12 of New Bern, NC, isn't far behind. In CMD's earlier report, WCTI-12 was cited for airing VNRs from DaimlerChrysler, Sallie Mae, and multiple consumer electronics companies.
On July 18, 2006, WCTI-12 reporter Besa Tafilaj introduced a segment on pet parasites. "Those parasites that infect your pets also could get to you and your family," she warned. "According to the CDC [U.S. Centers for Disease Control and Prevention], up to three million people will get infected with internal parasites this year." What followed was an edited VNR that she had re-voiced, closely following the VNR's original script.
The broadcast PR firm D S Simon Productions produced the VNR for the Companion Animal Parasite Council (CAP-C). Like most other D S Simon VNRs released following the "Fake TV News" report, the CAP-C video included two client notifications at its end—an on-screen label and the narrating publicist's sign-off, "On behalf of the Companion Animal Parasite Council, this is Sonia Martin." WCTI-12 edited out both, actively denying disclosure to its news audience. Following the segment, the station anchor directed viewers to CAP-C's website, for "more information on preventing animal parasites and keeping your pets healthy year-round."
D S Simon—and WCTI-12—presented CAP-C as a "non-profit veterinary group," which is correct but not the entire story. Like many patient groups for human diseases, CAP-C receives funding from pharmaceutical and other companies whose market is the target group—in this case, pet owners. CAP-C's 2006 sponsors include Bayer, Merial, Novartis and Pfizer Animal Health at the "platinum" level, while its "silver" sponsors include Hartz, Idexx Laboratories, Schering-Plough Animal Health, VCA Antech, and Virbac Animal Health.
Of the mere 18 media mentions of "Companion Animal Parasite Council" in the Nexis news database, three involve endorsements of products or programs from CAP-C sponsors Bayer or Novartis. While the CAP-C VNR doesn't mention specific products, it does repeatedly encourage viewers to take their pets to the veterinarian regularly—a message that must make CAP-C sponsors pretty happy—including VCA Antech, which runs "a nationwide clinical laboratory system and over 375 free-standing animal hospitals" (NASDAQ symbol: WOOF).
Between the "Fake TV News" report and this study, CMD has documented WCTI-12 airing four different VNRs. Not once did the station disclose the source or nature of these segments to its news audiences. Will this new study help an old dog learn new ethics? Stay tuned.
| | |
| --- | --- |
| Original CAP-C VNR | WCTI-12 6AM newscast |
| Created by D S Simon Productions | July 18, 2006 |
| Voiced by publicist | Re-voiced by station reporter |
| | |